When President Bush visited Beijing during the Olympic Games, he asked the Chinese government, "Why don't you register the underground churches and give them a chance to flourish?" Bush told Olympics broadcaster Bob Costas that President Hu Jintao politely listened to his request: "I can't read his mind, but I do know that every time I met with him, I pressed the point."
President Bush's instincts are on the money, though his point is just a bit off. Granted, some house churches in China are willing to register (in many cases to avoid arrests and disruption), but they often get turned down. Others don't want to and they shouldn't be required to. As in many other countries, registering as a church in China means state regulation, not a greater chance of flourishing.
Government pressure limits what Three-Self pastors can preach and pray about. Nina Shea, vice chair of the U.S. Commission on International Religious Freedom, told Christianity Today about a registered church in Beijing whose pastor prayed for victims of political imprisonment. Government officials raided the church and physically removed the pastor from the pulpit. Constant government surveillance of church services cannot help having a chilling effect on church teaching.
So, we should not be pressing for the government to register more churches. This is a half measure designed to keep trade relations normal while appearing to advocate religious freedom. Instead, we should be pressing China to give up the idea of registering churches.
Put another way, President Bush's well-intentioned comment suggests a more widespread problem in America's advocacy, or lack thereof, for religious freedom.
Department of Particular Concern
When determining the nation's stance toward another country, the U.S. State Department must weigh a number of issues—trade, defense, strategic alliances, national resources, and human rights, among others. In a fallen world, nations do not have the luxury of letting one factor (such as human rights) always trump others. Flexibility is necessary in a wise and effective foreign policy. Moral consistency in international relations is the hobgoblin of naïve minds.
But a foreign policy that sidelines the moral dimension of international relations in favor of a so-called realpolitik is a foreign policy doomed to failure. One enduring international asset of America is its human-rights ideals, and to undermine these is to lose credibility overseas. When the U.S. consistently ignores human rights, it breeds bitterness and resentment among people who are suffering abuse, resentment that can take decades to reverse. Our silence about human-rights violations under the Shah of Iran in the mid-20th century has done damage we are still paying for in that region.
When it comes to human rights, religious freedom is particularly important. A minority religion—such as Christianity in China, Pentecostalism in Turkmenistan, or Baha'i in Iran—is a proverbial canary in the coal mine. If it cannot survive, other basic rights ranging from freedom of assembly to freedom of speech are compromised.
It is our view that the U.S. State Department has regularly sidelined human rights in favor of more traditional diplomatic goals. We do not feel it brings sufficient pressure to bear on, for example, China, Vietnam, or Saudi Arabia. Strategic military considerations make us timid before the Saudis. And trade issues seem to rule our relationships with Vietnam and China.
Ten years ago, Congress enacted the International Religious Freedom Act (IRFA), but there are precious few instances where religious freedom overseas has improved significantly. In 1998, evangelicals strongly supported this legislation. Each fall, churches by the thousands observe the International Day of Prayer for the Persecuted Church.
IRFA created a system intended to keep the State Department informed about religious freedom in every nation. This act requires federal officials to determine which nations are the most serious violators of religious freedom and to place them on public notice. The U.S. Commission on International Religious Freedom (USCIRF) produces an exhaustive annual report and well-researched recommendations for "countries of particular concern" (CPCs).
But all that information and these recommendations are not translating into effective advocacy or improvements in freedom on the ground. The job of our diplomatic corps has not been (until the passage of IRFA) to encourage religious freedom elsewhere. That is the major shift that IRFA called for, and IRFA has largely been ignored.
Some foreign policy realists plead that the United States often does not have much influence over the worst violators of religious liberty. That's simply not true. Strategically, we may not be able to press every violator of religious liberty at once, but when we do apply pressure, we make a difference. Look at Iraq. Shea notes that in that country, where America has enormous influence, the treatment of religious minorities was not a U.S. policy priority until this past summer, when religious freedom was added to the list of U.S. goals in Iraq.
Vietnam is an example both of the positive effects and the dysfunction of the decade-old act. Embarrassed by being designated a CPC, Vietnam opened some churches—but stopped short of the kind of reform that would bring it up to international standards. The State Department, against the USCIRF's advice, took Vietnam off the CPC list in November 2006.
In short, we now risk returning to the pre-IRFA days, when we were too easily tempted to turn a blind eye to thugs who oppressed religious minorities. That's a foreign policy history we were ashamed of. And we are starting to turn red again.
Related Elsewhere:
The U.S. Commission on International Religious Freedom and the State Department's International Religious Freedom division have more information on religious repression and freedom.
Previous Christianity Today articles on religious freedom include:
The Daniel of Religious Rights | Nina Shea is not someone to tangle with. And the persecuted are mighty glad. (August 26, 2005)
Subverting Dignity | Nina Shea on the greatest threat to human freedom today. (August 26, 2005)
Religious Liberty: How Are We Doing? | The challenges of being an international cop for human rights—a report by the first U.S. ambassador at large for religious freedom (October 22, 2001)
Speaking Out: USCIRF's Concern Is To Help All Religious Freedom Victims | The chair of the U.S. Commission on International Religious Freedom responds to Robert Seiple's claims that it is only cursing the darkness. (November 1, 2002)
Have something to add about this? See something we missed? Share your feedback here.
Our digital archives are a work in progress. Let us know if corrections need to be made.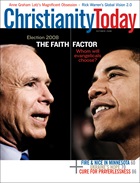 This article is from the October 2008 issue.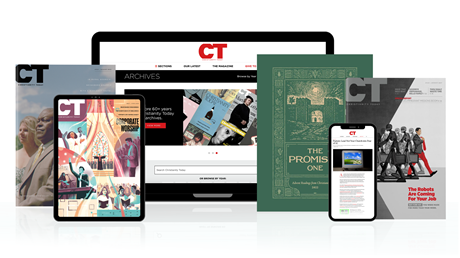 Annual & Monthly subscriptions available.
Print & Digital Issues of CT magazine
Complete access to every article on ChristianityToday.com
Unlimited access to 65+ years of CT's online archives
Member-only special issues
Subscribe
See No Evil
See No Evil