Rain fell on Monday, Tuesday, Wednesday, and Thursday before Portland, Oregon's CityFest, an open-air, family-friendly evangelistic festival in downtown Waterfront Park. On Friday, August 22, skies cleared and temperatures rose into the 80s. An estimated 180,000 people thronged the park over two days, listening to Christian music and preaching, and enjoying a variety of activities.
Such attendance at an evangelistic event was notable in one of America's most liberal and least-churched cities; more surprising was the support of openly gay Mayor-elect Sam Adams, who offered warm greetings from the platform. "Regardless of our differences, we have come together," Adams said. Corporate sponsors had signed up too: Wells Fargo, KeyBank, and the Portland Trailblazers, among others.
At a Friday press conference, Adams noted the "odd combination" of a liberal city with evangelist Luis Palau and the faith community. "Here's to odd combinations. May they continue perennially." He said that the physical and social problems of Greater Portland were beyond the resources of city government alone.
The impetus for this odd harmony had been happening all summer. Season of Service united Portland-area churches around five community concerns: homelessness, the medically uninsured, public schools, hunger, and the environment. It drew 25,000 volunteers for projects civic leaders had selected. The two-pronged approach to witness—service matched with proclamation—united churches all over the area and prompted unprecedented support from community leaders.
The festival celebrated Season of Service by offering a potpourri of food, music, and youth-oriented activities for a racially diverse crowd. Christian musicians Kirk Franklin and Chris Tomlin attracted eager fans. Young men crowded demonstrations by X-Games medalists Kyle Loza and Greg Hartman and skateboarder Christian Hosoi. In the Family Fun Zone, inflatable bounce tents, games, crafts, and VeggieTales characters entertained children. Over a thousand homeless people attended the city-sponsored Homeless Connect, receiving haircuts, meals, housing assistance, and a variety of other services from volunteer groups.
The centerpiece came both Friday and Saturday evenings, when evangelist Palau preached from the big stage and invited listeners to follow Jesus Christ. Some 2,000 talked to counselors afterward. Palau Association staffers were reluctant to compare the response with other festivals', noting that at a festival it's hard to reach all those who raise their hands to indicate commitment—nobody "goes forward." Kevin Palau, son of the evangelist, said, "The emphasis isn't how many people got saved. We never know how many people got saved. Only time will tell."
Reversal of Trend
American Christians have been moving away from mass evangelism, stressing church planting and friendship as the best ways to introduce people to the gospel. With Billy Graham no longer conducting crusades, big-splash evangelistic events are more rare. Yet the Portland experience suggests a place remains for large, public evangelism, even in a city as far from the Bible Belt as Portland.
Battered by years of controversy over political and social issues, Portland churches seemed eager for a way to witness in public and still be in harmony with the city. The Luis Palau Association, headquartered in the area, spearheaded an approach called "Festival 2.0."
Palau, an energetic 73-year-old who grew up in Argentina, has preached in both English and Spanish at stadium crusades all over the world. But U.S. crowds were meager. Kevin, one of three Palau brothers who work with their father's association, realized even he didn't want to invite his neighbors to a Palau crusade. "So we said, 'Let's do something that at least the believers will want to do.' " Stadiums felt restrictive, whereas a festival takes place in public space, usually a park or some blocked-off central streets. It's an all-day event with multiple activities. At the first Palau festival, in Portland in 1999, attendance jumped to 90,000. A second festival the next year drew 140,000.
Doing festivals over the next eight years, the Palau Association discovered something more: American churches wanted a witness of service to go with verbal proclamation. Without service, the festival format seemed insufficiently serious, portraying a faith without sacrificial living. In Fort Lauderdale, local leaders focused on foster care. For a 2004 Minneapolis festival, a door-to-door food drive and medical outreach program were added. A Washington, D.C., festival featured an extensive cleanup of inner-city schools. In Houston, community impact teams in multiple neighborhoods launched service projects, many of which continue today.
In Portland, these lessons coalesced. Organizers hoped for 15,000 volunteers; they got 25,000. Six hundred churches oversubscribed food drives, public-school cleanup days, medical and dental clinics, and homeless service events.
Dennis Fuqua, a Palau staffer who also organizes prayer summits nationally for International Renewal Ministries, notes that in every city he knows, "God is stirring the church to serve." Just as God began to restore worship 20 years ago, Fuqua suggests, so today God is restoring service to the church.
Indeed, many Portland churches were already involved in service. But it was different doing it all together. "Portland being an anti-church culture," says Rick McKinley, pastor of Imago Dei, a well-known missional church, "Christians have felt that they have had to protect themselves. That posture creates a chasm."
Service bridged the chasm between city and church, and also between the churches. "If the mission is to build up the city of Portland," McKinley says, "I'm not competing with other churches. We need each other."
A Divine Coincidence
The cleanup of Roosevelt High School exemplifies those broken-down walls. The project began when Palau team members contacted Wilson W. Smith III, a Nike shoe designer who also leads worship at a large local church, SouthLake Foursquare. Smith invited another Nike employee, Michael Bergmann, to join him for a planning discussion. On the way to the meeting, Michael received a call from a friend, Rich Recker, who had recently been hired at Roosevelt to bring community support to the school. "Rich asked Michael, 'Can you help me?' " Smith remembers. It seemed like a divine coincidence that the call came on the way to a meeting of Christians looking for ways to help their city.
SouthLake Foursquare is an affluent suburban church 20 miles south of Roosevelt's depleted neighborhood. (Because many students are poor, the school serves three meals a day, and 79 percent of its students qualify for government services.) Kip Jacob, SouthLake's senior pastor, endorsed the idea that the church would take on cleaning up the school. It had just three weeks to organize the day. Missions and outreach director Kristine Summer found the most difficult task to be working within the school bureaucracy. Some school representatives were resistant to hundreds of church people invading their school. Summer said, "It took a lot of humility and patience to stick with it and say, 'We are going to follow their policy.' "
The target was 500 volunteers, though Jacob expected a turnout more like 300. On the day, June 21, a thousand people showed up—a third of the church. The high-energy volunteers painted, landscaped, and cleaned inside and out, making a rundown school shine. Principal Deborah Peterson says that summer-school students kept running up to her and saying, " 'Miss Peterson, we are so lucky! Why do you think they are doing this for us?' It was like they had won the lottery." One teacher said she had been at Roosevelt for 17 years, and no one had ever cleaned her windows.
Walls between church and school vanished, Summer says. "They want to do it again. They love it!" Over the summer two more workdays took place. Other city schools have begun to inquire whether SouthLake could help them, too. Nike has jumped into plans to refurbish Roosevelt's athletic facilities.
Altogether, churches participated in 278 projects over the Greater Portland area. Sixty-two public schools received 5,100 volunteers for school cleanup days. Two hundred churches participated in Compassion Clinics, free one-day medical and dental clinics that also offered free lunches and some social services. Working under the leadership of Compassion Connect, a local nonprofit, 1,155 volunteers provided free medical or dental care to 1,846 people and fed 2,300.
Pastor John Bishop of Living Hope Church parked a semitrailer on church property and challenged his congregation to fill it. "I told them, 'I'm not asking you to go to Costco and buy the food. I want you to knock on your neighbors' doors.' " The trailer load—45,000 pounds of food—went to local food banks.
Portland is matching 1,200 homeless women and their children with mentors supplied by 78 area churches. The city supplies the first and last months' rent, along with training and coordination for the volunteers.
It wasn't just churches. Wells Fargo Bank set a goal of 10,000 employee volunteer hours donated to the community. In 2009, it plans to double that as part of the annual Season of Service.
'Stereotype Busters'
Tom Krattenmaker, associate vice president at Lewis & Clark College and a self-defined religious progressive, speaks enthusiastically about the Palau Association's openness. "They have been stereotype busters," he says. A regular contributor to USA Today, Krattenmaker has chastised progressives and secularists for their close-mindedness on religion. He says, "I see the desire to reach out and connect stronger on the evangelical side of the equation" than among his progressive colleagues. Asked about unabashed preaching at the festival, he says, "I think people need to put up with a little discomfort and allow evangelicals to talk about Jesus, because it's important for the free expression of their faith."
The CityFest initiative came from Christian leaders, but Portland civic leaders showed remarkable willingness to embrace it. Perhaps most interesting was the collaboration over abortion. Planned Parenthood is normally one of the agencies offering services at the city's Homeless Connect events. The city quietly agreed to leave it out for the festival; Palau in turn chose not to include anti-abortion advocacy. Some pro-life advocates were angry that their cause was not included in the festival, says Kevin Palau, but staffer Alan Hotchkiss explains, "We want to draw a circle around Jesus Christ. We don't want to distract from that."
Nick Fish, a city commissioner who oversees Homeless Connect and other social-service programs of the city, says, "We are maturing as a community. I don't want to dwell on our differences. Let's emphasize our common values. We need all hands on deck. For too long we have viewed the faith community with suspicion." When asked whether activist critics might raise a stink about the city working with churches, he pointed out that the mayor, the mayor-elect, and the housing commissioner all stand firmly in support of the alliance. "If you come against it, you have to deal with us."
The festival crowd pledged to provide 24,000 volunteers next year. The Palau Association seeks to integrate Season of Service into all of its festivals—including scheduled outreaches in the U.S., Mexico, Chile, and Scotland.
A Unified Public Witness
Luis Palau remains old school. He admits that he was a reluctant convert to the festival format, if only because it meant preaching to an audience that is constantly in motion. The Season of Service also makes him itchy, for fear that the verbal proclamation of the gospel will become neglected. "We run the risk of going full circle and becoming like the liberals. We mustn't water down the gospel because we are having lunch with politicians. I'm committed to preach the blood of Jesus and the cross of Jesus."
Yet his personal friendliness brought on the Season of Service. Mayor Tom Potter likes to tell the story of Palau asking, "What can we do for you to help our city?" A mayor rarely hears that kind of question, Potter says, especially from someone who actually follows through.
Palau was pained by the way politics had skewed the public perception of Christians. "Antagonism was real. They thought we were nuts, and we acted like nuts," he says. Palau wasn't the only one feeling the pain. "Kevin said, if we don't do the Season of Service, there will be no festival. Half the churches won't do it. They are tired. The pastors are discouraged."
By the time of the festival, that discouragement was gone. An enormous crowd heard Palau, watching him on huge video screens. He preached on the plight of the fatherless, telling of his own struggles after his father died. God, Palau said, wants to be our Father. "God will change our names. He will call us children of God. He wants to adopt us into his family. … If your conscience troubles you, receive Jesus. Through his blood you will be forgiven forever, and ever and ever."
The dynamics of other cities may be different. Churches may be unwilling to submerge controversial issues like abortion or homosexuality, and civic leaders may not choose to make public cause with churches. Portland, however, has found a way for Christians to live in harmony with their city while being themselves—people who make a unified public witness in word and deed.
Tim Stafford is a senior writer for CT.
Related Elsewhere:
The Luis Palau Evangelistic Association has more information about its ministry.
Other Christianity Today articles about Luis Palau include:
Beach Blanket Rebirth | Luis Palau to take Fort Lauderdale spring break festival nationwide. (January 16, 2003)
Downtown Evangelism Makes a Comeback | Luis Palau "tweaks" crusade model into evangelistic festivals. (December 21, 2000)
Evangelistic Circus in a Box | Festival con Dios links with Palau organization to expand work of proclamation. (October 1, 2002)
Palau Crusade Last in Hong Kong? | Evangelist Luis Palau, holding the last evangelistic crusade in Hong Kong before the British colony reverts to Chinese sovereignty, preached a message of hope to those facing an uncertain future. (May 19, 1997)
Have something to add about this? See something we missed? Share your feedback here.
Our digital archives are a work in progress. Let us know if corrections need to be made.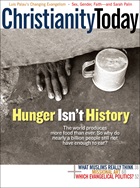 This article is from the November 2008 issue.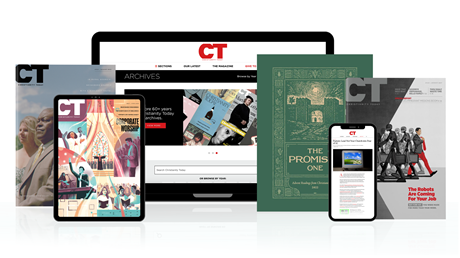 Subscribe to Christianity Today and get access to this article plus 65+ years of archives.
Home delivery of CT magazine
Complete access to articles on ChristianityToday.com
Over 120 years of magazine archives plus full access to all of CT's online archives
Subscribe Now
Servant Evangelism
Servant Evangelism