Ever since C. Everett Koop and Francis Schaeffer pricked our consciences, abortion has been on the front burner for socially minded evangelicals. Thirty-five years since Roe v. Wade, it's time to ask whether it should remain the sine qua non of Christian social engagement.
Claiming to represent the new center, an increasingly self-confident wing of sincere evangelicals thinks not. "The evangelical social agenda is now much broader and deeper," asserts Jim Wallis in his new book, The Great Awakening, "engaging issues such as poverty and economic justice, global warming, hiv/aids, sex trafficking, genocide in Darfur, and the ethics of the war in Iraq."
In The Scandal of Evangelical Politics, Ron Sider, echoing a common complaint that pro-lifers believe that "life begins at conception and ends at birth," says starvation and second-hand smoke are also "sanctity of life" issues.
In other words, these and other voices seem to be saying that fighting legalized abortion—the deliberate, state- sanctioned taking of 50 million unborn human lives from their mothers' wombs since 1973 (and the accompanying national guilt)—should simply be one item among many on an ever-expanding evangelical to-do list. I agree that we have multiple responsibilities as Christians, and different callings. But if everything is a priority, then nothing is. While no one is saying that defending unborn human life is optional, the way we sometimes talk about our broader agenda appears to minimize the importance of abortion.
If everything is a priority, then nothing is.
Imagine an adviser telling Martin Luther King Jr. that he won't be participating in the march from Selma to Montgomery because there is a broader social agenda. Rightly might King retort, "But we're not finished!"
Despite all our other good and necessary deeds during the '60s, we evangelicals faced scathing criticism for being largely awol on civil rights, the premier social issue of the era. What will future generations say if we neglect the preeminent moral issue of our day? We cannot excuse ourselves by saying, "Well, protecting unborn human life is someone else's calling, but [fill in the blank] is my calling." We are all called to fight abortion.
"God wants to save these children," Ohio Congressman Tony Hall says in Michael Lindsay's Faith in the Halls of Power. "He doesn't want these children killed." Jesus never turned his back on children. Will we?
And faltering now would be doubly tragic, because the tide is turning. According to the pro-choice Guttmacher Institute, the abortion rate has dropped to its lowest level since 1974. The number has also fallen, from 1.6 million abortions in 1990 to 1.2 million in 2005. While that's still far too many, and the prospect of actually overturning Roe seems distant, it's real progress nevertheless.
For example, Americans United for Life notes that over a 14-year period, Mississippi passed 15 pro-life laws, such as the Abortion Complication Reporting Act. As a result, the number of abortions has declined by 60 percent, and six of seven abortion clinics in the state have closed.
Thanks to pregnancy care centers, ramped up adoption efforts, increased access to ultrasounds, and the judicious use of pro-life arguments (such as those in Francis Beckwith's book Defending Life), we are also winning hearts and minds. The Pew Research Center reports that 18- to 29-year-olds (many of whom consider themselves abortion survivors) consistently favor tougher abortion restrictions than do those 30 and older. In 2003 Gallup found that 32 percent of teens surveyed said abortion should be illegal in all cases—compared with 17 percent of adults. Even Hollywood appears to be sympathetic to pro-life concerns (ct, February, page 34).
Yes, some pro-lifers have besmirched the cause by the use of violence, brass-knuckle political tactics, or hateful rhetoric. And yes, a majority of Americans favors keeping abortion legal in some circumstances. But Carrie Gordon Earll of Focus on the Family notes that most would make abortion illegal except in cases of rape, incest, or threat to the life of the mother. "That's a far cry from what we have today," Earll says, "and an encouraging sign that this nation can move back to a place where abortion is no longer legal or thinkable."
It's hard to find anyone who is "pro-abortion" these days. Hillary Clinton calls abortion a "sad, even tragic choice." Barack Obama opposed banning partial-birth abortion, which the Supreme Court restricted last year. But even Obama told this magazine, "I don't know anybody who is pro-abortion."
No, we will not all be called to picket or pray in front of an abortion clinic or pass legislation or support an unwed mother or adopt a child or write letters to the editor. But we all can do something.
Opposing abortion is not simply another agenda item for evangelicals. It is our sacred duty. Whatever other good deeds we are called to do—and there are many—we cannot say abortion is someone else's business. It's our business.
Related elsewhere:
Other articles on politics, life ethics, and social justice are available in our full coverage areas.
Guthrie's previous columns are available on our site.
Have something to add about this? See something we missed? Share your feedback here.
Foolish Things
Stan Guthrie is an editor at large for Christianity Today and author of Missions in the Third Millennium and All That Jesus Asks. His column, "Foolish Things," ran from 2006 to 2007.
Previous Foolish Things Columns:
Our digital archives are a work in progress. Let us know if corrections need to be made.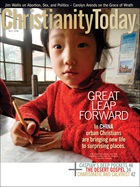 This article is from the May 2008 issue.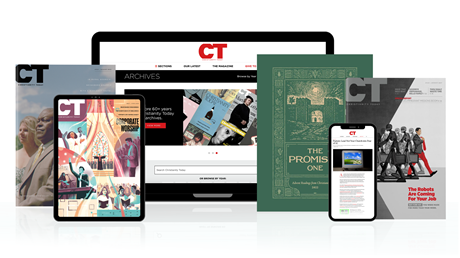 Annual & Monthly subscriptions available.
Print & Digital Issues of CT magazine
Complete access to every article on ChristianityToday.com
Unlimited access to 65+ years of CT's online archives
Member-only special issues
Subscribe
We're Not Finished
We're Not Finished