Whatever happened to former President Jimmy Carter?
Long hailed as "the best ex-President we've ever had," a hard-working humanitarian, a globe-trotting observer of Third World elections, a Southern Baptist volunteer for Habitat for Humanity, a mediator of international conflicts, and an idealistic campaigner for the abolition of dangerous tropical diseases, Carter has become the subject of widespread vilification in the U.S.
It's all because of his latest book, Palestine: Peace Not Apartheid. The book has offended many Jews and evangelicals because it appears to be a one-sided denunciation of Israel.
When Carter ran for President in 1976, he electrified the nation by declaring that one of his qualifications was being a "born-again Christian." Evangelicals supported him at the ballot box that year.
Carter's candidacy was made doubly appealing by a warmly sympathetic campaign book about him called The Miracle of Jimmy Carter by the late Bob Slosser.
Even so, the Carter presidency was disappointing to many. He seemed unable to cope with the crisis of American hostages held captive in Iran, the oil crisis of 1979, and the Soviet invasion of Afghanistan. The one lasting achievement of his presidency, a peace accord brokered between Israel and Egypt in 1979, was not enough to prevent evangelical voters from leaving him and voting overwhelmingly for Ronald Reagan in 1980.
Once out of office, Carter founded the Carter Center in Atlanta in 1982, championing all kinds of worthy causes, such as ceasefires with rebel groups and the elimination of diseases like malaria and guinea-worm. He became the third U.S. President or former President (the others being Theodore Roosevelt and Woodrow Wilson) to win the Nobel Peace Prize.
Perhaps emboldened by the prize, Carter kept injecting himself into international affairs, visiting Cuba in 2002 (infuriating the Bush White House) and later declaring that Venezuelan populist strongman Hugo Chavez had fairly won the election of 2004, when many observers were convinced of voter fraud. A Time columnist opined that Carter's freelance, unauthorized diplomacy had "taken him dangerously close to the neighborhood of what we used to call treason."
But in Palestine: Peace Not Apartheid (PPNA), it is Carter's overwhelmingly anti-Israel bias that has offended many. Some 14 members of the Carter Center's Board of Councilors resigned in protest following the publication of the book, claiming, among other things, that Carter had:
• denied that Ismail Haniyeh, the Palestinian prime minister and Hamas leader, had publicly stated that Hamas would never recognize Israel—even though Haniyeh was caught on audiotape saying just that;
• surrendered his role as a peace broker to become an advocate "for one side";
• and "confused opinion with fact, subjectivity with objectivity, and force for change with partisan advocacy."
Worse, said many critics, Carter maintained there was a massive "Jewish lobby" within the U.S. suppressing all rational discussion of Israel's role in the Middle East. Harvard liberal Alan Dershowitz wrote in a review that the book raised "the question of what would motivate a decent man like Jimmy Carter to write such an indecent book."
What indeed? Though a saintly man to many, Carter has often been strangely naïve about world leaders. After meeting Soviet leader Leonid Brezhnev in 1979, for instance, he described Brezhnev as "a man of peace." A few months later, Moscow invaded Afghanistan.
Carter accurately depicts the humiliation many Palestinians have felt under Israeli rule. But in his denunciation of Israel's defensive barrier ("the Wall"), he fails to note that its stated objective is not a land-grab but protection of Israeli civilians against Palestinian suicide bombers. (And in that respect, it has succeeded.) A National Review article noted that Arab financial support for the Carter Center might have been a factor in forming the strangely dyspeptic judgments of PPNA.
One of the deadliest Carter suggestions in PPNA is that Palestinian suicide bombers will refrain from their terrorism against Israeli civilians only "when the ultimate goals of the Roadmap for peace are accepted by Israel." But at Brandeis University, Carter told students, "That sentence was worded in a completely improper and stupid way." He apologized, saying future editions would include changes in the sentence.
Mr. President, fellow born-again Christian, despite this expression of regret about those words, your role as an impartial "man of peace" has never been more in question.
Related Elsewhere:
Alan Dershowitz lists some of the errors he found in Carter's book in his blog and an op-ed. He has challenged Carter to a debate.
A video of Carter's speech at Brandeis University about Palestine: Peace Not Apartheid and his essay, "How I See Palestine," are available at the Carter Center website.
Kenneth Stein, one of the 14 who resigned from the Carter Center over the book, wrote about his problems with Palestine: Peace Not Apartheid.
Article continues below
Newsweek interviewed Carter about the reaction to his book and his views on other current issues.
Aikman's other Global Prognosis columns are available on our site.
Reviews and articles on the book include:
Jews, Arabs and Jimmy Carter | This is a strange little book about the Arab-Israeli conflict from a major public figure. (The New York Times)
Jimmy Carter's Book Stirs Criticism, Complaint | Palestine: Peace Not Apartheid charts the Arab-Israeli peace process from President Carter's time in the White House in the late 1970s to present day. Transcript available. (NPR's Day to Day)
What Would Jimmy Do? | A former president puts the onus for resolving the Mideast conflict on the Israelis. (The Washington Post)
Jimmy Carter Fires Back at Longtime Aide Over Book | Former President Jimmy Carter faced new criticism Friday over his controversial book on Palestinian lands when a former Middle East diplomat accused him of improperly publishing maps that did not belong to him. (Associated Press)
Carter: "Apartheid" Is Apt For West Bank | Former President defends book title, says he was never invited to debate (CBS News)
Carter Defends Gaza Theory at GWU Speech | Despite the storm it ignited, former President Carter held fast on Thursday to his accusation that Israel oppresses the Palestinians on the West Bank and Gaza and seeks to colonize the land. (Associated Press)
Christianity Today articles on Carter include:
Was Israel a Mistake? | Three views (including former President Carter's). (Books & Culture, Jan/Feb 2007)
Servant in Chief | Jimmy Carter's journey from the White House to building houses (Philip Yancey, May 21, 2002)
Georgia: Can Jimmy Carter Say 'Farewell'? | Although former President Jimmy Carter announced he was withdrawing from the Southern Baptist Convention (SBC), that's not an option for individuals, says the denomination's president (December 4, 2000)
Best Ex-Prez | A Different Way to Lead (September 20, 2003)
Have something to add about this? See something we missed? Share your feedback here.
Global Prognosis
David Aikman is professor of history and writer-in-residence at Patrick Henry College and wrote for Time magazine from 1971 to 1994. Among his books are Jesus in Beijing and A Man of Faith: The Spiritual Journey of George W. Bush. His column, "Global Prognosis," ran from 2006 to 2007.
Previous Global Prognosis Columns:
Our digital archives are a work in progress. Let us know if corrections need to be made.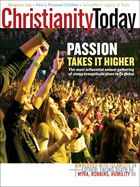 This article is from the April 2007 issue.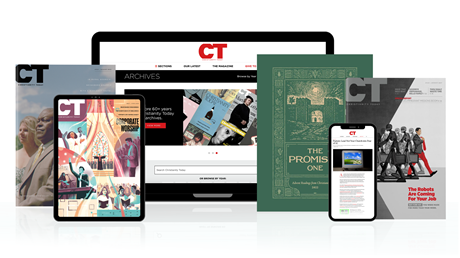 Annual & Monthly subscriptions available.
Print & Digital Issues of CT magazine
Complete access to every article on ChristianityToday.com
Unlimited access to 65+ years of CT's online archives
Member-only special issues
Subscribe
Throwing Rocks at Israel
Throwing Rocks at Israel