The Da Vinci Code wasn't the only movie sparking protests and religious debates this spring. Some filmgoers were surprised by States of Grace, a film advertised as "a quantum leap forward for Christian cinema," with music by gospel artist Kirk Franklin. It turned out that States of Grace was a sequel to the 2000 film by Mormon filmmaker Richard Dutcher, God's Army, and both movies focused on Mormon missionaries.
Filmgoers in San Diego were especially surprised when a ticket agent asked them, "Are you a Christian?" After answering yes, they were told that States of Grace is "being advertised as a Christian film, but it's really a Mormon film."
Outraged Latter-day Saints from across the West descended on the theater, ready to protest with signs: "MORMONS ♥ JESUS, Too" and "MORMONS ARE CHRISTIANS, TOO." Organizers called off the protest only after a last-minute call from the film's director.
"I was kind of riled up," Steven Greenstreet, another LDS filmmaker who had helped to organize the protest, told The Daily Herald of Provo, Utah. But, he said, "the way we were approaching it wasn't the most Christian way. We decided it would look better to turn the other cheek."
Mormons have had plenty of reason to be riled up this spring. HBO's drama Big Love, about a polygamous family, and the real-life drama of the FBI's pursuit of polygamist Warren Jeffs and his Fundamentalist Church of Jesus Christ of Latter-day Saints have sent the church's media relations department into overdrive. It has had to remind reporters that the Mormons outlawed polygamy after a "divine revelation" in 1890.
That didn't stop Fox News's Andrew Napolitano from suggesting that if the Utah attorney general pursued Jeffs, he would risk a Mormon backlash. Or stop CNN from displaying an image of Jeffs superimposed on a photo of the Mormon temple in Salt Lake City.
LDS church officials bristle when asked about Jeffs. "There is no reason," the LDS church said in a press release, "why the church would wish to comment about a legal action concerning a group with which it has no affiliation or connection."
Expect more objectionable questions in the future, especially as Massachusetts Gov. Mitt Romney considers a run for the presidency. Noting that Mormons didn't allow blacks to become priests until 1978, one critic asked, "Where is Mr. Romney on those issues, in terms of equality of race prior to 1978 and other kinds of issues in question?"
The critic was Ted Kennedy (along with his nephew Joseph), and the question came during Romney's 1994 Senate campaign. After Romney invoked John F. Kennedy's response to anti-Catholic concerns in the 1960 presidential race, the Kennedys backed off. Now, Ted Kennedy says, America has "moved on" from religious tests for politicians. Still, Romney says that if he runs, he will, like JFK, publicly explain the relationship between his faith and his governing.
But evangelicals won't listen, said columnist Robert Novak, who reported that they "are adamant, saying there is no way Romney can win them over." He cited unnamed "prominent, respectable evangelical Christians" who told him "that millions of their co-religionists cannot and will not vote for Romney for President solely because he is a member of the Church of Jesus Christ of Latter-day Saints. If Romney is nominated and their abstention results in the election of Hillary Rodham Clinton, that's just too bad." This despite the fact that Mormons are more likely than evangelicals to support conservative Christian political causes.
As the National Association of Evangelicals' Richard Cizik told The Washington Monthly, "Most evangelicals still regard Mormonism as a cult." Even more see Mormons as non-Christians—or worse—while seeing liberal Protestants as "bad Christians"—though both groups equally deny classical Christian doctrine on revelation, the full divinity of Christ, the nature of man, and other key points.
With their strong family values, constant Jesus talk, and passion for evangelism, Mormons seem almost like evangelicals' cultural twins. In some ways, they represent our ideal.
Maybe that's one reason why so many evangelicals are more comfortable with liberal Protestantism than with Mormonism. We like our differences stark, with red-and-blue color coding. We'd rather see The Da Vinci Code than States of Grace.
Related Elsewhere:
A Los Angeles Times/Bloomberg poll released this week examined whether Americans would be more likely to vote for a candidate who is Catholic, Jewish, evangelical, Mormon, or Muslim.
This column appeared in the magazine's July 2006 print issue as the twelfth entry of "Weblog in Print," CT's effort to duplicate on paper our popular online Weblog feature. Earlier entries include:
Peace, Peace | From the front page to the obits, one day's news about Christian peacemaking. (Apr. 18, 2006)
The Art of Abortion Politics | A unanimous Supreme Court decision opens the door to real change. (Feb. 20, 2006)
Article continues below
Time to Get Judicially Serious | Evangelicals and the possible Supreme Court Catholic majority. (Dec. 28, 2005)
The Katrina Quandary | America questions the role of Christian charity. (Oct. 20, 2005)
Abolishing Abstinence | Telling underage kids not to have sex is surprisingly controversial (Aug. 24, 2005)
Dirty Qur'ans, Dusty Bibles | If Leviticus or Jude suddenly disappeared from Scripture, would we notice? (June 20, 2005)
Who's Driving This Thing? | Everyone is asking who leads the evangelical movement. (Feb. 21, 2005)
Bad Believers, Non-Believers | Do religious labels really mean anything? (Oct. 19, 2004)
Pro-Abortion Madness | The abortion lobby has abandoned its rationales amid pro-life gains. (Aug. 17, 2004)
Grave Images | The photos from Abu Ghraib have reopened debate on the power of pictures.
Misfires in the Tolerance Wars | Separating church and state now means separating belief and action (Feb. 24, 2004)
Previous Christianity Today coverage of Mormon-evangelical relations includes:
Evangelist in Brigham Young's Court | Ravi Zacharias preaches to Mormons about the uniqueness of Christ. (Dec. 7, 2004)
Weblog: Ravi Zacharias, Rich Mouw Speak in Mormon Tabernacle | Indian-born apologist notes differences with LDS, Fuller head offers apology (Nov. 16, 2004)
Weblog: Ravi Zacharias to Speak at Mormon Tabernacle | Mormons open top pulpit to evangelical apologist (Sept. 17, 2004)
Winning Them Softly | Evangelicals try to reach Mormons with respect—and hard science. (Jan. 16, 2004)
Temple Square Face-off | Baptist evangelist irks LDS, but court is on his side. (Dec. 9, 2002)
Weblog: Must Christianity Include Mormonism? | Dartmouth Christian group "intolerant" for barring Mormon student leaders (July 18, 2001)
Mormon Makeover | An effective evangelical witness hinges on understanding the new face of Latter-day Saints. Reviewed by Richard J. Mouw (Mar 6, 2000)
A Peacemaker in Provo | How one Pentecostal pastor taught his Congregation to love Mormons (Feb. 9, 2000)
Mere Mormonism | Journalist Richard Ostling explores LDS culture, theology, and fans of 'crypto-Mormon' C.S. Lewis. (Feb. 9, 2000)
The Mormon-Evangelical Divide | Beliefs that set Mormons apart, and evangelicals' response (Feb. 9, 2000)
Mormons, Evangelicals Tangle Over Web Site (Feb. 9, 2000)
Mormons on the Rise | Southern Baptists Take Up the Mormon Challenge (June 15, 1998)
Books: With a Grain of Salt | Assessing a Mormon-evangelical dialogue. Reviewed by Francis J. Beckwith (Nov. 17, 1997)
Article continues below
Previous Christianity Today coverage of the Church of Jesus Christ of Latter-day Saints includes:
LDS and DNA | Book challenges Native American link to ancient Israel. (Sept. 14, 2004)
Christian History Corner: Learning From the Other 9/11 | Words kill. So teachers, watch what you say. (Sept. 11, 2003)
Mormon Scholar Under Fire | Anthropologist says Latter-day Saints' teaching wrong about Native Americans. (Feb. 19, 2003)
Mormon Film a Lesson in Telling Faith-Based Stories | Little Secrets avoids theological lectures but delivers an engaging story. (Nov. 21, 2002)
Weblog: A Lead in a Famous Mormon Massacre Case, 145 Years Later | Did Mormon leaders kill 120 pilgrims in 1870? (Feb. 27, 2002)
News Roundup: The Shiny, Happy Olympics | Coverage of Salt Lake City's games focuses on who isn't evangelizing. (Feb. 13, 2002)
Christian History Corner: Alternative Religions | Many non- and semi-Christian groups laid claim to the West, but none more successfully than the Mormons. (Feb. 8, 2002)
Weblog: Mormons Training to Take the Gold in Olympic Proselytism | CNN backs down after Mormons complain (Mar. 22, 2001)
Weblog: The Church of Jesus Christ? | Mormons: Don't call us Mormons (Feb. 20, 2001)
Latter Day Saints: Reorganized Latter Day Saints Aim to Grow After Revising Doctrines (Sept. 7, 1998)
Mormon Church Suspends Construction (Mar. 2, 1998)
Suit Challenges Religion Classes Credit (Jan. 12, 1998)
Previous Books & Culture coverage of the Church of Jesus Christ of Latter-day Saints includes:
Saints Rising | Is Mormonism the first new world religion since the birth of Islam? (January/February 2006)
Who's That on the $50 Bill? | Placing Joseph Smith in America's story. (January/February 2006)
They Leave It, But They Can't Leave It Alone | The memoir of a disaffected Mormon (July/August 2005)
Hearing Voices | How can you tell a prophet from a fruitcake? (Hint: If you're instructed to murder someone, be skeptical) (Sept/Oct 2003)
The Mormon Story (Nov/Dec 1999)
Have something to add about this? See something we missed? Share your feedback here.
Our digital archives are a work in progress. Let us know if corrections need to be made.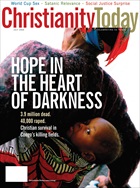 This article is from the July 2006 issue.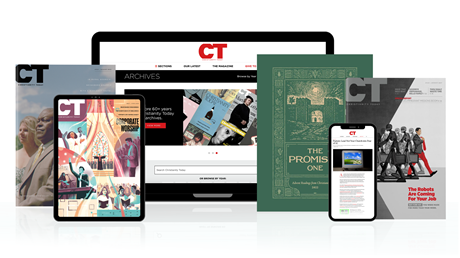 Annual & Monthly subscriptions available.
Print & Digital Issues of CT magazine
Complete access to every article on ChristianityToday.com
Unlimited access to 65+ years of CT's online archives
Member-only special issues
Subscribe
Latter-day Complaints
Latter-day Complaints