In 1990, I helped run the first independent human-rights conference in the Soviet Union, which, in a roundabout way, offered a lesson in the importance of families and a loving home. I accepted an invitation to visit an orphanage for oligophrenics ("little brains" or "imbeciles") and was amazed to find bright, eager, and articulate children. I was more amazed when their teachers repeatedly emphasized that they will never hold a "proper" job.
I asked my guide why these bright children were being treated like this. He replied, "The Soviet Union needs unthinking, unskilled manual workers."
What I saw the next day was worse. We visited the locked unit for adolescents in St. Petersburg's biggest psychiatric hospital. The ward was bare, save for the urine-soaked mattresses on which lay drug-induced male "zombies." The case notes I saw read, "Nothing abnormal on admission"; then scrawled in as the diagnosis: "schizophrenia." I discovered that many of the boys there had run away from the horrors of the orphanages for oligophrenics. Little Ivan, with a shock of brown hair falling over his face, pleaded, "Please, will you find me a mother? I want to get out of here."
Once children have a psychiatric record they cannot aspire even to be an "unthinking manual worker." For the boys, the only option was the army. "Maybe it was not a coincidence," my guide said, "that soldiers who slaughtered women and children at Tbilisi were said to be 'orphan soldiers,' never having known a family's love."
Little Ivan, with a shock of brown hair falling over his face, pleaded, "Please, will you find me a mother?"
I was asked to return to the new, postcommunist Russia to do further research on the situation for children and then write a report to submit to the government. We researched 15 orphanages for oligophrenics in Moscow and St. Petersburg and visited several psychiatric hospitals. We found that over 70 percent of oligophrenic children were average or above average (some very bright), and most others were capable of living normal lives.
The new Russian authorities responded generously to our critical report. We were then asked to help the Ministry of Education change the system. Russian policymakers, lawyers, and professionals came to Britain to be introduced to the concept of in-home foster childcare (as opposed to institutionalized care), a concept that had been unknown in the Soviet Union for its 70 years of communism.
By 1995, the Duma (Russian parliament) had succeeded in passing laws that paved the way for nationwide reform. It has taken some time, but today these new laws for children have been adopted in St. Petersburg, Karelia, Omsk, and Kaliningrad.
My colleagues and I worked with officials in Moscow to launch the "Our Family" project, which provides a home, healing love, and security by dedicated Christian "social parents" for abandoned children. When a child is ready to live with a family, the project recruits, selects, and trains foster parents and then makes an appropriate match. The fostering family receives professional support and some financial help.
The value of good foster care for needy children, the importance of encouraging parents to take on this challenge, and the supportive role churches can play in helping these parents remain blind spots in the mindset of many Christians. Yet the needs and rewards are immeasurable.
The first set of foster parents with whom Our Family placed a child were Igor and Natasha. Igor told us about a dream he had had a year earlier: He was standing in the forest under the stars holding hands with his wife when two boys "fell from heaven." The younger of the two boys was trying to speak but couldn't.
About a year later, he saw an advertisement soliciting foster parents for Our Family, and he and Natasha enrolled and were selected and trained.
Meanwhile, police had found a child by a dustbin in terrible condition. They took him to a special hospital and learned he was suffering from malnutrition. He was eventually returned to the police to be placed in an orphanage for oligophrenics.
Reluctant to send him there, the police consulted the Our Family list of prospective foster parents. They saw Igor's name and telephoned, asking if he would take this boy into his care. When Igor and Natasha arrived at the police station, there was the little boy in the dream! He could not talk but could only mumble incoherently. They named him Dima, and he quickly learned to speak. He began to recall his alcoholic mother and referred to an older brother. Our Family staff traced the brother and found him already consigned to an orphanage for oligophrenics. He was the second boy in Igor's dream.
Today, over 70 children have been cared for through Our Family. There are still hundreds of thousands of children consigned to orphanages for oligophrenics. Economic problems in Russia have delayed the opening of the second Our Family center in Moscow. But Christian families and their churches can step in and make a difference. It is our prayer that soon there will be no more children like Ivan, in the psychiatric hospital, who cry out, Please, will you find me a mother?
The Baroness Cox is president of Christian Solidarity Worldwide (csw@clara.net).
Have something to add about this? See something we missed? Share your feedback here.
Our digital archives are a work in progress. Let us know if corrections need to be made.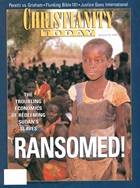 This article is from the August 9 1999 issue.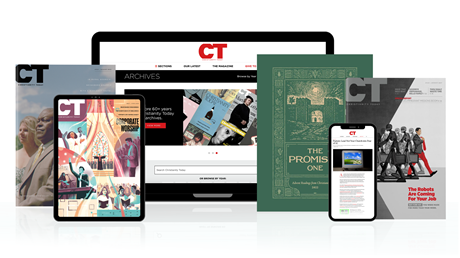 Annual & Monthly subscriptions available.
Print & Digital Issues of CT magazine
Complete access to every article on ChristianityToday.com
Unlimited access to 65+ years of CT's online archives
Member-only special issues
Subscribe
Baroness Caroline Cox: Rescuing Russia's Orphans
Baroness Caroline Cox: Rescuing Russia's Orphans