Grace to FollowTraveling God's Road
Before we were born, God knew us. He knew that some of us would rebel against His love and His mercy, and that others would love Him from the moment that they could love anything, and never change that love. He knew that there would be joy in heaven among the angels of His house for the conversion of some of us . …
In one sense we are always travelling, and travelling as if we did not know where we were going.
In another sense we have already arrived.
We cannot arrive at the perfect possession of God in this life, and that is why we are travelling and in darkness. But we already possess Him by grace, and therefore in that sense we have arrived and are dwelling in the light.
—Thomas Merton in
Mornings with Thomas MertonCheap grace is the preaching of forgiveness without requiring repentance, baptism without church discipline, Communion without confession, absolution without personal confession. Cheap grace is grace without discipleship, grace without the cross, grace without Jesus Christ, living and incarnate.
Costly grace is the treasure hidden in the field; for the sake of it a man will gladly go and sell all that he has. It is the pearl of great price to buy [for] which the merchant will sell all his goods. It is the kingly rule of Christ, for whose sake a man will pluck out the eye which causes him to stumble, it is the call of Jesus Christ at which the disciple leaves his nets and follows him . …
Such grace is costly because it calls us to follow, and it is grace because it calls us to follow Jesus Christ.
—Dietrich Bonhoeffer in
The Cost of Discipleship
Sledgehammer
Authority without wisdom is like a heavy axe without an edge: fitter to bruise than polish.
—Ann Bradstreet in
Wise Women
Sightlessness
When you have first learned God, or His will, you can address yourself cheerfully to the study of His works. If you do not see yourselves and all things as living, moving, and having their being in God, you see nothing, whatever you may think you see.
—Richard Baxter in
The Reformed Pastor
Poor Substitutions
A post-intellectual society is one where public relations substitutes for public policy, where one mass-media image can wipe out many careful arguments, where sound moral character means feeling good about yourself, and the increase of freedom means more consumer choices. It is, finally, a society where intellectuals are very comfortably kept thinking about what they are told to think about. I suppose the biggest difference in the past 30 years is that the intellectually gifted now have so many more places to sell out. Freshmen with any smarts at all now arrive at universities eager to become commodities
—Richard Lee,
in a commencement address at
Valparaiso University (Cresset,
Christmas/Epiphany 1997-98)
Whose Image?
Is Christian music really a ministry or a business, or both, and how do we define its success? …
Musicians, as well as record companies, are perplexed by these questions. Ministry is great, but is God honored by an artist who defaults on his or her mortgage and can't feed his or her children? What good is a record company that does its books only in red? …
I think our society inwardly, even unknowingly, longs for a truth that endures. For people of character. For substance and meaning behind the images. …
Ultimately, Christian musicians must ask whether they are more concerned with their own image or being made in the image of God.
—Mark Gersmehl of Whiteheart in
Billboard (Apr. 25, 1998)
To Effect Change—
You must be the change you wish to see in the world.
—Mahatma Gandhi,
quoted in Zen Soup
Past and Future with God
For what has been—thanks! For what shall be—yes!
—Dag Hammerskjold,
quoted in Sacred Moments
Have something to add about this? See something we missed? Share your feedback here.
Our digital archives are a work in progress. Let us know if corrections need to be made.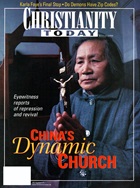 This article is from the July 13 1998 issue.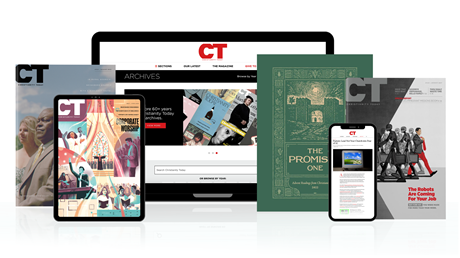 Annual & Monthly subscriptions available.
Print & Digital Issues of CT magazine
Complete access to every article on ChristianityToday.com
Unlimited access to 65+ years of CT's online archives
Member-only special issues
Subscribe
Classic & Contemporary Excerpts from July 13, 1998
Classic & Contemporary Excerpts from July 13, 1998