Jewish authors and literature yield an enormous wealth of material well worth repeating. This issue's Reflections page thus draws on Jewish writers and writings.
TRIVIAL PURSUIT
In biblical days prophets were astir while the world was asleep; today theworld is astir while church and synagogue are busy with trivialities.
—Abraham Joshua Heschel,
theologian, poet, mystic, social reformer, author,
in The Insecurity of Freedom

TRUE LOVE
The test of love is in how one relates not to saints and scholars but torascals.
—Abraham Joshua Heschel
in A Passion for Truth

GOD EVER PRESENT
Wherever I go—only Thou!
Wherever I stand—only
Thou! Just Thou; again Thou!
always Thou! Thou, Thou,
Thou! When things are good,
Thou! when things are bad—
Thou! Thou, Thou, Thou!
—An early Hasidic song, from
The Oxford Book of Prayer

IF …
If my lips could sing as many songs
as there are waves in the sea:
if my tongue could sing as many hymns
as there are ocean billows:
if my mouth
filled the whole firmament with praise:
if my face
shone like the sun and moon together:
if my hands
were to hover in the sky like powerful eagles
and my feet
ran across mountains as swiftly as the deer;
all that would not be enough
to pay you fitting tribute,
O Lord my God.
—Hymn probably composed in the
Talmudic period, 3rd-5th century A.D., in
Praying with the Jewish Tradition (comp. Elias Kopciowski)

GOD'S SHADOWS
"Do you know the story of the great Rabbi Haim-Gedalia of Upshpitzin?" heasks me another evening. "He interceded with God in favor of an innkeeperwho was notorious for his many sins. 'Very well, I forgive him,' said theAlmighty. Whereupon, pleased with his success, the Rabbi began to look forsinners to defend in heaven. Only this time he could not make himself heard.Overcome with remorse, the Rabbi fasted six times six days and asked heaventhe reason for his disgrace. 'You were wrong to look for sinners,' a celestialvoice told him. 'If God chooses to look away, you should do the same.' Andthe Rabbi understood that some things must remain in the shadows, for theshadows too are given by God."
—Novelist Elie Wiesel, chronicler of the horrors
of the Holocaust, in The Fifth Son

LESSONS FROM THELADDER
We are told that when Jacob set out to journey from Beersheba to Haran, hestopped at a certain place for the night and had a dream. What did he dream?A stairway was set on the ground and its top reached to the sky, and angelsof God were going up and down on it. Some were going from the earth to theheaven, others from the heaven to the earth. The great Moshe Chaim Ephraimof Sudlikov once said that this comes to teach us the following. A man doesnot always remain at the same stage. He is always ascending or descending.When he reaches the top, he must concern himself with the probability thathe will fall. When he reaches the bottom, he must strive once again to climbto the top. That is the nature of man. When the soul of a man is in its darkestnight, he must strive constantly for new light. When one thinks there isonly an end, that is when one must struggle for the new beginning.
—Chaim Potok, novelist,
narrator of contemporary Jewish experience,
in a conversation between the Rebbe and Asher Lev
in The Gift of Asher Lev

THE ENEMY IS US
A man's worst enemy, I tell you, will never do him the harm he does himself.
—Scholem Alechem, spinner of Yiddish yarns
of Tevyeh and his fellow Pale of Settlement
dwellers, in "Gymnasie" (Yiddish Tales)

BEHOLDING THE WORD
… read the Bible as though it were something entirely unfamiliar, asthough it had not been set before you ready-made. … Face the book witha new attitude as something new. … Let whatever may happen occur betweenyourself and it. You do not know which of its sayings and images will overwhelmand mold you. … But hold yourself open. Do not believe anything a priori;do not disbelieve anything a priori. Read aloud the words written in thebook in front of you; hear the word you utter and let it reach you.
—Martin Buber, twentieth-century theologian,
in a 1926 lecture, quoted in The Five Books of Moses
Have something to add about this? See something we missed? Share your feedback here.
Our digital archives are a work in progress. Let us know if corrections need to be made.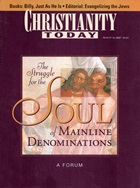 This article is from the August 11 1997 issue.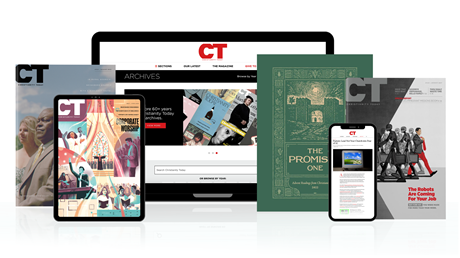 Annual & Monthly subscriptions available.
Print & Digital Issues of CT magazine
Complete access to every article on ChristianityToday.com
Unlimited access to 65+ years of CT's online archives
Member-only special issues
Subscribe
Classic & Contemporary Excerpts from August 11, 1997
Classic & Contemporary Excerpts from August 11, 1997