American evangelical authors have often noted and criticized the assimilation into Christianity of cultural values held in high regard in the United States. Among those who have written of this are Richard V. Pierard (in The Unequal Yoke: Evangelical Christianity and Political Conservatism (Lippincott, 1970); Mark O. Hatfield in Conflict and Conscience (Word Books, 1971); and David O. Moberg in The Great Reversal: Evangelism Versus Social Concern (Lippincott, 1972).
But speakers from the Third World who dealt with this delicate issue at the 1974 International Congress on World Evangelization had a special contribution to make. They were able to show the effects of what one called "American culture-Christianity" upon the relations between the American missionary enterprise and the Church in the Third World today. Many an American Christian would readily admit with Moberg:
We have equated "Americanism" with Christianity to such an extent that people in other cultures must adopt American institutional patterns when they are converted. We are led through natural psychological processes to an unconscious belief that the essence of our American Way of Life is basically, if not entirely, Christian [op. cit., p. 42].
But at the Lausanne congress this criticism was voiced from the Third World and applied to the missionary enterprise.
As was to be expected, not all the congress participants agreed with those speakers. The debate that followed was inevitable at a gathering that took in so wide a range of national and cultural backgrounds. This variety was an asset; clearly the congress was not dominated by representatives of one particular school, with which all participants were expected to agree. All the speakers had full freedom to express their views.
The culture-Christianity issue discussed at Lausanne continues to be debated in various parts of the world. Not only in Asia, Africa, and Latin America but also in Europe (particularly in England, Holland, and Germany) and Australia, evangelicals seem to be increasingly aware of the need to deliver Christianity from its cultural accretions and to dispel every sign of confusion between the Gospel and American "power." The whole problem of the relation between the missionary movement and the Church in the Third World is sure to occupy an important place on the evangelical agenda for the next few years.
Are evangelicals in the United States really willing to listen to their Third World brethren who are critical of American culture-Christianity? Some observers are concerned about what they regard as a "Lausanne backlash." One of them reports that "evangelical Christians in the United States are sensitive to the criticisms that were leveled at them in Lausanne. The result has been a drastic cut in giving to foreign missions." If that is so, the reasons why American evangelicals should listen to their foreign brethren need to be set forth and considered. I would like to suggest two: there are others.
1. The best way to understand those with whom we disagree is to listen to them. Appealing to ad hominem arguments or pretending that the criticisms are necessarily inspired by ill will against Americans is simply a way of hiding one's head in the sand. The view that the modern missionary movement has been all too bound up with "American imperialism" is far more widespread than most American evangelicals would like to admit. The important point, however, is not how many people hold that view but whether it is supported by the facts.
Could it be that Americans in general are unable to view criticism of their methods as a challenge to examine those methods as objectively as possible? Do they take criticism only as a personal attack? Man's natural reaction to criticism is to take offense and to withdraw into his shell. But the Christian's response should be change, whenever and wherever change is needed for the sake of the Gospel. It is high time for American evangelicals, especially those who are leaders in the churches and in missionary societies, to face the criticisms that are being leveled outside the United States against their "successful" techniques for evangelism and church planting.
2. No one has a monopoly on truth. Those who disagree with us may have something to teach us. A growing number of Christians all over the world believe that for too long missionary work has been squeezed into an American mold. Those who do not accept that view have two alternatives before them: (a) to reject as "anti-American" what the critics have to say and either persist in their approach or withdraw from the Christian mission around the world, and (b) to make an honest evaluation of their position in the light of Scripture to see whether in fact it needs to be purged from the defects that others claim to have found in it.
We who have lived in a foreign culture for any length of time can mention a number of insights into our own culture that have come through the experience of looking at it with, as it were, foreign eyes. We should therefore readily realize that our foreign critics are in a position to tell us something about those things in our lives that reflect our culture rather than our commitment to Christ.
God's purpose for his people all over the world is that they attain to the unity of the faith and of the knowledge of the Son of God. It remains to be seen how much the Lausanne congress has helped evangelicals everywhere toward that end.
C. RENE PADILLA
Have something to add about this? See something we missed? Share your feedback here.
Our digital archives are a work in progress. Let us know if corrections need to be made.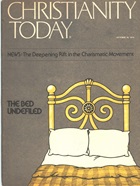 This article is from the October 10 1975 issue.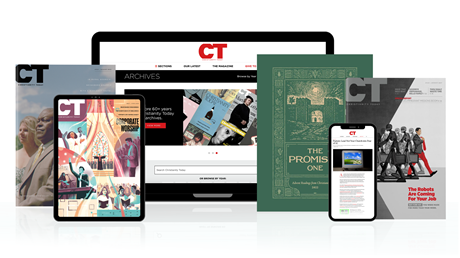 Subscribe to Christianity Today and get access to this article plus 65+ years of archives.
Home delivery of CT magazine
Complete access to articles on ChristianityToday.com
Over 120 years of magazine archives plus full access to all of CT's online archives
Subscribe Now
Christianity American-Style
Christianity American-Style