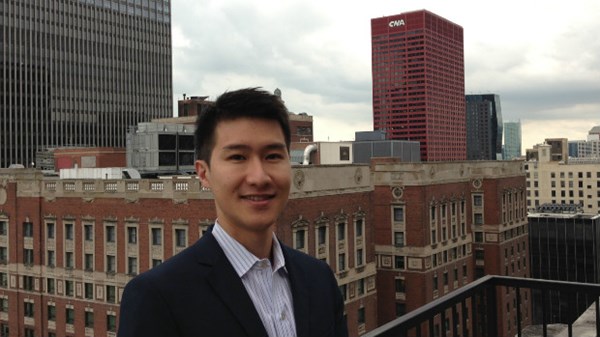 Image: Courtesy of Michael Fang
Following Jesus, the Best Tech Guru
How Michael Fang sees his leadership in medical technology as kingdom work.
7.1.13
Michael Fang admits he's a bit of an overachiever. Accepted into Northwestern Medical School directly out of high school (contingent on completing three years of undergrad work there), his youth belies his drive and accomplishments. At 35, he's a geriatrician and president of his own tech company who plans to enter the gaming industry. Living in Chicago with his wife and son, Fang is looking to Silicon Valley to better understand how to integrate faith and technology. I recently sat down with Fang in Walnut Creek, California, where he was attending a medical technology conference and meeting fellow Christians who are tech experts.
A first-generation Chinese immigrant, Fang learned early on to work hard and dream big. From age 8, he was told by his parents and grandparents he should become a physician. His family was more Buddhist than anything else, but he began reading the Bible in high school. A few years later, his younger brother came to Christ and invited Michael to study the Bible with him. While home on Christmas break of his sophomore year of college, he read through the Book of Romans. By the end of vacation he had accepted Christ.
Fang's fascination with technology came much later, two years into his medical career. Disillusioned with the politics at the Chicago hospital where he worked, he considered leaving, until his director volunteered him for a project. He became the physician representative on an IT team that was implementing electronic health records throughout the hospital.
"I re-found my passion to come to work," says Fang. He saw quickly how technology could benefit clinicians and patients. "We need to be able to share information about patient care faster so we can coordinate care for the patient without a lot of waste."
He offers a common example. "If you come to the hospital, I can't get your records because they're stuck at another hospital. I have to call them, get approval. They fax it over, then I have to somehow read all of that. That could take 48 hours. In the meantime, you're still sick . . . I've wasted time and money and I didn't help you."
But Fang is driven by more than efficiency. "I also felt that there was a huge opportunity to get medicine back to the way it was. One hundred years ago," Fang says," doctors were the data collectors," gathering information about all parts of your life, including environmental, emotional, and physical factors. Your doctor was the researcher. He discovered diseases, came up with treatments, developed diagnostic tools, and monitored results.
"Doctors aren't really practicing medicine," says Fang. "We don't collect data. We don't research it enough—that's in the hands of the researchers. We don't get to improve the process of our patients because we're not looking at [the data]. "
But today, "We have the means to collect that data massively. If we were able to get that data back in the hands of the physicians, they [could] look at that data and say, 'is there a pattern here?' A pattern of healing, of treatment, or failure—then fix it."
This vision prompted Fang in 2011 to start a small medical technology company, CETA Consultants, which aims to help other physicians collect data long-term, therefore improving patient care. CETA (Clinical EMR Technology Application) comes in to help hospitals implement systems that will actually benefit doctors.
Fang has also teamed up with an IT company in Europe. A European physician had created a program that looks at complicated data and queries it immediately. Fang began working to bring the analytics software to the States, where normally only a high-level IT person could access the data. With the software, a physician can sit down at a computer and query his patient interactions over the past 30 days. Then he can analyze what's working and what isn't, and adjust the treatment immediately.
In less than two years, CETA, a former one-man operation, has grown to 150 employees.
Chief Spiritual Officer
Against this backdrop, Fang had some nagging questions. "Everything was growing so quickly in the span of two years that I didn't know where God was taking me . . . . From the world's perspective we were successful. I was a doctor and a businessman, and I had a technology people wanted, but I didn't know where we were heading. I didn't see the faith in it."
Enter the Silicon Valley connection. At the same time Fang was questioning his calling, his cousin told Fang he had joined "this thing that makes no money" in San Jose. Intrigued, Fang flew to Silicon Valley to meet the man who had inspired his cousin's new volunteerism. A local businessman and entrepreneur (who prefers to remain anonymous), he helped Michael see how his accomplishments could be used for kingdom purposes.
Fang also began re-reading the Gospels. He saw that Jesus didn't heal just for the sake of healing; he was also providing a taste of the kingdom to come. Fang says he sees physicians grow disillusioned by the fact all of their patients die. He wants to help everyone he touches get a taste of the kingdom—to see the integrity of his business, the love with which he leads, and his hope in life after death.
Fang also began to reexamine his technology company. "Yes, we always knew we wanted to change health care, but we wanted to know how we could change health care in a way that fits ... kingdom principles."
One of his new positions at CETA? A Chief Spiritual Officer. In the technology industry, he says, he frequently interacts with people who are "in it for the money." At this point, he's relying on a mentor in Silicon Valley to check the spiritual health of his organization—to ask questions like, "Did we align our budget policy to encourage spiritual health?" and "How are we advancing kingdom principles?" He hopes to find a Chief Spiritual Officer in Chicago.
Of course, like all technology, medical technology can harm as much as help, and Fang regularly wrestles with the unpredictable power of new technology. Recently he accompanied his Silicon Valley mentors to a conference where he heard a keynote on technology and faith. As he recounts the talk, he references the extensive notes he took. "In Jesus' day the boat was a technology," he reads, "as well as the nets used to catch fish." Jesus used a boat to leave the shore and the acoustic structures of the Sea of Galilee to amplify his voice. Fang says that as a follower of Jesus, he is an apprentice of the best tech guru in the world.
But Fang also says that Jesus never taught directly about technology. He preached about love. With every technology, Fang says, we must ask, "Are we using this to elevate love? Are we doing it because we love our brothers and sisters and our enemies? Can we do this out of love for this person?" If the answer is no, says Fang, it must be thrown out.
"We don't tie technology to spirituality, but I think they are connected," Fang shares. "The tools we now have at our disposal can help us do a better job in what God has asked us to do. If we are too prideful to accept new ways of doing things, we are not leveraging the tools God gave us."
Kelli Gotthardt is a freelance writer and leadership consultant. Find her at www.kelligotthardt.com and on Twitter @kelligotthardt.
MORE FROM CHRISTIANITY TODAY