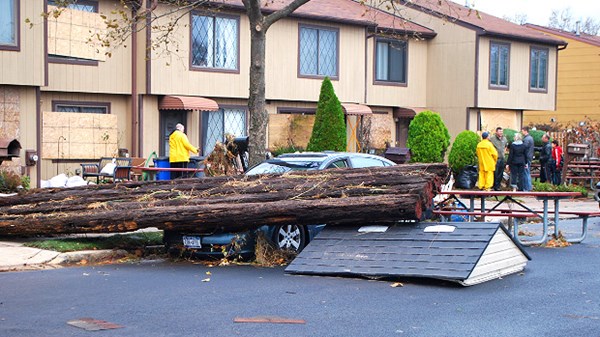 Image: Courtesy of Jeannine Seery
Flooded by a Storm, Then by Grace
The superstorm almost destroyed our home. What happened afterward shocked me.
10.28.13
My husband and I stood at the front door and paused. We knew that we'd reached a watershed moment—literally. With one turn of the key, nothing in our lives would stay the same. And although there was nothing we could do but step inside, we stopped, as if doing so would keep our nightmare from becoming a reality.
The storm surge of Hurricane Sandy dumped more than 4 feet of water into the first floor of our home. Our living room, dining room, kitchen, and bathroom had absorbed a mix of ocean water, diesel fuel, raw sewage, and whatever else the Atlantic Ocean had to offer on October 29, 2012. We knew that the water had receded, but we had no idea what our lives looked like on the other side of that door.
Nothing could prepare us for what we saw. Only a thick layer of wet sludge remained on the floor, and the water hadn't reached our second floor. But the force of the ocean had taken all of our furniture and moved it around the first floor. The refrigerator had capsized, spilling out its contents. Our sofa was now positioned in our dining area, along with our coffee table, which somehow still had a half-empty cup of coffee on it. Our children's toys and everything in our cabinets and drawers were sprawled all over the place. It was impossible to take in.
Unfathomable
We walked from room to room in silence. Then our pastor, David Beidel, walked through the door. We'd spoken to him earlier; he knew we were returning to the house that day. Having seen the devastated area that morning, he knew what awaited us. I don't remember exactly what he said, just two phrases: 'I'm so, so sorry,' and 'God is still with you.' I desperately needed to know that God hadn't been surprised by this storm or by the condition of my house. Somehow, Pastor Dave was able to convey that to me.
There was so much work to be done. The entire first floor of our home had to be gutted and thrown away. The water that filled our living space was heavily polluted. The longer we left the walls up, the greater the risk of toxic mold. At a moment's notice, our congregation, New Hope Community Church, organized a team of volunteers to come the next day.
I couldn't watch. This was my haven, the place I went to escape the stresses of this world. I'd brought my babies from the hospital to this house. And a team of people were going to be pulling it apart and disposing of it, piece by piece. It was unfathomable. I went straight up to our bedrooms and began packing our things.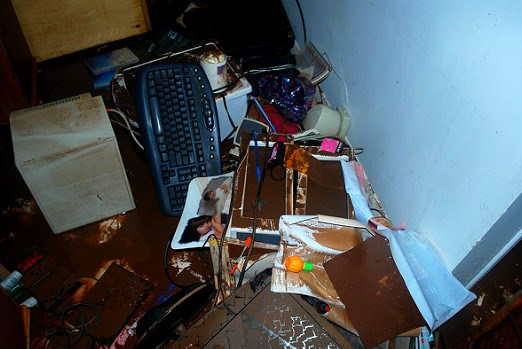 Image: Courtesy of Jeannine Seery
Upstairs I remained, as I heard the noises of disassembling and discarding begin. I was called downstairs; someone had a question for me. And as I descended the stairs, I could see a woman in my backyard.
I'd seen this woman before at church. She was standing on my back porch with a pile of photographs, pictures of my children that had been submerged in dirty ocean water. And she was taking the pictures, one by one, trying to air-dry them so that a few might be salvaged.
Someone else might have come across this pile and thrown it right in the garbage. Honestly, I might have. They were wet and dirty, and I can't begin to describe the smell. But here was a practical stranger to me, doing all she could to hold onto my memories.
This is the body of Christ. Love that surpasses human understanding—that rolls up its sleeves and gets dirty in order to save a treasure that belongs to a near stranger. What I didn't realize was that the work being done in my house was only the beginning.
Over the next months, the Staten Island Evangelical Relief Alliance (SIERA) provided the hands and feet of Jesus to my neighbors, my community, my Island. They would do whatever demolition and reconstruction work that was needed. Yet just as important, they would grieve with homeowners, listen to stories of those who rode out the storm, and pray with people who had no idea what the future held.
Since we'd moved into our home 13 year ago, my husband and I had always prayed that we'd be able to love our neighbors. Now, amid chaos and destruction, countless doors of homes and hearts swung open to the gospel. And the body of Christ saw the needs, practical and spiritual, and answered the call.
Spreading Mulch and the Gospel
In the weeks following the storm, we were overrun with volunteers and offers of help. Then, most people went back to their normal lives. Like most homes in our neighborhood, Midland Beach, ours was still completely uninhabitable. We had no electricity, no furnace or hot water heater, and no idea if insurance or FEMA would help rebuild. Many families, good friends of ours, chose to permanently leave their homes. It was a time of darkness and uncertainty for our family and the whole borough.
But the SIERA team wouldn't leave. They just kept coming back with building supplies, laborers, and hearts that were open to listening to our sorrows.
Our story has a happy ending. After many months of hard work, we were able to restore and repair our home with a combination of government aid and the generosity of family, friends, and strangers. We moved back into our home on March 23, the week before Easter. The following Sunday, our family woke up to celebrate Christ's resurrection in our restored home.
However, the massive flood of salt water into our neighborhood killed most of its foliage. While the majority of homes in our area had been restored internally, the streets still looked like a war zone. Spring had arrived, yet our lawns were clumps of mud, our trees and shrubs, brown and shriveled. Debris lay everywhere. The ugliness was a constant reminder of Sandy.
So on Easter weekend, the SIERA team returned to our neighborhood, this time with grass seed, shovels, rakes, mulch, and other gardening materials. Spring was here, and so was new life. The message of resurrection and rebirth was never clearer than when we looked out our windows and saw strangers combing our neighborhood, spreading mulch and the gospel of Christ.
My husband and I rejoiced in the changes that we'd seen in our neighborhood, our home and in our own hearts. Our prayers to impart Christ to those around us had been answered in a way that we never could have predicted. The day after the storm, as we stood in hideous anticipation before our own closed door, we could never have dreamed of the doors that God would open before us.
Jeannine Seery is a wife, mother, homeschooler, and freelance writer from Staten Island. Visit her blog, Storm Stories.
MORE FROM CHRISTIANITY TODAY