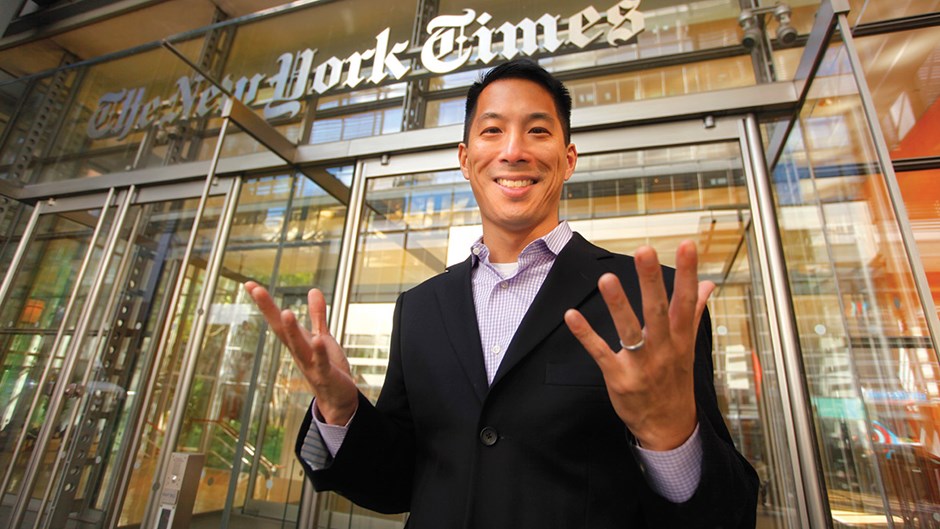 Image: Photo by Brad Guice
Michael Luo strolls through midtown Manhattan to a sushi lunch, musing about his latest apartment renovations and the New York Knicks. But when conversation turns to his work these days—reporting for The New York Times on loopholes in current gun laws—Luo turns serious. "My wife would much prefer it if I covered something else," says Luo. "It has certainly led to some apprehension." While working on a story about mental illness and guns, he had to notify his editor where he was going and when he left—similar to his reporting protocols while briefly working in TheNew York Times's Baghdad bureau.
Yet it's this kind of serious journalism that has earned Luo, 37, the George Polk Award for criminal justice reporting, the Livingston Award for Young Journalists while at the Associated Press, and a job at The New York Times, where he has worked since 2003. He has covered everything from the last two presidential campaigns to Hurricane Katrina to the war in Iraq. Most recently, Luo has zeroed in on the gun industry and the wide availability of firearms—earning him a Pulitzer Prize nomination and frequent spots on the paper's front page.
Luo became a Christian as an undergraduate at Harvard University, and today attends Redeemer Presbyterian with his wife and daughter. He recently spoke with Paul Glader, a journalism professor at The King's College and former staff writer at The Wall Street Journal, about his faith and his work.
What do fellow Christians most often misunderstand about journalism, particularly news reporting?
Their misunderstandings [aren't] so different from the misunderstandings that non-Christians have. Newspapers, including The New York Times, haven't done the best job in this period of profound skepticism of explaining what we do. It's just assumed that people know basic principles, like the fact that the editorial page and the news department are separate, or that opinion columnists are different from reporters. In a period of such political polarization, [explaining ourselves] is essential.
Many Christians consider The New York Times hostile toward evangelical faith. Is that a fair assessment?
Most evangelicals—and non-evangelicals—would be surprised by the lengths that reporters and editors go to fairly report the news. We agonize almost daily over individual sentences, even phrases, in articles and headlines, web summary lines and captions, to make sure they are fair and unbiased. Do we always succeed? No, but the effort is almost always there.
On the other hand, sometimes you can't know what you don't know. A lot of reporters and editors at The Times don't know any evangelicals, have never set foot in a church, and have worldviews that are far removed from evangelicals'. . . . They might not know that evangelical is a theological orientation, not necessarily a political one; that there's a difference between fundamentalism and evangelicalism; that plenty of evangelicals do not believe the earth was created in six 24-hour days; that not all evangelicals believe in the Rapture. Ignorance can lead to inaccurate and misleading characterizations. And yes, it can lead to bias seeping through in the way Christians are depicted.
How to fix this? In many ways, this is a newsroom diversity issue. . . . Back in 2005, the paper convened an internal committee to examine ways we could improve our credibility among readers. We addressed our blind spot on religion in a number of ways in a final report . . . which suggested we look to hire talented journalists "who happen to have military experience, who know rural America firsthand, who are at home in different faiths."
As a reporter who publicly identifies as a Christian, are you alone at The Times?
The Times is like a lot of other cosmopolitan institutions: filled with highly educated people, many of whom went to elite colleges. Often, there is a dearth of Christians in these types of places, and The Times is no exception. I don't know about the faiths of all my colleagues, but I'm definitely not alone. I know of a handful of Christians in the newsroom, people whose faith looks like mine, including people who would really surprise outsiders.
Why did you pursue reporting and journalism?
I have always loved to read and write, so when I thought about potential careers in high school, being able to make a living writing was something I thought about. That's why I joined the school newspaper at Harvard. I also wound up starting a magazine there.
Having become a Christian in college, though, after growing up completely not religious, I tried to sort out my career plans with a kingdom perspective. For me, an influential verse has been, "What does the Lord require of you? To act justly and to love mercy and to walk humbly with your God." Journalism was a career in which I could pursue justice and mercy. Some people are drawn to journalism because of the words. I was more attracted to what the words could do.
How does your faith affect your work?
First, all reporters bring their backgrounds to their jobs, which helps them to cover certain stories better than others. . . . I did cover the religion beat for a year at The Times, but even when I haven't, I've always stumbled upon stories related to faith. When I was covering the war in Iraq, for example, I wrote about the plight of Iraqi Christians; when I covered the 2008 presidential campaign, I wrote about Hillary Clinton's faith.
Being a Christian also gives me a certain fluency. It has helped me build rapport with all manner of people, from the mother of a murder victim to people attending the Values Voter Summit.
Most important, though, my faith has animated why I do what I do. Believing I could make a difference has driven the stories and beats I've sought, whether a story about three poor black, mentally handicapped people imprisoned in Alabama for killing a baby who probably never existed [the story that eventually won the George Polk Award and Livingston Award for Young Journalists], or writing about the human impact of the economic recession, which I did for two years at The Times.
Your recent investigative stories have focused on problems and loopholes with existing gun regulations and policies. Why did you start writing about these issues?
My gun-related investigative stories this year actually trace back to 2011, when I moved over from the national desk to the investigations unit. I had helped cover the shooting of Gabrielle Giffords, among others, as a national correspondent in Tucson. I started asking public health researchers basic questions about what we know about the impact of high-capacity magazines, or background checks, or even whether communities with fewer guns were safer. That was when I learned funding for research into these kinds of questions had slowed to a trickle in the mid-1990s, largely because of the clout of the National Rifle Association. That became a front-page article, which, in turn, led to other gun-related pieces.
I was poking around in gun-related enterprise stories when I was asked to move over to investigations. My new bosses asked me if I had any ideas, and I mentioned to them that I had been exploring how a growing number of states were allowing people with a history of mental illness to petition to have their gun rights restored. That struck me as incredibly interesting and led to my first lengthy gun-related investigative piece. I went on to do several more, producing a series that was nominated by the paper for the Pulitzer Prize.
After the 2012 election, I had spent two months immersed in a project on poverty, when the shootings in Newtown, Connecticut, happened. My bosses asked me to go back to doing investigative stories related to guns. That led to another series of articles this year, called "Bearing Arms," on the impact of the wide availability of guns and the influence of the gun industry, including, most recently, a 5,000-word project on child gun accidents, in which we discovered that federal mortality statistics are significantly undercounting such deaths.
Pastor Rick Warren has been talking more about gun issues since his son Matthew committed suicide after obtaining a gun over the Internet. From your reporting and experience, how would you like to see Christians thinking and talking about guns?
This is obviously incredibly treacherous territory, particularly for a reporter who tries to simply let the work speak for itself. First, clearly, this isn't an issue that has gotten much traction in Christian circles to this point. It has not become a huge rallying point for either liberal or conservative Christians. I have read, however, some commentary by Christian bloggers after the interview Rick and Kay Warren gave to Piers Morgan, wondering if he might take up this issue and try to launch a Christian movement for gun control. I'm very interested in seeing what unfolds on that front.
In a good faith attempt to answer your question, it seems to me that this is one of those issues in which many people simply take the Bible and apply it in a way that fits their existing viewpoint. There are a variety of principles, of course, that might apply, from loving one's neighbor to rendering unto Caesar what is Caesar's. Above all else, however, I would hope Christians bring to the gun control debate the virtues of civility and humility. How great would it be if Christians could help lead the way in ushering in levelheadedness and decorum on an issue that has become almost irretrievably polarizing?
Some readers will know the name John McCandlish Phillips, another NYT reporter and a Christian who passed away this April. What kind of example was he for you?
I met John at a meeting for a group for Christian journalists. . . . Here was this gaunt, elderly, extremely tall man—he looked like a modern-day Ichabod Crane—who introduced himself to me in this wheezy, high-pitched voice as "John Phillips, formerly of The New York Times." I had no idea who he was, but then I looked him up and discovered, of course, that he was a legend.
When I met John, I was still an AP reporter. He took an interest in me, as he did with a lot of promising young Christian journalists. He doled out advice and encouragement and was often just a listening ear. He was overjoyed when I moved over to The Times, and he'd regularly send me notes about stories I'd done.
At one point early in my career at TheTimes, I had sent a note to some top editors, which got passed around to more top editors, about some thoughts I had about our coverage of religion, in which I disclosed my personal faith background. A longtime editor sent an appreciative note back, in which he recalled John and how he used to lead prayer meetings in a room just off of the newsroom. John also, famously, kept a Bible prominently displayed at his desk.
A lot of what John used to talk about was not about evangelizing the newsroom, but simply being excellent at journalism, because that's what God would want. He was an example to me.
Have something to add about this? See something we missed? Share your feedback here.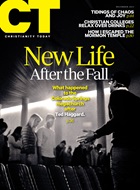 This article is from the December 2013 issue.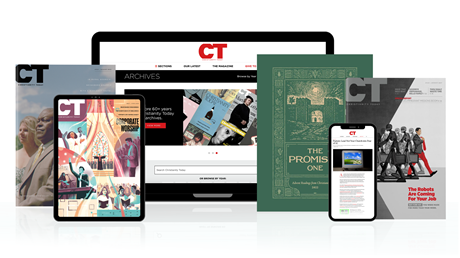 Annual & Monthly subscriptions available.
Print & Digital Issues of CT magazine
Complete access to every article on ChristianityToday.com
Unlimited access to 65+ years of CT's online archives
Member-only special issues
Subscribe
Meet the Christian Reporter Climbing the Ladder at The New York Times
Meet the Christian Reporter Climbing the Ladder at ...