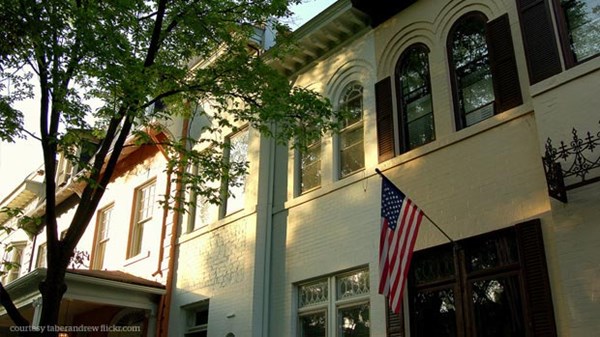 This Old City: A Christian's Dream of Renovating Richmond
Like the old mansions gracing my streets, Richmond itself finds its beauty in the very places it needs the most work.
3.29.12
My city of 30 years has spectacular architecture, from gracious antebellum mansions on tree-lined boulevards, to brownstones wedged onto cobblestoned streets, to tobacco warehouses-turned-lofts overlooking the James River. It's a magnet for young homeowners, who enthusiastically renovate these buildings so recently in decay.
Not long ago, I met a young professional new to Richmond who told me she'd just bought a new house. Leah lovingly described the winding oak banisters, tin ceilings, stained glass windows, pocket doors, pilasters, and hardwood floors. And she offered a lover's smiling grace in detailing her house's quirks—its sagging floors, slanted windows, pocked marble, and chipped stoop.
I asked her how she liked Richmond, and she reluctantly allowed that her transition has been hard. She noted the complicated traditions and social patterns, the unspoken ins and outs, and the incessant reminders of "how we do things here." It reminded me of 1998 (recent history, mind you), when the city hosted the presidential debate, and former anchorman Tom Brokaw referred to Richmond as "a hotbed of social rest." Fair enough.
Richmond oozes history. This city figured prominently in the Revolutionary War and the Civil War. Most of my young friends live in Church Hill, where Patrick Henry made his "Give me liberty or give me death" speech. It seems we have more battlegrounds than Starbucks. Two U.S. Presidents are buried here.
On a more sinister note, tens of thousands of slaves were shipped from the Atlantic up the James River to be auctioned in downtown Richmond, where Lumpkin's Slave Jail with its slave market was a pillar of the local economy. As recently as the 1960s and '70s, our not-so-penitent leaders, including many Christians, perfected "massive resistance" as they defied government-ordered school desegregation.
As I talked to Leah, though, I sensed an irony. I asked her, "Is it possible that, just like you expect your house's defects and quirks will eventually make it a more interesting and beautiful home, couldn't we Richmonders expect that our city's complications and baggage will eventually make it a more beautiful future city? Just as old houses are sometimes advertised as a 'carpenter's dream,' couldn't we view cities like Richmond as a 'Christian's dream'?"
I sought out a contractor friend of mine for his perspective on my idea. Steve grew up wild in Wyoming, moved to Richmond to earn his fine arts degree in painting, met Jesus Christ, and has developed a thriving contracting business over the years. I assumed that he would rather quickly push up expensive new houses on tracts cleared from farmland instead of dealing with all of the problems involved with old houses.
Not even close. "When I renovate old homes, I see myself as part of a legacy," said Steve. "I am a temporary steward of a thing that has lasting, irreplaceable qualities. Lovers of old homes tend to enjoy the discovery of long-grown children's height marks on doorjambs or postcards from 1909 found behind fireplace mantels. I strive to add to and reinforce an idea whose foundation predates me and has a future beyond me." Steve admitted that it is easier and more profitable to build McMansions from scratch, but he is animated by the belief that great renovations will prove both more beautiful and more functional.
Richmond is indeed complex, but then so are all cities—whether they acknowledge it or not. Every city's history includes dark chapters of oppression, greed, and injustice. God wants his followers to contribute to our cities' flourishing, which requires that we acknowledge how we've been complicit in evil, and also pitch in to uproot evil's effects and replace them with beauty and goodness. In the Book of Jeremiah, the exiled, minority Jewish community was commanded to redress Babylon's oppression and persecution by praying and serving. In their varying stories, Joseph, Boaz, Nehemiah, and Daniel enhanced their communities by serving the common good.
It's my privilege to be a small part of "the church at Richmond," a group of shalom-seekers who are black and white, conservative and liberal, rich and poor, newcomers and old-timers. Lovingly herded by our own Jeremiahs, we are steadily pressing into repentance, reconciliation, and renewal. We are hearing a call, not just to proclamation and service, but also to redeeming our city's bad history. As my contractor friend said, "From the renovator's standpoint, it is not only working with the inspired aspects of the old house that makes it worthwhile, but also the opportunity to contend with the less-inspired features." We know that we are—albeit redeemed—fallen souls in a fallen world, and that we even continue to commit new sins and affronts. But during its season, the living church at Richmond is lovingly tending the city's gardens, communities, workplaces, and statehouses. Like renovators of a house, these brothers and sisters seek to improve the city for the benefit of its future inhabitants.
Towards that end, a boisterous, diverse crowd of 1,500 believers from dozens of churches came to gather in a gym for a "Bless Richmond" Sunday night prayer service last fall. The highlight of the evening was off-script: during his turn to pray on stage, Shawn, a young, white pastor, took off his suit coat and used it to wash the feet of a grey-headed African American leader. Emmett (who was featured in the City project's recent film on Christian activism) wept openly as Shawn prayed, thanking God for the lifelong Richmonder's faithful service, praying that his footsteps would be beautiful and blessed for future service.
Instead of seeing doom around each corner, the church at Richmond is learning to recognize parlors of grace and foyers of forgiveness. Together, we all insert shims here and patches there, painstakingly repairing artful details and making level the foundations, in pursuit of reconciliation and renovation. And already, I'm experiencing the joy of watching my own children as they discover this new Richmond—an old city brimming with new life, rich from generations of grace, care, and prayer.
Fritz Kling is a foundation executive, consultant, and author of The Meeting of the Waters: 7 Global Currents That Will Propel the Future Church (Cook).
MORE FROM CHRISTIANITY TODAY