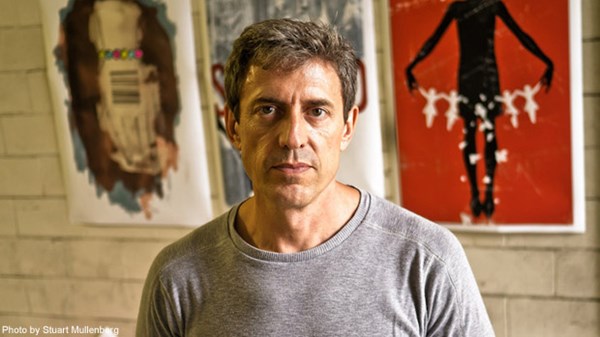 Art That Stops You in Your Tracks
Martin French, director of the Exile Poster Project, on the power of the public poster.
11.3.11
For much of his career, Martin French has found himself a translator for two worlds often speaking past each other: the art community and the church. An illustrator whose client list includes Apple, The Atlantic, and the Olympic Games, French moved to Portland in 2005 to teach at the Pacific Northwest College of Art, and soon connected with the nondenominational Imago Dei Community, pastored by Rick McKinley. On the first visit, says French, "There was a real sense of the importance of creative expression within the church and … engagement with the city, which is so much of what I was moving here for. It was a really good fit from the start."
French's leadership on Imago's new public art project has meant translating for another duo often speaking past each other in post-Christian Portland: the church and city government. The Exile Poster Project, a collection of 20 posters created by Imago members and French's students, center on the theme of sex trafficking. The posters have appeared in City Hall, the Capitol in Salem, and trafficking hotspots throughout Portland. Speaking with Katelyn Beaty, editorial director of This Is Our City, French explains the power of these posters to change attitudes about one of Portland's most pernicious social ills.
How did the Exile Poster Project come about?
I had wanted to do a poster project since moving to Portland. The art form has been influential in my own work, and Portland is a very poster-oriented town, a huge music scene. But I wanted to go deeper into what was going on in the city—a very non-Christian city—to create dialogue.
At the beginning of 2011, Rick McKinley taught through Matthew. I found myself on Sunday morning going back to the theme of Exile. Not, "Who are the exiles in the city, and who can we help?", but that I was an exile. I walked away with the Exile Poster Project concept. Paul [Ramey, Imago's arts pastor] and I talked about hosting it at Imago's art space. Another pastor, Ken Weigel, said, "Dealing with sex trafficking in a creative way is constantly coming back in my office and from the city. The city's saying, 'We're not making a lot of headway on this, and we're looking for creative ways.' " And I said, "Why don't we choose a social issue and present it to a group of artists each year? And let's kick off with sex trafficking."
Each year we'll look at a different issue and invite a group of artists to create posters around that issue.
Who created the posters?
Artists who were working in the city, for ad agencies, for Nike, for Adidas. They're embedded in the city, within the secular culture. They're working at a high level creatively and professionally. I thought [including them] would be a fascinating study for the church, because the church is full of so many young emerging artists trying to find a way. It was almost a discipling process to say, "Okay, there are 20 artists doing this. And they're not doing it within a Christian ghetto."
The dialogue we always have [among artists who are Christians] is: What is it to be excellent in what we do while maintaining the integrity of what we believe? What are the lines we won't cross? What are the lines we're faced with crossing daily? I'm teaching my students to walk into that world. I'm on a secular campus, and the conversations I have with my students about their belief systems and worldview, and what they walk into culture with: "What are you going to say, what won't you say? What do you say no to?" I thought it would be interesting to bring students into it as well.
An outsider to the project might say, "It's great to raise awareness, but how much is someone walking by a poster really going to do, in terms of actually preventing more children being trafficked?" How would you respond?
There's still something very powerful and relevant about the poster. For public art, art in the street, your audience is in the midst of their crazy lives. They're not going to go into a gallery. They're just busy. Posters within that busyness call them to stop in their tracks. In many cases, that can have a dramatic effect, because they have stopped their pursuit to engage, even for a few minutes, in that image. The fact that the images are so poignant—it's the power of the symbol, it just stays with them. So they get home, they go a week or two, but the symbol stays with them. If that can elicit an emotional response, that ultimately can lead to that viral, person-by-person change that says, "Okay, we'll do this fundraiser. We'll help this nonprofit." That's what's going to change the city, because the government has been clear that all their mechanisms are not making that much change. It's going to take individuals.
I don't have any preconceived notions that it's going to turn the city on its head. Art like this project is not going to be this big bomb in the city. It's going to have a slow, steady climb-the-hill effect.
People walking to work on the same path everyday encounter or see that poster every day. So it's this daily or regular visual reminder.
That's exactly it. And I think throughout history the poster has played the role of a social-justice mechanism—reaching out to people on the streets and reaching them on a daily basis. And I love that. The contemporary church struggles with falling into the trap of the world in wanting an immediate response. But I don't see this in the gospel's reality. In ministry there is this extreme patience on the part of God to see the world transformed day by day, year by year, and generation by generation.
MORE FROM CHRISTIANITY TODAY