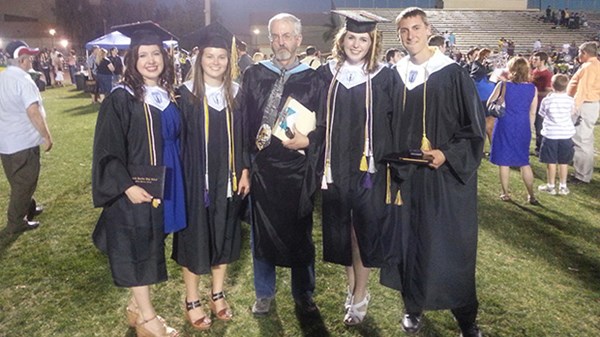 A Teacher Who Transcends the Job Description
When other educators left for better salaries, Thom Olmstead chose to stay for his students.
5.24.13
Thom Olmstead's career as a high-school math teacher got off to a rocky start. In 1976, eight weeks into a long-term substitute teaching assignment, Olmstead became "real sick." That sickness quickly progressed until doctors discovered a tumor next to his brain. Instead of grading final exams, Olmstead spent the last week of the school year having brain surgery.
The tumor was successfully removed. But in the process, the surgeon severed a facial nerve on the right side of Olmstead's face. Left with what looked like "a bad case of Bell's palsy," Olmstead says, "I wasn't sure if I would ever be able to teach. I wasn't sure if I would ever be able to talk right again."
A replacement surgery two months later successfully repaired the severed nerve, and while Olmstead was healing, he received a phone call offering him his first full-time teaching assignment. Then a newlywed, Olmstead says, "I was too sick to come to the phone. But my wife said, 'Yes, he'll be happy to take that job.'"
Thirty-seven years later, Olmstead is still where he started: east of downtown Phoenix teaching calculus at Apache Junction High, a public high school. While the nerve replacement surgery only cured about 50 percent of his facial paralysis, he can speak clearly to his students, many of whom are children of students from years past.
Olmstead acknowledges that a career teaching high-school math is far from glamorous. Yet he learned early on that, as a teacher, he could offer something to students that they might not get at home: a consistent and caring adult presence. "I had kids who lived in buses in a state park," he said. "They would come to school smelling like they were smoking, but it was because they had to sleep next to a fire at night to keep warm. Other kids couldn't do homework at night, because they didn't have electricity in the buses."
It wasn't just the poor kids who needed him. Not far from the state park was a wealthier community whose students fed into Apache High. "You had people who lived in million-dollar homes, being friends with people who lived in buses." Many students were desperate for stability. "A lot of teachers used our school as a stepping stone to teach in other districts, leaving after a few years for higher salaries. I wanted to stick around."
'A lot of teachers used our school as a stepping stone to teach in other districts, leaving after a few years for higher salaries. I wanted to stick around.' ~ Thom Olmstead
The theme of consistency comes up often as Olmstead recalls his decades in the classroom, and for good reason: when he was a child, his parents were killed in a car-train accident. After living with an aunt, uncle, and four cousins for two years, Olmstead and his two younger siblings moved from their hometown near Buffalo, New York, to Phoenix to live with their grandparents. Four years later, his grandmother died, leaving his grandfather to raise him and his siblings.
"A lot of those kids have gone through some of the same things," said Olmstead. "Through different circumstances, they were pretty much on their own. So they were looking for stability." An added component is that Olmstead is a Christian, something former colleague Gina Karloff says makes him a better teacher who demonstrates the gift of hospitality. "He's sincere, deeply caring, has a great sense of humor, and is very inviting," she says. His students know "he genuinely loves and cares for them."
"I didn't go [to Apache] with the idea that I was going to stay 37 years," says Olmstead. "But the longer I was there, the more I got to know the community, I could see that stability meant a great deal to them. . . . That was the motivation I had to stay there."
A letter Olmstead received recently revealed how important it is that he's stayed. The former student "was only in my classroom for about two-thirds of the year before he ran away from home to get away from his father, who was beating him up." The student now teaches at a university in Florida. "He said, 'I saw something different in you. I could tell you were not in it for yourself, but you really cared about us, and that's why I went into teaching.'"
As an educator, Olmstead hopes to awaken students to the "gratifying world of calculus." He is fond of quoting Galileo's maxim, "Mathematics is the language with which God has written the universe." His passion proved to be contagious for at least one student. When David Loutzenheiser's family moved to Apache Junction before his freshman year, his parents' friends said to "make sure" he had Olmstead. He took math from "Mr. O" for all four years and, inspired by his teacher's example, went on to become a math teacher himself. Loutzenheiser is now an assistant principal in a neighboring school district. "He made math fun," he recalls. "He's that teacher who I would go back to see after I graduated."
As Unto Christ
Beyond math, however, Olmstead's implicit message to his students has always been, "You're safe here. I'm not going to let you get away with murder, because I want to see you learn stuff. But even more than wanting you to learn math, I care about you as a human being who is created in God's image." Olmstead credits Francis Schaeffer with influencing his approach. "One of Schaeffer's mantras was that, if someone is created in God's image, he's an image-bearer. So how do you treat that?"
Many of his students came to high school lacking the academic rigor it takes to succeed. So Olmstead began opening his room during lunch and before and after school for tutoring. He soon learned that the kids were coming for more than math. "Kids would just start opening up, because they didn't have any older person that they could talk to who they trusted. With a math class, you know what to expect every day. And I'm not the most exciting individual in the world. But they could tell they could trust me. And after you've recovered from hearing the things they share, often you can give some advice or encouragement."
One student in need was a young woman contemplating suicide. "I was able to get her to some people who could really help her, and she was able to deal with it and made it through.
"I don't fashion myself a counselor in the least. I teach math—how dull is that? But when students are just looking for input on how to live life, if you're there for them, you can make a real difference."
He also remembers forming a math club and bringing students to California at the end of each school year. "Many of the students had not ever been out of the Phoenix metro area, let alone out of the state. The first time we took them to Huntington Beach, they stared at the ocean for 45 minutes." Giving students new experiences exposed them to new possibilities for themselves.
With nearly four decades in the classroom under his belt, Olmstead is mindful of future generations of teachers. As he considers what advice he might give to a college graduation just starting out in her first teaching assignment, he recalls what his mentors, Charles Spurgeon "Chuck" Ludwig and Lamar Watkins, told him: "Give it all the consideration it's due."
Adds Olmstead, "There are so many things that go on within the teaching profession that are crazy, and some make no sense. Keep your head above the fray. And whether you succeed or fail, do it as unto Christ."
As he finishes this semester and prepares for his 38th year in the classroom, Olmstead intends to do just that.
Christy Tennant Krispin is director of engagement for This Is Our City.
MORE FROM CHRISTIANITY TODAY