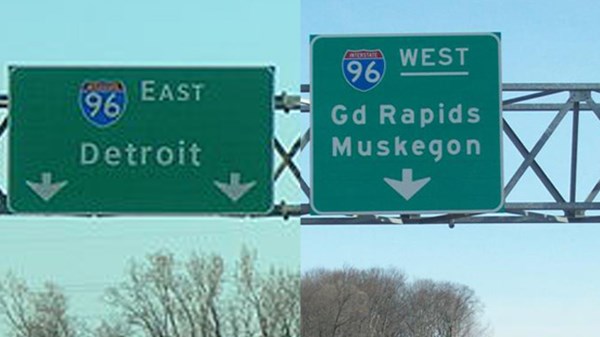 What Has Grand Rapids to Do with Detroit?
How Reformed church leaders are bridging the wide divide between East and West Michigan.
3.18.13
If you reach the top of the Renaissance Center in downtown Detroit and gaze out upon the city, you'll notice six wide roads that stretch out from the city center. The roads are a feature of the city's hub-and-spoke design dating back to the early 19th century. The six "spokes" radiate out from downtown, reaching the horizon as they disappear into the busy southeast Michigan landscape.
Follow one of these spokes, Grand River Avenue, far enough west, and you'll end up on Cascade Road, which eventually takes you to the busy downtown of Michigan's second largest city, Grand Rapids.
The connection is lost to most residents of both cities. For decades, there was little that linked the west and east sides of the state—let alone Grand Rapids with Detroit. As Detroit's once-dominant auto and manufacturing industries declined and the city's economic and political scene began to spiral, Detroit slipped into irrelevance for many on the west side of the state.
But some Grand Rapids Christians have started to look east, down those old corridors connecting the Furniture City to the Motor City. A handful of individuals and institutions have begun to look for ways to join their voices with those on the east side who are standing by the city's motto, Speramus Meliora; Resurget Cineribus—"We hope for better things; It shall rise from the ashes."
Renewing Detroit
Among those turning to Detroit are leaders with the Christian Reformed Church in North America (CRC), a denomination with about 1,000 churches and roots going back to the Dutch Reformed Christians who settled in Michigan in the mid-1800s. It has cultivated a Reformed theology that leans heavily on John Calvin and subsequent Protestant Reformers—a tradition that provides a rich theology for engaging cities as it emphasizes Christ's renewal of "all things."
The CRC, along with the closely related Reformed Church in America (RCA), have historically dominated West Michigan religion. But if you ask your average Detroiter about the CRC, chances are they will have no idea what you are talking about.
The CRC has actually been in Detroit for over a hundred years. Dutch Reformed Christians are reported to have been worshiping in Detroit during the second half of the 19th century, and the city's first Christian Reformed Church (aptly named First Christian Reformed Church of Detroit) was established on the east side in 1914. Throughout the early 20th century, the auto industry attracted Dutch immigrants from Grand Rapids, boosting First CRC's membership and leading to the establishment of another CRC congregation near Ford Motor Company's massive Dearborn campus.
Today, these small congregations are helping to spark a renewal of denominational interest in the city. Despite not having any churches in the city of Detroit (First CRC moved to Grosse Pointe Park in 1924, and Dearborn Christian Fellowship remains just off Outer Drive), they are coming together, along with other RCA and CRC churches from around the area, to ask how —they can join the movement of Christians already working to bring about renewal in the city.
One sign of renewal is the Detroit Kingdom Enterprise Zone (KEZ), a church planting and community development effort empowered by the CRC and RCA's Church Multiplication Initiative. Led by pastors Dan Jongsma from Dearborn Christian Fellowship and Jon Beyers from Crosswinds Church in Canton, the KEZ brings together 10 Detroit CRC and RCA congregations to evaluate, empower, equip, and expand ministry partnerships in the city.
Through the KEZ, local leaders are receiving funding and assistance from Grand Rapids as they begin the process of developing collaborative efforts to invest in the city and raise up local leaders to establish new Reformed communities of faith within in the city. The hope is that these church plants—which KEZ leaders hope include a Reformed campus ministry at Wayne State University, a city center church in the style of Tim Keller's Redeemer Presbyterian in New York City and City Church in San Francisco, a Reformed African American church, and a more contemporary community church—will be able to reach out to Detroit with a new message of hope, redemption, and renewal; a vision that is thoroughly Reformed and thoroughly local.
KEZ leaders are also working to support local community-development efforts. Dan Jongsma says, "Besides church plants, we have been approved to begin an Asset-Based Community Development Training Center working out of Nardin Park Community Church. Three leaders have already been training and will be beginning their community development work this spring." This approach, he notes, will help the KEZ-supported leaders start with "the assets and strengths of a community, rather than focusing on its weaknesses or deficits."
The CRC's official seminary, Calvin Theological Seminary (CTS), also has new educational and ministry-training partnerships in the city. In 2012, CTS partnered with Citadel of Faith, a growing and diverse Evangelical Covenant Church in downtown Detroit, to offer students from Grand Rapids a summer internship living and working in the city. Plans are in the works to collaborate with the KEZ to provide a joint seminary internship for CTS students to work at both First CRC and Citadel of Faith.
CTS has also recently been working with Detroit's Ecumenical Theological Seminary (ETS), just south of Midtown, which serves many local Detroit area pastors. Carl Bosma from Calvin recently led a Sustaining Pastoral Excellence workshop at ETS, and this fall, CTS has invited an ETS faculty member to teach a preaching course for CTS students. This past week, Bosma took his church-planting class to Citadel of Faith. He sees a real opportunity for the Spirit to move in both cities as a result of these exchanges. "We hope to continue and enhance such collaborative efforts," he notes.
But why Detroit? What is it about the city of Detroit that has captured the attention of these two small West Michigan-based denominations, leading to this new wave of investment in the people and religious institutions of the city?
For many involved, the answer lies in Reformed theology itself.
From Garden to City
Larry Doornbos, who leads the Church Multiplication Initiative for the CRC, notes that the very concept and vision of "the city" is key to Reformed theology. Reformed theology sees in Scripture an overall narrative of creation, fall, redemption, and consummation and discerns within that narrative a movement from the garden (the Garden of Eden in Genesis) to the holy city (the City of God in Revelation). Despite the CRC historically being a rural and suburban denomination, Doornbos sees this vision of God's plan of redemption as a key reason for the denomination to pursue church planting in urban areas, including Detroit.
"We are trying to help people move from brokenness, pain, and suffering to redemption, liberation, and newness in Christ," notes Doornbos. "To have that vision of what the city could be and what the city someday will be—those are the pictures that draw us into places where we can walk alongside people to share that vision and help people to see down that pathway."
"Reformed theology belongs in a city like Detroit precisely because it offers this powerful message of shalom to the poor, destitute, and depressed." ~ Mark Van Andel, pastor, Citadel of Faith
Reformed theology also includes the call for Christians to seek shalom. Mark Van Andel, pastor of discipleship at Citadel of Faith, is working with the CRC and RCA leaders to help them understand what it means to work for justice in Detroit. He points out that the comprehensive vision for shalom and commitment to justice, righteousness, reconciliation, and working for the common good that flows out of Reformed theology are key strengths of the KEZ.
Van Andel, whose first job in Detroit was working with Lisa Johanon at Central Detroit Christian Community Development Corporation, sees all of this as being a major part in how Reformed theology can speak to the Motor City. "Reformed theology belongs in a city like Detroit," says Van Andel, "precisely because it offers this powerful message of shalom to the poor, destitute, and depressed."
Ben Van Arragon, pastor at First CRC in Grosse Pointe Park, also notes that Reformed theology can provide comfort in crisis , a message that he sees as essential to ministering to a city that has been in crisis mode a long time.
Van Arragon has seen how this theology plays out firsthand as a counselor at Eastside Take Control (ETC), a career networking group supported by area churches. People come to ETC to get help with resume writing, interview skills, and to network as they seek work. Van Arragon helps community members address the emotional and spiritual toll ofjob loss and persistent unemployment.
"Work is at the core of identity in Detroit," says Van Arragon, noting that for over a century, the city and its people have tended to see their worth in their work. Now that the factories have closed and many jobs have moved out of the city, Detroiters are left wondering how they will get by:
People across the region are struggling with the question, 'How do we redefine ourselves as human beings without work?' and they want to hear the truth, not another self-help pitch. They have deep existential questions and want deep answers. That's where Reformed theology can really speak into their lives. . . . They are finding comfort in the idea that crisis can be a gift to serve a purpose that is ultimately good, which is a thoroughly Reformed idea.
A Cautious Path
The CRC and the leaders of the Church Multiplication Initiative in Grand Rapids know the road to change won't be smooth. Detroit hasn't always been welcoming to outsiders, says Van Andel, who lives in the city and promotes an Asset-Based Community Development (ABCD) model. He has been working with the CRC leaders to help them recognize the need to develop leadership from within the city by empowering communities that are already at work. He also stresses that Reformed church planters need to come to the city humbly, with a desire to be "shaped by a deep understanding of their neighbors . . . The CRC will need to respect the history and context of what they are coming into."
Doornbos echoes Van Andel. "Wherever we go we need to invest our lives first into the city, and out of that we become people who can work in the city and work with the folks already there. We need to become part of the story."
Derek Atkins was born and raised in Royal Oak but now resides in Grand Rapids with his wife, Keri, and their two daughters, Alida and Cassidy.
MORE FROM CHRISTIANITY TODAY