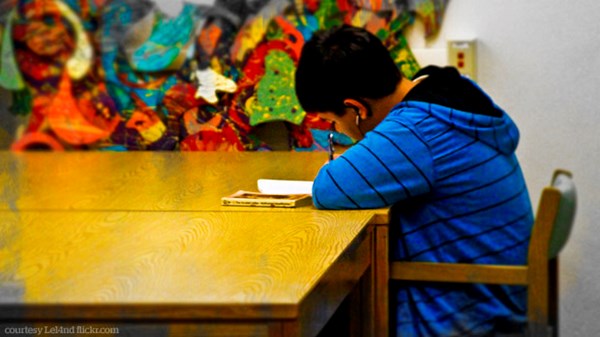 Waiting for the Real Superman: A Christian School Closes the Achievement Gap
Hope Academy in Minneapolis says its success reaching at-risk youth rests on Jesus.
4.19.12
Nearly 15 years ago, Russ Gregg began doubting that he understood what it meant to love his neighbor. Living in the Phillips neighborhood of urban Minneapolis, he commuted every day to the upscale suburb of Edina, where he was an administrator at the private Christian academy where his children attended school. The question—"Does it mean that everything I want for my children, I should want for my neighbor's children as well?"—began to haunt him.
After resigning from his position in Edina, Gregg began the process of cofounding Hope Academy, a private K-12 Christian school in one of the most economically challenged, ethnically diverse regions of the Twin Cities. Founded in 2000 and graduating its first class of seniors this spring, Hope provides a "God-centered education for the youth of the city," with a commitment to make tuition affordable for all 300 students, regardless of income and religious persuasion.
And it's hard to argue with the claim that something remarkable is happening here: Hope's 2010 "Hope by the Numbers" report indicates that its students, most of whom live in the surrounding neighborhoods, are performing at twice the level of the city's public school students. Only 35 percent of students of color in Minneapolis's public schools will graduate from high school. Those who do graduate exhibit on average an eighth-grade reading level. By contrast, 70 percent of Hope's students test proficient in math and reading, and next month the school will graduate its first senior class, a watershed moment in Hope's history. "It's the realization of a dream come true," says Gregg, head of school. "You don't grow an oak tree overnight."
Over 75 percent of students at Hope are ethnic minorities, the vast majority of whom live below the poverty line. But 80 percent of the average student's tuition is covered by partner scholarships with individuals and organizations. As Dan Olson, director of development, explains, "We are an upside-down school in terms of who we serve. We give greatest priority to students who can't afford to be here. It's a rescue mission for at-risk inner city youth." Indeed, Hope will often turn away prospective students who don't satisfy various at-risk factors, a trend that has become more common in recent years as the school's reputation has grown throughout the Twin Cities.
Over the years, many public school officials have contacted Hope, seeking advice for how to duplicate its model in a secular environment. Gregg is adamant that such attempts are futile, because public schools are unwilling to address the real, spiritual issue: "God is in the redemption business. But this redemption will only come in response to sacrifice. Apart from Christ's sacrifice, we cannot succeed."
Nathan Ziegler, principal of grades 6-12 at Hope, worked for several years in the Minneapolis public schools, noting the lack of structure and accountability. "The biggest difference," Ziegler explains, "is how we approach discipline. There is consistent follow through, clear expectations, and an emphasis on shepherding the heart." Moreover, in the public schools, says Ziegler, it was more difficult to address the relational problem: "In order to bring about real change, it's going to take an investment in students' lives." As such, Hope's faculty are encouraged to live in the surrounding neighborhood and to serve students outside the classroom walls. Several faculty, including Ziegler, have welcomed students into their homes when it was clear their own family situations were becoming too volatile or dangerous. In the public schools, such a gesture would likely be viewed as inappropriate. But according to Gregg, teachers serve at Hope because they are called to a mission, and building trust with students and their families is the currency of what they're doing.
Among this year's modest graduating class of 11 students are a National Merit Scholar finalist and several others who have earned academic scholarships to attend college. One of these students is Merhawi Temnewo, an immigrant from Eritrea, the tiny country on the Horn of Africa. At a young age, after his parents died, Merhawi was brought to the United States by his aunt, who enrolled him and his siblings in a Minneapolis public school. After a few years, his aunt unexpectedly returned the family to Eritrea, where they struggled with no education and little food for over a year. Meanwhile, his younger sister's former math teacher, Dena Nix, was petitioning to have Merhawi and his siblings returned to the States, writing letters to President Bush on their behalf. Eventually Nix's requests garnered a direct response from the President, allowing for the family to return and for all the siblings to be adopted by the Nix family and eventually enrolled at Hope.
Upon his return, Merhawi finally began to thrive: "Before coming to Hope Academy, I didn't have a real interest in my education. But Hope has really impacted my view of life. It has totally changed me." This spring, Merhawi was awarded a Horatio Alger Association scholarship to be applied to his college education. He intends to study business or mathematics at North Central University next year.
Giovanni Herrera's path to success is as inspiring, if less dramatic. Born in New York, as a young child Giovanni was eventually sent to live with family in Mexico. At age 10 he moved to Minneapolis, where he struggled both academically and socially in the public schools. After a few years, a younger sibling started attending Hope and he was encouraged to enroll as well. However, his initial impression of Hope was less than enthusiastic. After a couple years, Giovanni decided to give it a try, but Hope didn't make an immediate impact: "I was still a bad kid. I lit firecrackers in class, and threw spit balls at teachers." While in the 10th grade, however, Giovanni sensed God was working on his heart: "I had a feeling the Lord was speaking to me … that what I was doing wasn't pleasing to him."
Giovanni began seeking male role models, eventually connecting with Ben Johnson, a math teacher at Hope, who, according to Giovanni, powerfully shaped his attitude toward school and his relationships with others. A few months ago, Giovanni was awarded a sizable academic scholarship and plans to attend Northwestern College, where he'll study criminal justice.
Beyond the classroom, Hope is passionate about positively impacting the surrounding community as well. During the summer academic session, for example, high school students, through the school's "HopeWORKS" mentorship program, start internships with inner city businesses, churches, and ministries—sowing seeds of economic opportunity and working for kingdom justice. Not only that, but Hope students regularly conduct service projects around the neighborhood, working with food shelves and retirement homes with a view to enhancing the quality of living for neighboring residents. Finally, Hope is partnering with many non-profit organizations in the area, including the Boys and Girls Club, YWCA, and Urban Ventures, to provide quality educational programs even to those young people not enrolled at the school.
Of course, some of the greatest stories emerge when lives are transformed. As Judy Austin, the Dean of Student Activities, passionately explains: "When students come into my office, and they're broken and they want to give up, and their families are falling apart … but they choose to live for the glory of God, that's the success story." The ultimate explanation for such success is straightforward, says Gregg, citing the recent documentary on the crisis of public education: "We are waiting for the real Superman."
David H. Leonard teaches philosophy at several universities in the Twin Cities, and resides with his family in the Phillips neighborhood of South Minneapolis. He blogs at RedeemingCulture.com about the link between Christianity and contemporary society.
MORE FROM CHRISTIANITY TODAY