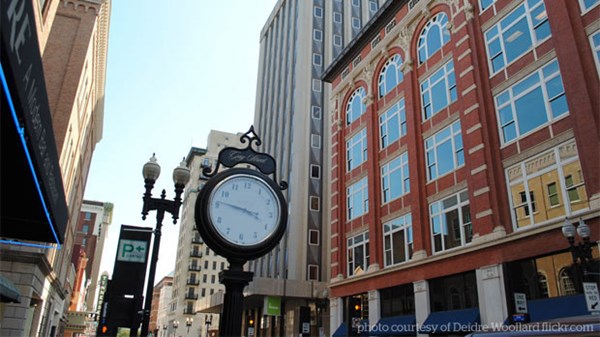 A Guide to Being Salt and Light in Knoxville
Compassion Coalition aims to mobilize and deploy Christians to address their city's brokenness.
1.18.12
Photo Credit: Courtesy of Flickr / Creative Commons
In April 2000, Andy Rittenhouse—"with knees knocking"—delivered hard news to a group of Knoxville pastors he'd convened at a local Christian bookstore. Rittenhouse had just completed extensive research documenting social needs in the city. Several Christian business leaders who wanted to improve their charitable giving had commissioned him to learn who was "out there doing good." Rittenhouse called his report the Salt & Light Guidebook. Though he uncovered a number of individuals living out "beautiful Christianity," his research revealed that "the churches were not significant players in this city for its betterment."
The pastors present that day, says the Rev. Grant Standefer, were willing to repent. "The churches admitted they were internal. They said, 'We're doing the holy huddle. We have all this religious activity but it's all about our church and we know very little about our community.'"
Rittenhouse advocated for a new commitment to collaboration and was overjoyed when the leaders agreed. Those in the room decided to launch a new association—the Compassion Coalition—with the aim of mobilizing and deploying Christ's Body to address the city's brokenness. Rittenhouse admits he left the meeting "scared to death because I didn't know what to do next."
"The first five years were very painful," he continues. Compassion Coalition encountered distrust, turf issues, and suspicion from some churches who wondered whether its city transformation agenda was theologically liberal. But Compassion Coalition has grown from 25 churches to nearly two hundred congregations.
By producing updated editions of the Salt & Light Guidebook, Compassion Coalition consultant Heidi Unruh says, the Coalition "learns the truth about the city in order to move the church to faithful action. It's a catalyst." The most recent edition of Salt & Light is a remarkably detailed, 446-page synopsis of city needs and assets. It's rich with stories, a comprehensive directory of services, and guidance for practical action steps.
From independent efforts to partnerships
To produce the guidebook, Compassion Coalition hosts numerous focus groups with representatives from government, the faith community, and nonprofits. Dialogue leads to relationships and new partnerships. In one neighborhood, for example, Baptist, Methodist and Presbyterian churches came to recognize the inefficiencies of each having its own food pantry. After six months of dialog and training they joined forces and launched a single new ministry center that provides food, clothing, budgeting classes, and mobile meals for the elderly in the neighborhood.
Compassion Coalition has also facilitated new partnerships between churches and secular nonprofits. Rev. Standefer, now executive director of the Coalition, explains that when the first edition of Salt & Light highlighted several programs operated by Knoxville's Community Action Committee (CAC) for the city's elderly and homeless, "the CAC suddenly got on the churches' radar screen." Today, Compassion Coalition operates an "electronic bulletin board" where CAC social workers can post requests—for everything from cans of Ensure to transportation volunteers.
Misty Goodwin, senior manager of CAC's "Project Live," reports she uses the bulletin board to find help for her elderly clients who have needs not easily met by the agency's government funding streams. She values Compassion Coalition as a "one-stop shop." Without it, Goodwin says, her case managers would "waste their valuable time calling every church in town."
The Coalition's oldest citywide endeavor is its Restorative Justice initiative. In 2002, District Attorney Randy Nichols came to the Coalition seeking aid. With some 3000 juvenile offenders in the criminal justice system then, Nichols was looking for a way to give nonviolent offenders opportunities for community service rather than placing them in the local detention center. At the time, the only supervised community service available was on a weekly litter pick-up crew.
Veta Sprinkle, a member of Farragut Church of Christ, quickly thought of a way her church could help. It already had a car care ministry for single moms on Saturday mornings. Church volunteers performed oil changes and minor tune-ups, played with children, and offered breakfast for the moms—and Sprinkle saw the opportunity for the youth offenders to volunteer alongside them. Soon Sprinkle had recruited three other faith-based organizations to offer community service opportunities.
Volunteer teams serve on a rotating basis so as to be with the same youth each time over a few months. "The purpose was for the child to see the same face several times," Sprinkle explains. "We wanted it to be about relationships." Notably, the teens serve at a church or nonprofit in the same neighborhood as their school.
Today, some 1300 youth go through the program annually, providing over 20,000 hours of community service through 26 sites. DA Nichols says the program "simply wouldn't have happened without the faith community."
Spreading Salt & Light
Leaders from other cities have made pilgrimages to Knoxville to learn how they could institute similar efforts in their own cities. Kyra Quinn is currently shepherding Salt & Light research in State College, Pennsylvania. Jason Topp and his team have created Salt & Light of Northwest Indiana, publishing their first community guide in 2010. "In our area we've had a silo mentality," Topp says. "What Salt & Light has already accomplished is [to start] conversations with people from different denominations, backgrounds, and races who are coming together now and saying 'We want to collaborate to reveal Christ to our community.'"
Amy L. Sherman's newest book is Kingdom Calling: Vocational Stewardship for the Common Good (IVP, 2011). She is a Senior Fellow at the Sagamore Institute for Policy Research.
MORE FROM CHRISTIANITY TODAY