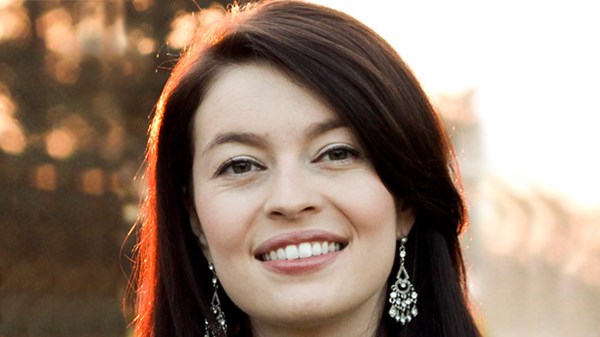 Becoming a City Without Orphans: Connecting Fresno Christians to Foster-Care Children
Through coming alongside social services, Whitney Bunker has mobilized the faith community to live out James 1:27.
6.20.12
Whitney Bunker never planned to find loving families for the more than 2,000 children in the foster-care system of Fresno in central California. After completing a degree in social work at Fresno Pacific University, as a young adult she "had a plan," the 26-year-old confesses. It included getting married and becoming a social worker before pursuing a master's degree in counseling. But her plan was interrupted when Bunker's social work position was eliminated in early 2010 amid staff reductions.
Three months prior, Bunker had sensed God placing on her heart a vision for orphan care. As a social worker, she had watched scores of children enter the foster care system due to abuse, neglect, or abandonment at home—and over the course of two years, she saw only two families reunify. In many cases, families were permanently split up when the courts terminated parents' legal rights. As a result, hundreds of children were left orphaned. After witnessing this time and again, Bunker came to a simple realization: The 400-plus churches in Fresno could be part of the solution.
"That's great, Lord," Bunker responded initially. "That would be great for someone to do." Before long, however, she realized that God was asking her to do it. In May 2010, at a conference for the Christian Alliance for Orphans in Minneapolis, she collected a wealth of resources about initiatives under way in other cities, and returned to Fresno determined to proceed.
Together with her husband, Daniel, a college pastor, in February 2011 Bunker launched City Without Orphans, a nonprofit that's engaging local government, business, and, most centrally, the faith community with the goal of placing every orphan in Fresno into a loving home. "Our ministry and vision for Fresno is that we don't have to wait until heaven to see a city without orphans," says Bunker.
With this in view, City Without Orphans acts as a bridge between Fresno's foster-care system and local Christians. Bunker is convinced that believers play a strategic role in providing stable homes for foster children waiting to be adopted. "We have the greatest resource on the planet—the church. It has people, resources, and a God who calls himself a defender of orphans. He expresses that he set the defenseless in families. We are called to follow him in this."
Last year Whitney and Daniel began hosting Fostering and Adoption 101 workshops in local churches as "on-ramps" for interested families. Combining their strengths, they developed a 43-page workbook incorporating social work and pastoral perspectives that each workshop attendee receives. In addition, local social-service representatives attend the gatherings to answer common questions about foster care and the adoption process.
During City Without Orphans' first year, Whitney and Daniel held seven workshops at churches throughout the city. Eighty people attended. Since then, three families have started the adoption process, and one family decided to become involved in foster care.
Jeremy and Michele White were one of the families. They had been considering adoption for three or four years. "We knew that 2011 was the year we would need to make some decisions about going forward or not," says Michele. "The workshop was the perfect opportunity to hear from a variety of experts in the adoption arena, all in one place. We walked away with confirmation that adoption was in our future."
But the work of City Without Orphans is not just about recruiting and educating Christian families.
In May 2011, Bunker recognized the need to connect people concerned about orphans in Fresno to one another. "We put a call out to others who are involved in this work—social workers, pastors, foster care parents, and advocates," says Bunker. The group became the Central Valley Christian Alliance for Orphans, and in April 2012 was chosen as a regional umbrella of the Christian Alliance for Orphans, a national organization.
The new connections have generated tremendous benefits. Kate Acosta, a county social work supervisor, notes that Bunker "has brought agencies that had previously worked independently to the same table to allow more resources to be accessible by all." For example, City Without Orphans took over coordinating the Heart Gallery, a traveling photography display used by the county child welfare department to profile local children waiting to be adopted. Through City Without Orphans' efforts, numerous venues have been opened within the local faith community that the department had not previously managed to access.
Howard Himes, Director of Fresno County's Department of Social Services, recalls how budget shortages caused the annual holiday party for foster children to be placed in jeopardy of cancelation. Instead, "Whitney found a site and put on a great event."
"The bottom line," says Himes, "is that City Without Orphans is a huge resource." In the past, his department had little experience partnering with the faith community. Why this hadn't happened successfully was "a head scratcher," Himes admits. In light of the challenges his department faces, he insists that "it is going to take a collective approach," and that the faith community plays an integral role in this equation. City Without Orphans is "at the forefront of this new partnership frontier, and Whitney is key to that."
In the near future, City Without Orphans hopes to launch a respite care recruitment program for foster families. Community members would be recruited to provide foster parents with hard-earned opportunities to take a break for 24 to 72 hours. Respite care providers will also be ready to step in when emergencies or important events come up and overnight care is needed for foster kids. People who are not interested in being foster care parents, but who want to bless these caregivers, can get involved.
Deb Nankivell, a founding member of the Foster Care Standards and Oversight Committee, describes her reaction upon learning about City Without Orphans: "I was relieved and grateful. I knew they would make this happen. Fresno would become a city without orphans." Acosta notes that, while several other individuals and organization have shown similar passion, "what has made City Without Orphans different is their dedication to new and innovative ideas and the fortitude to follow through with the legwork to move forward with these ideas within a bureaucratic system."
Meanwhile, Bunker has not lost sight of the heart of the matter: mobilizing people of faith to provide families for every child. As she notes, caring for orphans is described in James 1:27 as an expression of "pure and faultless" religion that is acceptable to God our Father. There are many ways to get involved in helping vulnerable children. In light of this, she says, "it is not if you're called, but how you're called."
Cory Seibel is professor of pastoral ministries at Fresno Pacific Biblical Seminary in Fresno, California.
MORE FROM CHRISTIANITY TODAY