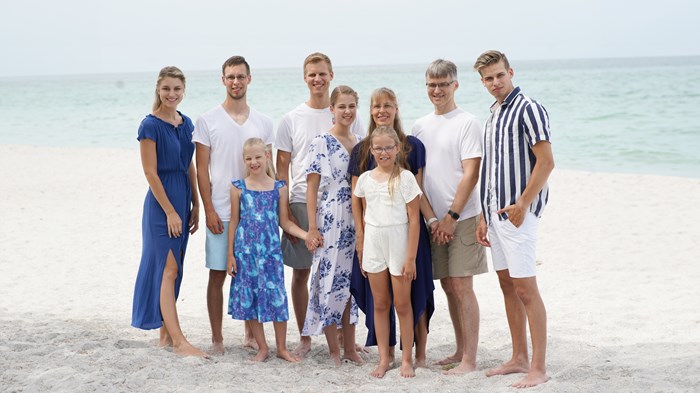 Image: Courtesy of the Romeike family
Update (October 11, 2023): On the deadline for their self-deportation to Germany, the Romeikes were granted a year-long extension to stay in the US.
The Christian homeschooling family met with US Immigration and Customs Enforcement in Knoxville, Tennessee, on Wednesday and signed an order of supervision to delay their deportation.
The Home School Legal Defense Association says it will continue to advocate for their asylum or permanent residency.
---------------
A Christian family who fled Germany to be able to homeschool their seven children say they now face deportation, 15 years after arriving in the United States and fighting for asylum.
The Romeikes celebrated what their supporters called "an incredible victory that can only be credited to our Almighty God" in 2014, when they were allowed to remain in the US after years of court appeals. Their lawyer said the decision meant the family could "stay without worries in the future."
Yet earlier this month, Tennessee residents Uwe and Hannelore Romeike said they learned their deferred action status had been revoked during a check-in with immigration officials. They said their family was directed to obtain German passports and to prepare to self-deport by October 11, with no prior warning or explanation for the change.
The Home School Legal Defense Association (HSLDA), an evangelical group that backed the Romeikes when they came to the US, has launched a campaign asking the government to reinstate their deferred action status.
Their four oldest children are now adults, and two have married Americans. The Romeikes continue to homeschool their three youngest, including two daughters born in the US.
"Deportation to Germany will fracture these families, while exposing the Romeikes to renewed persecution in Germany, where homeschooling is still illegal in almost every case," said HSLDA.
In Bissingen, located outside of Stuttgart, Germany, the Romeikes decided to educate their children at home because they opposed public school curricula (including "sex education, evolution, and fairy tales") on religious grounds.
Homeschooling is not legal in the country, though enforcement on the ban can vary by district. In 2006, the parents were threatened, fined $9,000, and had three of their kids escorted to school by police when they refused to send them, according to a court brief. They moved to the US in 2008.
Their situation represented an unusual religious asylum case in the US, raising questions around whether homeschooling is a human right and if denying a family the opportunity to homeschool for faith reasons amounted to persecution.
A Tennessee judge initially ruled in the Romeikes' favor in 2010, but then the family repeatedly lost on appeal. The Sixth Circuit Court of Appeals unanimously denied their asylum claims, saying, "There is a difference between the persecution of a discrete group and the prosecution of those who violate a generally applicable law."
Their case was denied review by the Supreme Court in 2014, but the following day, the Department of Homeland Security (DHS) decided to let the family stay under an order of supervision and indefinite deferred action.
Deferred action is not a legal immigration status, and it doesn't offer a pathway to citizenship, so it's not ideal for people who plan to stay in the country permanently.
"It's something you want if you feel like you have no other options," said Lance Conklin, an immigration attorney who specializes in asylum cases. Deferred action, he said, "can be granted for the government for any reason," most often to people who don't pose a risk to society and are not a priority for deportation.
It's usually temporary, and at any time, the government can terminate deferred action and move forward with removing noncitizens from the country. The DACA program—Deferred Action for Childhood Arrivals—is a type of deferred action.
"The tenuous nature of deferred action highlights one of many complexities of the US immigration system," said Robyn Brown, a lawyer who serves as the director of immigration programs for World Relief.
Brown, speaking about immigration policy in general and not the Romeikes in particular, pointed out that many people cannot obtain permanent legal status through family sponsorship, employer sponsorship, or visas. And "for those seeking hardship-based relief such as asylum, the narrow eligibility requirements can be difficult for applicants to understand and prove, and adjudication can take years," she said.
The Romeikes don't want to uproot the lives they've built in Morristown, Tennessee.
"We have been here for 15 years, that's most of the lives of our children. The youngest was three when we came, now she's 18. The oldest is now 26," Uwe Romeike told the National Review. "Even for us as parents, in 15 years we have made many, many friends. We've been involved in the same church for over a decade. Our home is here in America, in Tennessee."
Uwe Romeike works as a piano accompanist at Carson-Newman University, a Baptist school in nearby Jefferson City. The Romeikes' 25-year-old daughter Lydia is a photographer and vlogger with over 60,000 subscribers on YouTube.
"They try to do everything right for the last 15 years, tried to get deferred status, tried to work toward citizenship, and then all of a sudden they're like, 'You gotta come back and work toward self-deportation,' so really pray that that doesn't happen," said Lydia's husband Trace Bates, in a video posted September 16, days after the birth of their first child and the Romeikes' first grandchild.
"We really do pray that the Lord changes the heart of the people at the ICE department and the people higher up in the government."
The US congresswoman for East Tennessee has filed a bill on the Romeikes' behalf, which would allow them a path to citizenship through green card status. It's been deferred to the House Judiciary Committee and Subcommittee on Immigration, and HSLDA lobbied for support on Capitol Hill this week.
The other hope for the Romeikes lies in the Biden administration, which could direct immigration officials to reinstate their deferred status and call off the directive to self-deport. "The United States executive branch intervened once before to grant the Romeikes a respite," HSLDA said, "and it has the power to do it again."