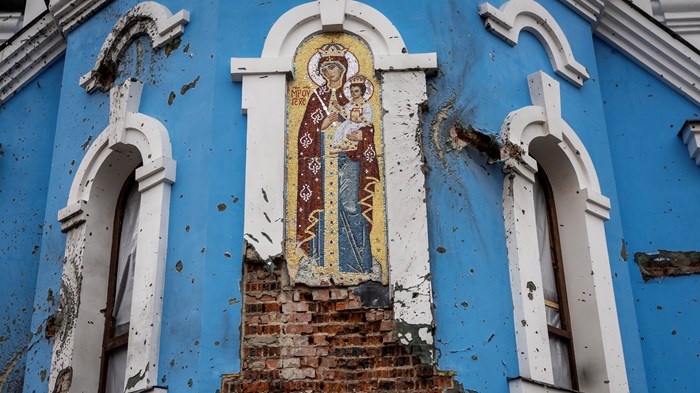 Image: John Moore / Getty Images
On an Advent Sunday in a small Protestant church in St. Petersburg, a Russian pastor nervously approached the pulpit. While his senior leadership was publicly neutral about the war, he was about to preach from the Sermon on the Mount against the invasion of Ukraine.
And in the pews before him was another potential land mine.
A congregant had been bringing along a childhood friend, who happened to be a Wagner Group mercenary. Wounded during combat for Russia's private paramilitary company, the man was not there to spy. Yet while the pastor knew his close-knit congregation well, he could not predict the fallout from his message.
Relations remained good with the pastor's mentor afterward, while the mercenary recovered and returned to the front lines. For now, the pastor has been left free to continue in ministry and—whether known to the intelligence services or not—in clandestine theological work against the war.
"Of course, we could go out and protest, but this would get you in jail," he said, requesting anonymity. "For us, the most effective means are to work within your spheres of influence—and ours are very small."
Over the course of the yearlong conflict, only a tiny minority of Russian Christian leaders have voiced complaint publicly. The response from authorities has been uneven: Minor church figures have been fined or jailed, while others continue to use their names on social media.
But no major denomination in Russia has condemned the war outright.
The St. Petersburg pastor, along with about 25 of his scattered multifaith colleagues, desired to confront their silence at the biblical source. Christianity Today spoke with three of them, on condition of anonymity, for insight into the antiwar movement.
The group released its declaration to "all Christians of Russia" in advance of Christmas.
"We are terrified by the fact that many church officials and theologians … are distorting the truth of the Holy Scriptures," the Russian Christians stated via their Christians4Peace website and Telegram channel. "[But] we are convinced that participation in this war—on the side of the aggressor—is unacceptable for any Christian."
The provided Russian and Ukrainian downloads of the declaration include an appendix with an extended theological treatise.
Last summer, the pastor and a few like-minded friends began a study group on Dietrich Bonhoeffer, the German dissident theologian executed for his opposition to Adolf Hitler. But it was no mere Western appropriation; though concentrating on a Protestant, they could also have drawn from celebrated Russian author and pacifist Leo Tolstoy, or the 16th-century Saint Philip II of Moscow, murdered for condemning Ivan the Terrible's massacres.
The pastor named his son Philip to honor this heritage, inspired by the arrest of Alexei Navalny. (A film focused on this Russian opposition leader's 2020 poisoning and subsequent jailing won the 2023 Oscar for best documentary.)
By fall, the group had grown to ten people. Three Protestants and one Russian Orthodox priest then decided to pen their declaration, soliciting feedback from about two dozen mostly Orthodox laypeople and clergy. And the website launched with a YouTube video in which unnamed Russians abroad read the text with their faces visible.
"The church has a right and a duty to exercise not only a liturgical but also a prophetic ministry … to modestly but firmly rebuke those who violate the commandments of Christ," continued their theological justification. "The realm of politics cannot be excluded."
None involved are significant public figures, but most had already been quietly working against the war. Some, early on, put up stickers and graffiti. Others engaged their students in the classroom. Priests changed the wording of official pro-war prayers added to the liturgy.
The Christmas declaration called all believers to pray for the repentance of Russian leaders, to resist mobilization, and to serve Ukrainian refugees with humanitarian aid. But in shielding their identities, the authors stopped short of full commitment to the declaration's most difficult exhortation—in accordance with the discernment they impress on readers.
"Stand up against the war," it states. "Taking into consideration all the risks involved, we urge you to condemn this evil."
This decision took the attention of Russians and Ukrainians alike.
"I am always suspicious when no names are cited," said one Protestant ministry leader, requesting anonymity because of the overall climate in Russia. "This letter could be anything."
Ruslan Maliuta was less doubtful, but still cautious.
"The fact that they decided to stay anonymous is a big downside," said the task force leader for the World Evangelical Alliance's coordination of Ukraine relief. "While I may understand the reasons, it significantly weakens the message."
Vitaly Vlasenko, general secretary of the Russian Evangelical Alliance, said that the dozen-plus leaders and invited guests present at the Consultative Council of the Heads of Protestant Churches meeting in late December had no information about the declaration. He commended it as being well written in literary Russian, noting the Orthodox terminology throughout.
Anton Ponomarev, a Russian Orthodox leader serving with a network of evangelical agencies, said the statement was "risky" but also odd. The declaration cited Christmas but coincided with its Western date, not its Russian celebration of January 7. And an odd phrase written with the non-Russian letter I made him suspect Ukrainian hands were at least partially at play.
The St. Petersburg pastor acknowledged the declaration was reviewed by a few Ukrainian friends, but said the product was written by Russians, for Russians. And the phrase in question reflected the Old Church Slavonic liturgy—"Pray for peace for the whole world"—to undermine the concept of "Holy Rus."
Following the invasion of Ukraine, Russian Orthodox Church patriarch Kirill modified official prayers to link the two Slavic nations as one, petitioning God for "victory"—reflecting the ideology of Russki Mir, the Russian World. But the dissidents' use of Slavonic not only hearkens back to an earlier era but also distinguishes the homophone мiр, which means both "world" and "peace."
But their theological treatise went further still. It said that nationalism hinders the spread of the gospel, condemning the 2014 Russian-backed separatist movement in Donbas. They knew this latter step would cost them supporters, given popular sentiment against Ukraine's alleged restrictions on its ethnically Russian citizenry concentrated in its east.
"You don't get people to speak Russian by bombing their cities off the face of the earth," said the pastor's Orthodox colleague. "Before February 24, these restrictions bothered me. Now, they don't at all."
Sergey Rakhuba was appreciative of the effort, but lamented the lack of identifying names.
"I commend this appeal for its firm position and the hard work in putting it all together," said the president of Mission Eurasia and a former Ukrainian church planter in Russia. "But being anonymous, it won't have much power."
The overarching critique was made by Ponomarev.
"Rather than a sign of a brewing protest movement, it is a channel for those who are against the war to have their voice heard," he said. "Quite a few people I know post similar declarations but mostly on encrypted social media platforms like Telegram."
Roman Lunkin said the protesters' number is very small. Counting subscribers to the most popular channels, such as Meduza and We Can Explain, and recognizing that many of these have left the country, he tallies an estimate of half to 1 million peace activists in Russia.
Nevertheless, antiwar views are fairly widespread among the educated elite, said Lunkin, head of the Center for Religious Studies at the Russian Academy of Science's Institute of Europe. But citing the declaration's failure to address Russia's legitimate grievances against NATO expansion, he had harsh words against what was otherwise a "well-written" document.
"The statement is hypocritical and will not lead to peacemaking," he said. "It is a political declaration disguised as a theological text."
Andrey Kordochkin disagreed, but only in part.
"I haven't seen anything so deeply theological," said the dissident Russian Orthodox priest, appointed to serve in Madrid. "But an antiwar movement, as such, does not exist."
He did his part to identify one. A key figure in the March 2022 campaign by Russian clergy that gathered a few hundred signatures, Kordochkin said there was no effort to build a network—especially after the law forbidding use of the word war. While many remain in communication, there is no organized agitation. No cosigners have been arrested, he said, but others have been ecclesiastically censured, and several are now abroad.
He does not fault anyone for staying anonymous.
In agreement with Lunkin's assessment of the elite, Kordochkin also characterizes antiwar attitudes as generational—and anticlerical. Yet as the institutional church loses trust, there are some signs of young people seeking Christ on their own terms, as among the friends of his 19-year-old daughter.
But many families have been torn apart, as seen in the documentary Broken Ties.
For those over 45 years old, there is the "learned helplessness" that recalls a similar Soviet mentality. For those younger, there are VPNs to connect with the outside world.
In addition to Meduza, Kordochkin subscribes to Christians Against the War, which runs the website Shalt Not Kill. But while news channels on Telegram attract thousands of subscribers, like the BBC (400,000), Novaya Gazeta (262,000), and the Moscow Times (30,000), the religious effort has only 2,600 in its virtual network.
As such, the Christmas statement's orientation somewhat misses the mark.
"Most Russians who are uneasy with the war are not facing theological questions, but existential," said Kordochkin. "They are asking, 'How can I continue as a Christian in a church that is like this?'"
To answer, the unassuming Alexey Markevich speaks with quiet clarity.
Publicly known for his signature on a March 2022 evangelical declaration, he has suffered no consequences from either the Russian authorities or his Baptist leadership. His church prays against the war, and he discusses Martin Luther King Jr. in his classroom.
"All I can do is express my position," said the vice rector for academic affairs for Moscow Theological Seminary. "We don't need to be political, but we must make theological and ethical statements."
He commends the Christmas document.
But Markevich somehow avoids controversy. In January, he was invited to participate in a major denominational youth conference and was even assigned the topic "The Confessing Church of Nazi Germany." The room was packed.
Discussing Barth and Bonhoeffer, he made no direct connection to the war in Ukraine. Yet afterward he was barraged with questions: What should we do now?
"I don't have a good answer," Markevich said. "But the confessing church is a template for us, doing what it could according to its convictions."
Young adults queried how to avoid mobilization. Some spoke of going on missionary service to Central Asian nations. Others just wanted to know how to keep their jobs.
And many, like Markevich's wife, are serving Ukrainian refugees.
He commended Home with a Lighthouse as a reputable agency with many evangelical volunteers. His family has hosted several displaced Ukrainians, helping them transition to residence in Europe. And his church has sent supplies to assist in the ruined city of Mariupol, along with other sites in the occupied Donbas.
Markevich knows it is a controversial initiative and blames Sergey Ryakhovsky for soiling the reputation of simple humanitarian aid. The Pentecostal Union leader advocates for the integration of these churches into Russian denominational networks, similar to what was done in occupied Crimea.
In January, Ukraine sanctioned him, along with 21 officials from the Russian Orthodox Church.
"Ryakhovsky is louder than we are, and this is why Ukrainians don't like it," said Markevich. "But most of us feel like this is the extent of what we can do."
Public demonstrations are impossible, he said, and wouldn't help.
So instead, some vote with their feet.
Upper estimates of emigrants since the announcement of mobilization reach 700,000. Even earlier, Lutheran archbishop Dietrich Bauer spoke out against the war before leaving for Germany.
And last summer, Vitaly Kogan, a Pentecostal bishop in Siberia, resigned his position and left Russia in protest. His anonymous colleague, also in opposition, tried to put in context his church's stance in line with the Russian authorities.
"They have something to lose—the church, the people, and the ministry," reported Shalt Not Kill. "Today it is very easy to make a case against Pentecostals as an extremist organization, as has been done with Jehovah's Witnesses."
Last December, Russia jailed four church members, for seven years each, for illegal meetings. And last summer, raids were conducted among the Pentecostal New Generation churches, unaffiliated with Ryakhovsky, which were accused of collaboration with Ukraine's controversial Azov Battalion.
In Ukraine, the Word of Life Pentecostal churches broke with their Russian denominational colleagues, frustrated by the failure of senior leadership to condemn the war.
Markevich keeps good relations with his Ukrainian evangelical friends, but some have distanced themselves, lumping him in with the claim that "all Russians are guilty." Kordochkin reports the same, though one Ukrainian in the Spanish parish left frustrated that his priest was not praying for his nation's victory.
But the onus, Kordochkin said, is on Russians to confess their sense of moral superiority against an allegedly decadent West. Germany was able to confess its ethnic superiority after World War II, and he feels that Russian relations cannot be restored with Ukraine without it.
And thus, the Christmas declaration.
"This text aims to build a future together, showing that some Russians have spoken out against the war—and why," said the St. Petersburg pastor.
"It is a tiny step toward reconciliation."