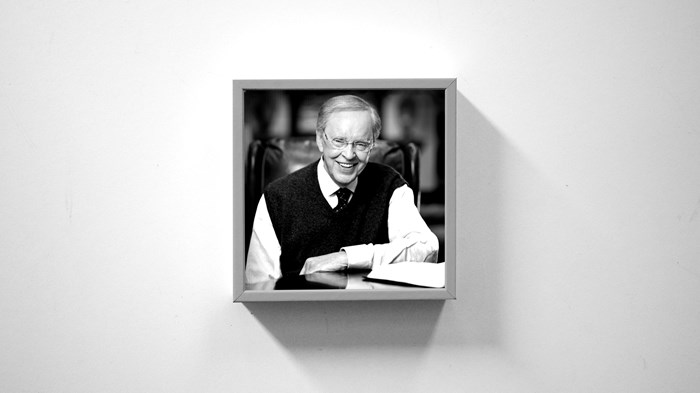 Image: Illustration by Christianity Today / Source Images: Courtesy of In Touch Ministries
Charles Stanley once took a punch to the face for his church. The longtime pastor and oft-praised preacher, who died on Tuesday at age 90, fought hard to lead in his Southern Baptist congregation, earning him a reputation for faithful obstinacy, a commitment to following God's will, and a life of devout prayer.
He frequently repeated his life motto, which he learned from his grandfather: "Obey God and leave all the consequences to him." That kind of obedience wouldn't come without cost, Stanley said, but God rewards stubborn faith.
"Granddad told me, 'Charles, if God tells you to run your head through a brick wall, you head for the wall,'" he wrote in his 2016 memoir, "'and when you get there, God will make a hole for it.'"
Stanley was the pastor at First Baptist Church Atlanta for 51 years. He started as associate minister in 1969, when the megachurch had 5,000 members, and remained in the pulpit until 2020, when it had about 15,000 members. He also preached daily on the radio and television through In Touch Ministries, which he founded in 1972, and was widely regarded as one of the best preachers of his generation, along with Charles Swindoll and Billy Graham.
Stanley's son, Andy, is also a megachurch pastor in Atlanta and a much-praised preacher. They were the only father-son duo to rank on Lifeway Research or George W. Truett Theological Seminary's lists of most-influential living preachers.
Stanley was a founding member of both the Moral Majority and the Christian Coalition, served as president of the Southern Baptist Convention at a key moment in the struggle between conservatives and moderates, and wrote more than 50 books.
The future preacher was born in 1932 in Dry Fork, Virginia, which he would later say was a town so small it wasn't on the map. His father, also named Charles, died when Stanley was only nine months old.
His mother, Rebecca Hardy Stanley, got a job in a textile mill in the middle of the Great Depression, earning about $9 per week. When she wasn't working, she took her son to a Pentecostal church and taught him to read the Bible and pray.
"I can still hear her voice calling my name to God and telling him that she wanted me to follow him in whatever he called me to do," Stanley said.
At age 12, Stanley accepted Jesus as his savior. Two years later, he discerned a call to preach and dedicated himself to ministry.
Rebecca remarried when Stanley was a teenager. Her second husband was alcoholic and abusive. The young Stanley tried to fight his stepfather, once even pulling a knife on the older man. He begged his mother to divorce him, but she remained committed to the union because of her faith.
The experience with violence had an impact on the rest of Stanley's life, he later recalled.
"I was very, very uneasy unless I was in charge," he said. "I was very, very combative and very, very competitive. You see, into my ministry, I brought the survival spirit. You do or die. You do whatever is necessary to win. It doesn't make any difference what it is."
Stanley attended the University of Richmond on a scholarship his mother prayed for, where he met and married an art student from North Carolina, Anna Margaret Johnson. They were married in 1955.
After graduating from Southwestern Baptist Theological Seminary, Stanley took a Baptist church in his new wife's home state, preaching at Fruitland Baptist Church and teaching at Fruitland Baptist Bible Institute (now College). He moved to Fairborn, Ohio; Miami, Florida; and Bartow, Florida, before accepting the call to be an associate minister at the prominent Baptist megachurch in midtown Atlanta in 1969.
The senior pastor resigned two years later, and Stanley was asked to take on the responsibility until a replacement could be found. He applied for the position himself, but the search committee voted 5–2 against him.
As the search went on, however, Sunday attendance started to swell, giving started to increase, and growing numbers of church members suggested Stanley should take the pastorate. Several deacons—subtly and then not so subtly—pressured Stanley to step down.
Stanley refused.
"People wanted to get rid of me," he said. "They couldn't tell me why. They just said all I preached about was how to get saved, the coming of Jesus, and how to be filled with the Holy Spirit. I just laughed and thought, Well, God, I hope that's true!"
Stanley prompted further conflict when he removed some Sunday school teachers over the objections of the Sunday school superintendent who said the pastor did not have the authority to make that decision.
A deacon decried Stanley's "naked grab for power," according to reporting in the Atlanta Constitution, and several leaders said they were "uneasy" about the pastor's "inordinate passion for political power" and "extravagant confidence in his understanding the will of God."
In a heated church meeting, one of the church board members let slip a curse word.
Stanley said, "Now you need to watch your language."
The board member retorted, "No, you need to watch yourself," and then swung his fist, slugging Stanley in the face.
Andy, 13 at the time, was watching from a front pew. He said his father didn't flinch when he was hit. He also didn't retaliate, winning a moral victory and the argument.
"I saw my dad turn the other cheek," the younger Stanley later wrote, "but he never turned tail and ran."
When the church membership had a three-hour meeting to decide whether to keep Stanley, the majority voted yes. The church then voted to make Stanley the senior pastor.
He waited a week to announce whether or not he would accept the position. Thirty-six of First Baptist's 59 deacons resigned.
Stanley brought his same tenacity to the Southern Baptist Convention when he was elected president in 1984. His supporters hoped he would be the one to resolve the fight between the denomination's conservatives and moderates. His opponents feared the same—with one seminary president even calling for a "holy war" against the conservatives, including Stanley, who insisted on more theological uniformity in the denomination, to the detriment of congregational autonomy.
Conservatives said they were stopping a liberal slide, especially at the seminaries and in the denomination's public policy organizations. In his first year as president, Stanley supported measures stopping congregations from ordaining women. At the time, there were 13 female pastors in the SBC and more than 220 ordained.
The second year, overcoming opposition to get reelected with 55 percent of the votes, Stanley used his presidential power and skill at parliamentary maneuvers to appoint a slate of conservatives to important Baptist boards.
The greatest fight of Stanley's ministry, however, was the fight to save his marriage and stay in the pulpit after his divorce.
Anna Stanley filed for divorce in 1993, without explanation and using only the couple's initials, A. S. and C. S. The news got out anyway and caused an uproar at First Baptist Church. The congregation had never allowed a divorced man to serve in ministry, and Stanley had taught that divorced men were disqualified from ministry.
Stanley announced from the pulpit that the couple was not getting divorced, but was separated and working on their marriage. Anna amended the suit a week later to ask for formal separation instead of divorce and then dropped the case.
She filed again in 1995.
"I am dismayed by my husband's refusal to accept the critical state of our marriage," Anna Stanley said in a statement to the Atlanta Constitution. "Instead, he has made repeated announcements from the pulpit that progress was being made towards our reconciliation, when in fact, the very opposite was true. I do not choose to contribute to this charade."
There were no allegations of infidelity or immoral behavior. Anna said her husband had long made his priorities clear, and she wasn't one of them.
A number of leaders in the church—which now had regular a weekly attendance of about 13,000—wanted Stanley to step down, at least temporarily. Others pushed him to resign. One of them was Andy Stanley, who was pastoring a rapidly growing satellite campus and seen as First Baptist's heir apparent.
In later years, the younger Stanley would say he only wanted his father to offer to resign, giving the church a chance to choose to keep their beloved pastor. His father, he said, didn't hear anything after the word "resign."
Charles reacted harshly and pronounced his son an enemy. Andy left First Baptist, estranged from his father, and went on to found North Point Community Church, a seeker-sensitive megachurch that would grow to more than 40,000 people.
The elder Stanley described this period as the hardest and loneliest time of his life.
"The first few times I went to the grocery store at nighttime by myself, home by myself, empty house by myself, that was hard. But I thought, Okay God, this is where I am," Stanley said. "My wife walked away. For a pastor, that's a disaster. The church is going to fire you because they always think the worst. Well, my church didn't do that. They said, 'Well, you've been here for us when we needed you. Now we're going to be here for you.'"
The church voted to keep Stanley, even if the separation continued. When Anna filed for divorce a third time in 2000 and succeeded in ending the marriage, a board member announced that Stanley would continue as senior pastor. The congregation responded to the news with a standing ovation.
While some evangelical leaders condemned Stanley's decision to continue in ministry as a divorced man, saying he was undermining evangelicals' moral witness, little actually changed at First Baptist. If anything, Stanley said, his divorce made him a more effective minister.
"It was Romans 8:28. God knew what he was doing," Stanley said. "People would say, 'I used to couldn't watch you. What do you know about loneliness and hurt and pain and suffering and loss. Now I can watch you because now I know you know how I feel.'"
Stanley reconciled with his son through counseling, the two megachurch pastors going to therapy together. The elder Stanley talked about the death of his father, his traumatic relationship with his stepfather, and his need to maintain control. He invited Andy to preach at First Baptist Church in 2007. The younger Stanley's sermon was on a familiar theme: "The Cost of Following Christ."
Charles Stanley's preaching was widely praised in his later years, especially for its simplicity, practicality, and effectiveness. He also frequently spoke of the importance of prayer and his own practice of getting down on his knees daily to talk to God.
"For me, that's the key," he told Christianity Today. "It 's the key to everything. Because what you are doing, you 're acknowledging God at the moment—you need his help, his insight, his understanding, or his courage, or his faith, whatever it might be."
When asked what advice he'd give to his grandchildren, if they went into ministry, or what he might put on his tombstone when he died, Stanley returned to the motto about unflinching faith: "Obey God and leave all the consequences to him."
He is survived by his son, Andy; his daughter, Becky Stanley Brodersen; and six grandchildren. Anna Stanley died in 2014.