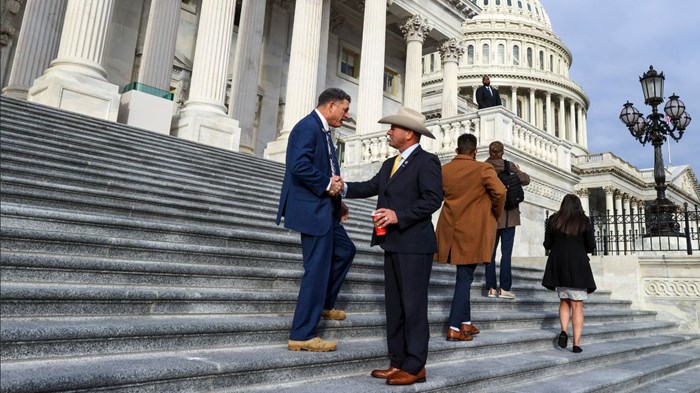 Image: Tasos Katopodis / Getty Images
Three politically active evangelical groups—Baptists, nondenominational Christians, and Pentecostals—are still underrepresented in Congress, according to the Pew Research Center's Faith on the Hill report.
The 117th US Congress is mostly Christian (88%) and far more Christian than the general public (65%). Its newest elected officials include church deacons, Bible study leaders, worship musicians, and Christian college graduates. (And, pending the results of the Senate runoff in Georgia, the halls of Congress could include one more member of the clergy—Democrat Raphael Warnock.)
The number of faithful politicians has held steady even as the US moves away from religious participation; just one member considers herself unaffiliated, a group that now comprises more than a quarter of the country, Pew reported. But over the years, Christians in Congress have shifted in identity.
As fewer members belong to mainline denominations, a growing number of lawmakers have adopted the more generic "unspecified/other" Protestant label rather than associating with particular evangelical traditions, even a group like "nondenominational."
The "other Protestant" designation continues to be the fastest-growing faith label in Congress and the second most popular behind "Catholic."
In 2021, 18 new members of Congress fell into the "other Protestant" camp—over a quarter of all freshman lawmakers—bringing the total to 96. While just 5 percent of Americans use this label, 18 percent of Congress does.
As CT reported when the previous Congress was sworn in two years ago, "unspecified/other" applies to "those who say they are Christian, evangelical Christian, evangelical Protestant, or Protestant, without specifying a denomination" in the congressional questionnaire from CQ Roll Call, the basis for the Pew report.
Fewer members of Congress consider themselves Pentecostals (0.4% of Congress vs. 5% of the country), nondenominational (2% vs. 6%), or Baptist (12% vs. 15%) than the population as a whole, even though these groups are regularly involved in political discourse and political issues such as religious freedom and abortion.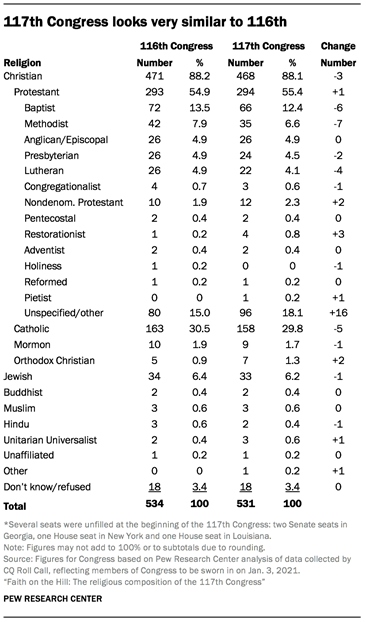 Many new members of Congress chose the "unspecified Christian" label even if they belong to denominational churches, such as:
Troy Nehls, a former Texas sheriff who defended the right to carry in church, attends Faith United Methodist
Nearly all new "other Christians" in Congress are Republicans. California Republicans Young Kim and Michelle Steel and Washington Democrat Marilyn Strickland, the first three Korean American women elected to Congress, also use the label, as does Georgia Democrat Carolyn Bourdeaux.
There are six fewer Baptists in Congress this year than last year and seven fewer Methodists, the two largest losses.
Two of the handful of new Baptists in Congress come from Alabama. Freshman Republican Rep. Jerry Carl, who serves as a deacon at Luke 4:18 Fellowship in Mobile, used to run a business manufacturing church furniture. Fellow incoming Alabama Republican Barry Moore, a Sunday school teacher and former drummer in a Christian band, refers to his political career as pursuing God's direction.
"To me, man does not have the solution for the problems we face in the nation or the world, it's always been a calling—about seeking the Lord," he told the Southeast Sun. "A lot of times we have to just pursue what he has called us to do.
Nondenominational Christians gained two seats, and Restorationists (members of the Churches of Christ) gained three. The new Churches of Christ congressmen are Alabama's Sen. Tommy Tuberville, former college football coach, and Texas Rep. Ronny Jackson, who tweeted Romans 8:2 as he was sworn in Sunday.
Roll Call noted that in 2021 Catholics will hold the presidency, the speaker of the House position, and the plurality in both chambers of Congress.
Outside of Catholicism and Protestantism, Orthodox Christianity grew from five seats to seven, including incoming Indiana Republican Victoria Spartz, a Ukrainian immigrant, and returning California Republican Rep. Darrell Issa, who is an Antiochian Orthodox Christian.