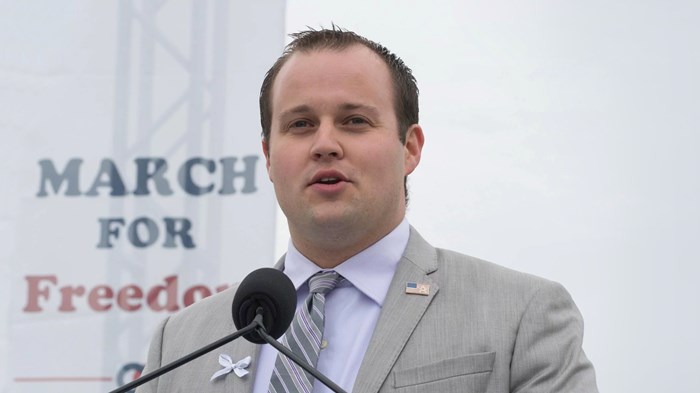 Image: Patsy Lynch/ MediaPunch / IPX / AP
Update: On May 25, 2022, Josh Duggar was sentenced to more than 12 years in prison for his crime. One count was dropped by the judge, and he faced a maximum of 20 years. The US Attorney cited his "history of sexually abusing minors and the grave risks associated with his potential to recidivate" as factors in the length of his sentence.
Josh Duggar has been convicted of receiving and possessing material that depicts the sexual abuse of children, a decision that provides a moment of consolation for Christian victims and advocates fighting against abuse coverup.
Duggar, the oldest sibling in the Christian homeschooling family made famous by the reality show 19 Kids and Counting, was taken into custody after the federal jury delivered the guilty verdict at a court in Arkansas on Thursday. He faces up to 40 years in prison.
"For everyone who was abused within their households or in their religious communities where nothing was done, where the male was given a second chance, where there was some excuse or minimization used, seeing Josh Duggar go to prison gives them some vindication or maybe some hope that the right result can happen," said Boz Tchividjian, a sexual abuse attorney and advocate who founded GRACE (Godly Response to Abuse in the Christian Environment).
"But the right result happened not because the faith community, not the family, or even the church, rose up and said, 'Absolutely not. We cannot tolerate this type of crime.'"
Federal investigators found the illegal material on his computer at the car lot where he worked in May 2019. One investigator said the images of young children including toddlers were the worst he had seen in his career.
The Duggars, who are independent Baptists, rose to national prominence in the mid-2000s and came to represent a segment of Christian homeschoolers known for large families, conservative attire, and adherence to teachings from Bill Gothard. Their fame meant Josh Duggar was covered heavily when news broke in 2015 that he had molested five girls back when he was a teenager.
Knowing his history and seeing family and church leaders come to his defense, some Christians have questioned whether Josh Duggar could have had a different trajectory, and abuse could have been prevented, if the 33-year-old had been held accountable and given necessary treatment earlier.
"It's impossible to see this current conviction outside of the context of what happened when he was a teenager, sexually abusing his sisters, and the way that his family responded to that," said Jacob Denhollander, a victims advocate who grew up one of 13 siblings in "the same homeschooled circles as the Duggars."
Denhollander, husband to survivor and fellow advocate Rachael Denhollander, tweeted that it's "hard to feel jubilation" when "there is so much harm that has been done in this situation and in this family."
At the trial, judges permitted testimony about the abuse that took place when Duggar was 15. A church friend told the court that the Duggars invited her and her husband over to their house, and Josh Duggar confessed to inappropriately touching four girls between 2002 and 2003, including a five-year-old who sat on his lap during Bible study.
At the time, church leaders agreed to address the issue by sending Josh Duggar to an Arkansas training program through Bill Gothard's Institute in Basic Life Principles. Months later, Jim Bob Duggar said he notified a friend in law enforcement, also a church elder, of the incidents but he didn't take it any further. (That officer went to prison in 2012 for 10 counts of distributing, possessing, or viewing material depicting child sex abuse.) When the incidents came up again in 2006, Josh Duggar made a statement to police, but no charges were filed.
In a pretrial hearing, Jim Bob Duggar said he couldn't remember the details of what his son had confessed as a teenager and called the case "sealed" since Josh was a juvenile at the time. Two of Jim Bob's daughters, Josh's sisters, had come forward in 2015 as his victims.
The defense argued against permitting testimony from Jim Bob Duggar and the church friend, saying it should fall under clergy privilege, but the court disagreed. In the ruling allowing testimony around Josh Duggar's abuse as a teen, the judge wrote, "The Court found Mr. Duggar's selective lapse in memory to be not credible; he was obviously reluctant to testify against his son."
Author and blogger Sheila Wray Gregoire said the case reminded her of a biblical story. "When Jim Bob took the stand last week and couldn't recall the abuse, I thought of King David," said Gregoire in an interview with CT, referencing the 2 Samuel story of Amnon's rape of Tamar.
"On a broader scale, we see repeatedly the evangelical world choosing to side with abusers over the abuse … it stems from one simple belief: All men struggle with lust; it's every man's battle," Gregoire wrote on her blog, where she chronicles and critiques evangelical teachings on sex and marriage.
During a widespread evangelical reckoning around abuse and the church's response, pastors are paying attention to the Duggar verdict and its implications for their ministry.
"If there's any beauty coming out of these ashes of this Duggar trial—other than with regard to victims seeing some hope—it might be for a moment in time where at least pastors who are paying attention go, 'Wow, I want to learn [about responding to sexual abuse],'" said Tchividjian. "Not because they don't want to get sued. It's not about risk management. It's about loving children and honoring them."
Tchividjian said for pastors, that starts with acknowledging what they don't know and being willing to listen and learn. GRACE offers training, as do other organizations that investigate and advocate for abuse victims. The Southern Baptist Convention developed a 12-lesson program called Caring Well.
Denhollander, whose dissertation examines how beliefs on penal substitutionary atonement inform Christian understands of abuse, said there is also a theological dimension to Josh Duggar's example.
"I think the first lesson would be to seriously consider the cost of cheap forgiveness," he said, calling out the faulty idea that forgiveness allows people to avoid confronting and addressing the wrong that has been done.
Denhollander also warned against focusing on the sin of an individual over the impact on his victims.
"Oftentimes, it's looked at as a 'moral failing' on his part without recognition that his moral failing carried with it significant psychological, physical, physiological damage to other people," he said. "Even with child sexual assault material, he was feeding the most horrific industry, the most horrific way of enslaving children that could be imagined."
Justin Holcomb, a theologian who studies sexual abuse and has written a Christian children's book about protecting bodies, previously told CT how a lack of accountability for young perpetrators can put more potential victims at risk and keep them from fully reforming their sexual thoughts and behavior.
"If you don't get a young sex offender holistic, therapeutic care before he's an adult—because there's significant psychological development taking place—it almost solidifies the recidivism," said Holcomb, describing how sexual abuse and pornography establish pleasure pathways in the brain. "The chances that he will repeat again are through the roof. It's nearly hopeless."
Following Thursday's verdict, Holcomb reshared a blog post detailing the harm caused by porn addiction.
It can be tempting to dismiss a case like Duggar's as an abherrant example. But the sad truth is that these cases are more common than most people assume, and church communities are not exempt.
The level of online material depicting sexual abuse is multiplying at a terrifying rate, while criminal convictions for the producers and viewers of such clips (once called "child pornography") lag behind. Christian resources like Covenant Eyes, meant to report instances of suspicious internet use to an accountability partner, only work as well as a person's commitment to abide by them. There are workarounds, as Josh Duggar allegedly found.
The news of Josh Duggar's abusive conduct became public six years ago, when he lost his place on the family's TLC show and his job with the Family Research Council. He went on to also confess to infidelity and to porn addiction in his marriage. Josh Duggar now has seven children with wife Anna. Since he was charged in May, he was permitted to see his children only under supervision.
According to The Associated Press, the federal investigation against Duggar was prompted by a Little Rock detective who found images depicting sexual abuse of children as young as toddlers being shared by a computer traced to him.
The defense in the case argued that someone else had acquired and viewed the images on Josh Duggar's device. Experts said the technology had been set up with Duggar's password, a version of which was once associated with the Duggar family Instagram account.
The trial also brought up Duggar's use of the screening and reporting software Covenant Eyes. A Covenant Eyes report indicated that he had previously been blocked from downloading uTorrent and accessing an anonymous browser that was later used to download the child sexual abuse material.
Judge Timothy Brooks said sentencing will take place in about four months.