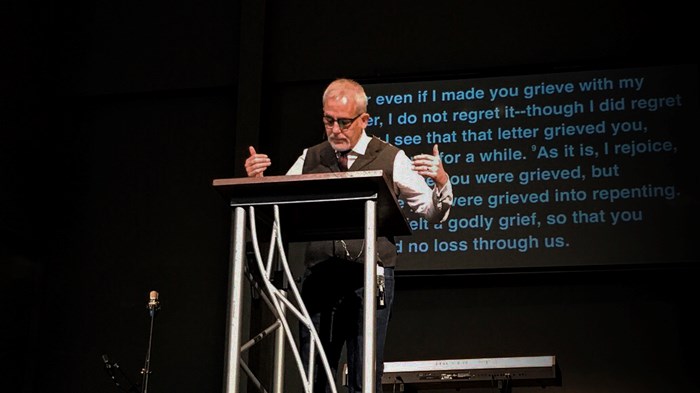 As CEO of Acts 29, Steve Timmis was an effective and respected leader. During his seven years at the helm, the church planting network rebounded from the fallout around its co-founder Mark Driscoll and expanded from 300 mostly US churches to 800 around the world.
A gray-haired British pastor with sharp Bible teaching and deep passion for mission, Timmis was known for the model of intensive gospel community developed at his 120-person church in the middle of England, The Crowded House. He emphasized "ordinary life with gospel intentionality."
But while his international reputation grew, some who knew Timmis in his ordinary life—who prayed, fellowshipped, and evangelized with him in living rooms, offices, and pubs—saw a different side.
"People were and are afraid of Steve Timmis," said Andy Stovell, a former elder who led alongside him for 14 years at The Crowded House in Sheffield.
Fifteen people who served under Timmis described to Christianity Today a pattern of spiritual abuse through bullying and intimidation, overbearing demands in the name of mission and discipline, rejection of critical feedback, and an expectation of unconditional loyalty.
In a letter to elders when he left in 2016, Stovell said, "I am not persuaded by the explanation that this is a case of strong leadership inevitably leading to some feathers being ruffled. People have been bruised by Steve's style. People have become cowed due to it."
Two weeks ago, internal reports raised similar concerns about Timmis's leadership in Acts 29, and the board voted on Monday to remove him as CEO. Acts 29 president Matt Chandler announced the news in a video sent out to the network the following day, saying, "For where we're headed next, we needed to transition Steve out of this role."
The organization confirmed the allegations of spiritual abuse in a statement to CT. "A little over two weeks ago, the Board of Acts 29 was made aware of some accusations of abusive leadership against our CEO Steve Timmis," it read. "The Board launched an investigation of these claims and found evidence that he should be transitioned out of the CEO role immediately. Where there needs to be reconciliation, we are prayerful and committed to seeking it."
[Update (February 10): Following the Acts 29 decision and the publication of this article, Timmis resigned as elder from The Crowded House on Friday, and the remaining elders are planning to commission an external review. "We have valued his ministry among us and his role in founding the church," the announcement said. "We also feel the weight of the stories told in the article. … We are willing to hear where we may have failed people."
Timmis had also previously served as chair of the board of Crosslands, a UK-based training program in partnership with Acts 29 and Oak Hill Theological College. His name has since been removed from its website, and a vacancy listed among its trustees.
Inter-Varsity Press UK will no longer sell Timmis's titles (including Total Church and Everyday Church, both co-written with Tim Chester), citing "that the style of close church community advocated in these books lacked sufficient safeguards against abusive control" and apologizing for them possibly contributing to "unhealthy and even abusive church cultures."]
Under Timmis, Acts 29's global headquarters was located alongside The Crowded House in Sheffield, which also draws a string of missionaries, interns, and university students. They come expecting—and wanting—to be part of a different type of church, the all-encompassing, always-on-mission culture of The Crowded House's small groups, called "gospel communities."
Steve McAlpine, an Australian pastor and church planter, moved to England back in 2006, hoping to learn the model so he could recreate it back home. He ended up contributing case studies for the popular book Timmis and his partner in ministry Tim Chester co-authored on the subject, Total Church.
"Since that time, no expression of church we have done has met the depth of life-on-life, 'eyeball-to-eyeball' experiences we had there," McAlpine wrote on his blog a decade later. "Yet at the same time no expression of church has stung as deeply either."
With a church that demands such high levels of involvement and buy-in, anything seen as taking away from that mission may be deemed selfish, sinful, and cause for discipline. "It's gospel gaslighting," McAlpine said.
He recalled being berated for making travel plans without consulting with Timmis first. He was told he was rejecting discipline and choosing to be "a law unto himself," a signature Timmis phrase (originating from Romans 2:14) that former members repeated in multiple stories.
Little things that pastors in the average church wouldn't care about were treated as big things by Timmis, they said.
One couple said they were confronted for missing an impromptu barbeque with their gospel community in order to spend planned family time with their kids. They were accused of not putting the mission of the church first. Several who took interest in ministry opportunities outside the mission for their gospel community—which could shift or change under Timmis's orders—also received pushback, told not to pursue an outside Bible study or social time or not to volunteer with a local coffee shop or summer camp. Students in the university town were discouraged from returning home to their families over the summer—it was seen as a sign that they weren't really committed to the life of the church.
From the inside, this kind of heavy shepherding seemed by design, with Timmis seeking to mentor and disciple his flock into a church that operated "24/7" and spanned all areas of life. At the least, Timmis implied these expectations set them apart from other congregations in a good way.
Fellow British pastor Melvin Tinker said while teaching a training program alongside Timmis, students from other evangelical traditions began to complain that Timmis was "dismissive" toward those who brought up other views of church life. Tinker, vicar of St. John's Newland church in Hull, met with him at the time to address their feedback. Though Tinker had known Timmis for over 30 years and considered him a close friend, Timmis's response to the meeting ultimately led to the end of their teaching together.
"If Steve is challenged in any way, which he always takes as a threat, then the tables are turned and the challenger is made out to be the one at fault," said Tinker, who saw the same pushback emerge during the decade his son, Michael, was a member of Timmis's church. "This is classic manipulation."
Within The Crowded House, despite their closeness, some were too intimidated to question Timmis's decisions. Though Timmis previously stepped down as pastor due to his Acts 29 obligations, he remains the church's leader and senior elder and no successor at The Crowded House had been named. According to its website, the church's four-person elder team currently includes Timmis, his son-in-law, and two other younger leaders.
"Steve had very clear patterns for dealing with conflict and would not hesitate to bring these conflicts to a crisis point in order to highlight where members were not living up to what he called 'the high bar of discipleship,'" said Rowan Patterson, a former Crowded House elder who now serves at an Anglican church in Sydney.
"These standards were often based upon secondary and sometimes extrabiblical matters … and you would be called to trust him, his experience, and age," he said. "If you did not, you would be called a law unto yourself."
Former member Ben Murphy said he spoke up to disagree with Timmis over what to do about a non-Christian acquaintance who lived in a different area from their gospel community. Murphy and most of his group thought they should continue to build a relationship with her anyway. Timmis told them to refer her to a different church.
In follow-up conversations, the dispute heightened, and Murphy said elders told him that if he stayed he would enter a process of church discipline for his pushback. After he left The Crowded House last year, he texted the woman to follow up and apologize.
They are now part of a small but growing community of Crowded House "refugees."
"There's a high turnover of staff, elders, and members at The Crowded House, often leaving having 'fallen out' with Steve," said Michael Tinker, a UK singer who was a part of The Crowded House from 2005 to 2015 and then spent two years at one of its nearby church plants after that. "There is such an emphasis on 'vision' that if you have issues with that then you are encouraged to leave.
"On one level that's understandable—every church has a particular direction it wants to go in, and so it makes sense to find a church where you agree with that," he said. "However, in reality it means you need to agree with Steve's mission and vision. And the sense in The Crowded House that it is the right or best way to do mission and be biblically faithful means you are left with the feeling that if you disagree you are somehow disagreeing with the Bible, or somehow falling short of God's ideal, or not really giving up your life for Christ."
That perspective also skews members' views of those who leave—that they didn't have what it takes or are no longer really committed to mission.
Michael Tinker said some at The Crowded House were led to believe that he and his wife were walking away from their faith. Paul and Sharon Goodwin, who left in 2011, listed the elders' characterizations of them leading up to their departure: divisive, unpastorable, disobedient, "not loving Jesus enough," "always been troublemakers." It was misconstrued enough that the Goodwins wrote a 3,400-word letter to friends describing their real reasons for leaving.
To go from being inside a highly relational, tight community to being considered an "ungospeled" and rebellious outsider can be traumatic. "We at one point thought it was easier to leave the country than the church," said Murphy, who belonged to The Crowded House for more than 13 years. It felt impossible to avoid his former church community in day-to-day activities like school pickups and neighborhood walks. (His family now has plans to move to Belfast.)
At other churches in Sheffield, former members of The Crowded House might run into each other, and it's not long before a look, a tearful eye, or a reference to "the Timmis experience" puts them on the same page. For a long time, most didn't realize how common it was.
"Leaders like Steve Timmis are very adept at making you feel you are the ones in the wrong and that you are isolated problem makers," wrote Paul Goodwin. "The more ex-[Crowded House] people we met, the more we realized that this pattern of behavior was something many had also gone through and their experiences were very similar to ours, even going back to the very early days of [The Crowded House] before we joined."
McAlpine, now a pastor in Perth and writer for The Gospel Coalition Australia, was one of the only people sharing a version of his experience at the church publicly, using his blog.
At first, he never heard from the friends he was once so close with in Sheffield. Then, every few months, McAlpine would get a notification that someone whose name he hadn't heard in a while had liked a picture or commented on his Facebook. He'd reach out, and, sure enough, they had just left The Crowded House. Beyond his former contacts at the church, he has heard from more than 20 former leaders and members about Timmis.
Two former Acts 29 staff members told CT they spoke up about Timmis's overbearing leadership five years ago, in his first year as executive director.
According to a copy of a 2015 letter sent to Acts 29 president Chandler and obtained by CT, five staff members based in the Dallas area described their new leader as "bullying," "lacking humility," "developing a culture of fear," and "overly controlling beyond the bounds of Acts 29," with examples spanning 19 pages.
During a meeting Chandler arranged with two board members to discuss the letter, all five were fired and asked to sign non-disclosure agreements as a condition of their severance packages. They were shocked.
"I trusted Matt to do what was right. I had full confidence that our concerns would be heard by him and that we could work towards resolution," one of the former staff members said.
The letter also described the staff's issues with Timmis's new policies for leading the then–heavily American Acts 29 network from the UK—like reviewing every post before it went up on social media and tightening flexible work schedules to require staff notify him whenever they were out. Chandler told CT that, at the time, he saw it as a clash in leadership styles, not as indicators of abuse.
Chandler is the only member of the current Acts 29 board who also was on the board six years ago when the network decided to remove Chandler's predecessor, Mark Driscoll, from membership—a move that accelerated the downfall of the brash Seattle preacher, known for his quick temper and domineering leadership.
Timmis never had any of the public notoriety that Driscoll did, or the high profile of leading a multisite megachurch just as a new wave of church planting was taking off in the 2000s. But the 62-year-old pastor was a big name in Acts 29 even before he took over, a popular speaker, author, and mentor to a mostly younger, less experienced crowd of eager church planters.
Chandler said he knew Timmis could be a micromanager, and he also saw the benefit of a new leader doing a thorough organizational review when setting out to change the culture. He said it wasn't until the allegations came forward two weeks ago that he realized that Timmis's level of control as a leader went beyond micromanaging and into the realm of abuse.
Former members of Timmis's church claimed that Tim Chester, the pastor of Grace Church Boroughbridge, part of The Crowded House network, knew about criticism against Timmis and defended him. Stovell, the former elder, said Chester asserted that "the flipside of having a strong leader is that feathers get ruffled." McAlpine said Chester would say that those who accused Timmis of overbearing leadership "don't understand him enough" and "need to give him grace."
Chester did not respond to emails sent Wednesday and Thursday requesting comment.
Timmis will be on sabbatical for four months prior to the network naming his replacement at a board meeting in May. He wrote in an email to CT Wednesday that his transition "is not particularly newsworthy" and declined the opportunity to respond to specific allegations raised in this article.
"I am a sinner saved by grace, and so claim neither infallibility nor impeccability," he wrote. "I am, though, more than ready for anyone to approach me and the church elders here with specific concerns. They can be assured of a careful listening."
After the news of his departure was announced among the network, the former Acts 29 CEO tweeted, "Those days when you only have the Scriptures to go to for comfort & hope, though hard days, in eternity will prove to have been the best of days," which generated a string of supportive replies from pastors:
"So deeply encouraged by your leadership."

"Your godly example and love for people has set a course for my own life."

"Thanks for your leadership! Brazil will never forget you."
Even some people with stories of spiritual abuse under Timmis still see the good he has done through his ministry career. Goodwin, who wrote the long letter when he left The Crowded House, said Timmis is "still probably the best preacher I have ever been taught by."
That makes it even harder for victims to grapple with their experience—they see a clearly gifted minister whose abrasive personality has instead damaged people's relationship with the church.
"If spiritual abuse is the manipulation of people for whom Christian leaders are responsible, which benefits them to the spiritual detriment of those cared for, involving lack of accountability, this is very much in evidence at [The Crowded House] in general and Steve Timmis in particular," said Melvin Tinker, the Anglican vicar.
Several who left The Crowded House or Acts 29 said they had to seek counseling as they transitioned to new churches and ministries. Some continue to follow his ministry from the outside and hope for repentance and change, but they don't see enough accountability in place back at The Crowded House. (One well-known phrase in the organization was "Steve doesn't do peers," said Stovell, the former elder.)
In recent years, evangelicals in the United Kingdom have debated the terminology of "spiritual abuse." The Evangelical Alliance based in London issued a report in 2018 suggesting that the phrase is becoming more common and more broadly used, applying to sexual abuse, child abuse, and emotional and psychological abuse that happen to take place in religious contexts. Researchers in the report, however, categorize spiritual abuse specifically as abusive behavior by a religious leader, in a religious setting, and justified by an appeal to divine authority.
Unlike other types of abuse, there's no legal definition (and often no criminal activity involved), so it can be hard for people to identify the abuse right away, especially when a leader demonstrates solid teaching and theology. From the inside, spiritual abuse can look like everyday ministry.
"Many conservative evangelicals have assumed implicitly … that being theologically orthodox is a safety check that stops other sub-Christian behaviors and attitudes," said McAlpine. "Denial of the problem, or shock when it surfaces, simply reveals that we don't believe our big doctrines (total depravity) as much as we claim to."
This story has been updated.