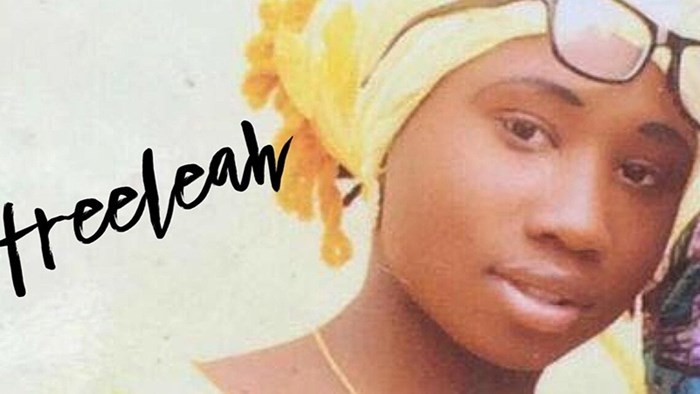 Image: Courtesy of Christian Solidarity Worldwide
Christians in Nigeria are desperately praying for 15-year-old Leah Sharibu as the one-month deadline to save the only Dapchi schoolgirl left in Boko Haram captivity draws to an end this week.
The terrorist group's ISIS-affiliated faction threatened last month to kill the teenager, who was held back for refusing to renounce her Christian beliefs. The other hostages, 104 of her schoolmates, were released following negotiations with the Nigerian government in March.
Her resolute faith in the face of death has inspired evangelists, pastors, and everyday Christians across Africa's most populous nation.
Boko Haram started in 2002 as a nonviolent sect meant to purify Islamic practices, but in recent years rose to the second deadliest group in the Global Terrorism Index, responsible for tens of thousands of deaths and more than 2 million people displaced.
In February, its ISIS wing abducted 112 female students preparing for final exams at Government Girls' Science and Technical College Dapchi in the northeastern state of Yobe. Six of the girls from the all-female boarding school died during captivity while one escaped, leaving Sharibu the only Dapchi student still with her abductors.
"The other nurse and midwife will be executed in a similar manner in one month, including Leah Sharibu," the sect threatened on September 18 in a video of the execution of Saifura Khosa, a midwife with the International Committee of the Red Cross (ICRC).
Days before the execution video emerged, Sharibu pleaded for rescue in a 35-second audio clip.
"I am calling on the government and people of goodwill to intervene to get me out of my current situation," she said.
"I am begging you to treat me with compassion. I am calling on the government, particularly the president, to pity me and get me out of this serious situation. Thank you."
Sharibu's family has pleaded with the Nigerian government to save her. Her mother, Rebecca, held a press conference in Jos, shortly after the video circulated. The family finally heard from President Muhammadu Buhari this month, who told them by phone that no effort would be spared to ensure her rescue.
But Sharibu's father, Nathan, told CT he was losing hope of ever seeing his daughter again.
"We are very sad. The house is quiet," he said. "We are so worried [the terrorists] could harm her.
"We want the government to please help us. I believe they can rescue her if they want to. They can get her out if they try enough. They should please not allow her to get killed."
Advocates for Sharibu's release are spurred by similar efforts for 276 girls abducted by Boko Haram from Government Secondary School Chibok in the northeastern state of Borno in April 2014, publicized worldwide through the #BringBackOurGirls campaign.
Chibok and Dapchi, where Sharibu was taken, are just four hours apart in northeast Nigeria, which has been battered by deadly terror attacks since 2010; Yobe, Borno, and neighboring Adamawa state were placed under a state of emergency in 2013.
In both cases, Boko Haram kidnapped hundreds of girls. Following negotiations, 26 of the Chibok students were freed in October 2016 and another 82 in May 2017, in the wake of leading international figures, including former First Lady Michelle Obama, calling for their release.
But church leaders and Christian activists have been most vociferous in the campaigns for Sharibu's rescue, inspired by the story of a teenager refusing to renounce her faith even when threatened with death.
Emmanuel Ogebe, an international human right activist who facilitated the relocation of 10 of the freed Chibok girls to the US, believes Sharibu's case is strikingly appealing. "She is the modern-day heroine of the faith at just 15," he told CT.
"Leah's bold stance for her faith has resonated with the Christian community across Nigeria unlike anything we have seen in several decades," he said. "While there are dueling narratives about Boko Haram and Fulani herdsmen atrocities, everyone can understand clearly Leah's case—which is that she is a Christian child being held hostage for her faith.
"Incidentally, even Muslims have expressed displeasure with her captivity, saying there's no compulsion in Islam," he said.
Gideon Para-Mallam, a leader with the International Fellowship of Evangelical Students (IFES) and one of the organizers of the Sharibu family's recent press conference, is glad the campaign for her release has not been politicized thus far.
"The advocacy is being pursued with decency. No political hijacking of this struggle," he told CT.
"Leah's testimony is an inspirational one," he said. "It is a defining moment of what Christians are going through in Nigeria."
Sharibu's refusal to renounce her faith has also become an inspirational theme for preachers across the West African nation evenly divided between predominantly Muslims in its north and predominantly Christians in its south.
Some of the rescued girls recounted how Sharibu refused to deny her faith despite her classmates' pleas that she should recant and return home with them.
"I am a Christian," they reported she kept telling her abductors, even after being pressured to accept Islam as a precondition to her release.
Beyond the weekly prayer sessions in churches across the oil-rich nation, many Nigerian believers have challenged themselves to stand tall for Christ even in the most of the most grueling encounters.
"If a girl as young as 14 [Sharibu turned 15 in captivity] could stand for Christ in the face of death, it is clear no reason is good enough to deny the faith," said Abraham Olaleye, a popular Lagos-based evangelist and founder of Abraham Evangelistic Ministry.
"I draw a lot of personal lessons from her travails, and I use it to challenge my members every Sunday to stand. I tell them if Leah can stand, you have no reason to fall."
Ladi Thompson, founder of the Macedonian Initiative, a support agency for persecuted Christians in northern Nigeria, said Sharibu has earned the public status of sainthood.
"She is the No. 1 Christian citizen of Nigeria at the moment," he said. "To have stood for Christ in a jungle, surrounded by gun-wielding mean men, is a clear testimony of her personal walk with God.
"I believe God raised her to reawaken our consciousness to be ready to die for our faith at all costs," said Thompson.
Felix Meduoye, general overseer of the Foursquare Gospel Church in Nigeria, said Buhari's administration must ensure that Sharibu survives. "If she is killed, it will speak volumes," he said.
Despite the grim situation, Ogebe is optimistic Sharibu will be rescued. But in the extreme case that she is executed, "it will just prove that they couldn't conquer a young girl's faith," he said, "and that their faith cannot be worth anything if they would execute an innocent child because of money."
Para-Mallam, who has been in close touch with Sharibu's family, believes the teen has redefined Christian courage in the face of persecution in Nigeria.
"Rather than discouragement, there is a lot of inspiration the Christian community is getting from the courage displayed by this 15-year-old high school girl," he said.
"Leah is a heroine of the Christian faith to many Christians, not just in Nigeria but around the world. Leah is inspiring many young girls," he said.
"Some have asked, 'if I were in Leah's shoes, would I deny Christ?' Some have now quietly resolved to stand for Christ no matter the cost."
Para-Mallam is also hopeful that she won't be executed. "[But] if Leah were to die in the hands of the terrorists, many believers will be sad and angry, but never discouraged by the church.
"Leah is already an icon of faith, courage, and heroism. Nothing will change this fact and reality."