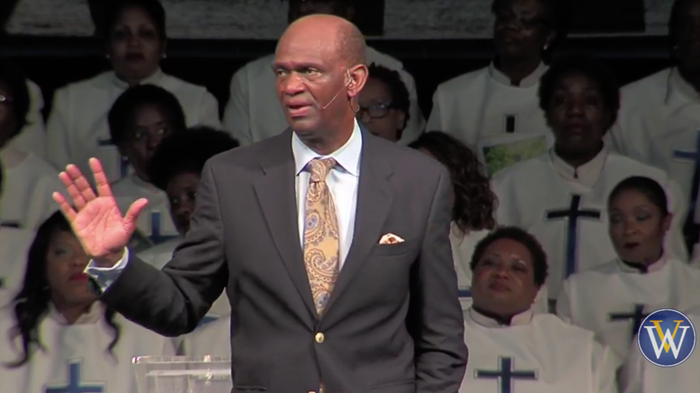 Image: Windsor Village Church Family / Facebook
Thousands of worshipers at a Methodist megachurch in Houston didn't expect to hear from their pastor's lawyer on Easter morning.
The special guest dropped in to speak days after Kirbyjon Caldwell—a prominent Texas pastor and former spiritual adviser to presidents George W. Bush and Barack Obama—was charged with more than a dozen crimes in an alleged fraud scheme.
The Securities and Exchange Commission (SEC) alleges that Caldwell and his financial planner misled investors out of $3.5 million through the sale of shady Chinese bonds. Caldwell maintains his innocence and plans to fight the charges.
In Holy Week services across Houston, fellow African American pastors and Caldwell's own 16,000-member congregation, Windsor Village, enthusiastically came to his defense.
About halfway through the almost two-hour Easter service, Dan Cogdell, Caldwell's legal counsel, paced the stage in front of the white-robed choir and shouted to the cheering congregation, "I know the truth and the truth will set him free!"
Cogdel said the case prompted him to open the Bible and see the parallels between Caldwell's situation and Christ himself.
"I read last night that Jesus was tried for several offenses, and acquitted of all but one," he told Windsor Village, an African American megachurch that ranks as one of the biggest in the United Methodist denomination. "The one crime he was found guilty of was claiming falsely to be the Son of God. Think of the irony of that."
Caldwell and his adviser, Gregory Alan Smith, face 13 counts of conspiracy, wire fraud, and money laundering for allegedly misguiding 29 investors between April 2013 and August 2014. The two were indicted Thursday by a federal grand jury in the Western District of Louisiana.
Caldwell, whose company is said to have kept $2 million, is accused of using his standing in the church to convince people to buy in. He has stated that no church members were involved, and that he has returned nearly $1 million to dissatisfied parties.
The investment in question is a type of historic Chinese bond that the SEC considers "mere historic memorabilia," with no possibility of the 15-fold returns Caldwell and Smith promised. Smith had faced former accusations of financial mismanagement and had been barred from deals with Financial Industry Regulatory Authority members.
"Sometimes, when you're on your way to the Promised Land, you have a painful pit stop, and this is just that," Caldwell told his congregation on Easter morning.
He went on to say he is not guilty and has evidence that the bonds were authentic, despite the SEC claims. Caldwell choked up when asking the congregation to pray for his wife, who also serves as a minister at Windsor Village, and his kids.
"Of all the allegations and accusations, the one that frankly perturbs me most is the accusal that [I] took advantage of people," said Caldwell, a former investment banker. "I've spent 36 years helping people, not hurting people."
With a theology degree from Southern Methodist University and an MBA from the Wharton School of Business at the University of Pennsylvania, Caldwell has always operated as both a pastor and a businessman (as he writes about in his books The Gospel of Good Success and Entrepreneurial Faith).
Over the past three decades, the Bayou City minister has been heavily involved in community development in underserved areas of Houston. He has launched major building projects in partnership with the church and served on boards of major organizations, business groups, and corporations in the city. He's also a limited partner with the city's NFL team, the Houston Texans.
In the 1990s, Caldwell and Windsor Village took over an abandoned K-Mart strip mall to turn it into "The Power Center," which houses their worship complex as well as medical, banking, and education services for their community. More recently, they launched another development; this one spans 234 acres in southwest Houston, totaling a $181 million investment from Caldwell and partners. He was recently cheered for his involvement in Hurricane Harvey relief efforts.
"Caldwell's entrepreneurial activities are more than the extension of skills he picked up in business school. They express his theology and convictions about how the church should interact with the world," CT wrote in a 2001 profile of Caldwell, when he began to gain national attention for his close relationship with President Bush, a fellow Texas Methodist.
After the indictment, United Methodist bishop Scott J. Jones issued a statement offering prayers for Caldwell:
Kirbyjon Caldwell has been an outstanding pastor and leader in our community for over 30 years. The United Methodist Church has high standards for the moral conduct of its clergy, and we recognize the seriousness of the charges against him. We will walk though this difficult situation with Rev. Caldwell and the Windsor Village congregation and keep them in our prayers. We have faith that the judicial process will find the truth.
The leaders of other major African-American megachurches in Houston also addressed the charges.
According to Houston Chronicle reports, the pastors of Lilly Grove Missionary Baptist Church and Wheeler Avenue Baptist Church, each with 10,000-plus attendees, stood by the fellow clergyman at a Good Friday service at an area college basketball arena.
"On behalf of African-American churches … we stand with our own," said Terry K. Anderson, senior pastor at Lilly Grove. "He has the full support of Wheeler Avenue and Lilly Grove."
Anderson told the gathering:
A brother does not need you when he's up, he needs you when he's down. He needs you when he's being criticized—when he's being castigated in the press. And brothers and sisters, hear me: If they do it to Kirbyjon Caldwell, don't think that you are … exempt from them coming after one of us.