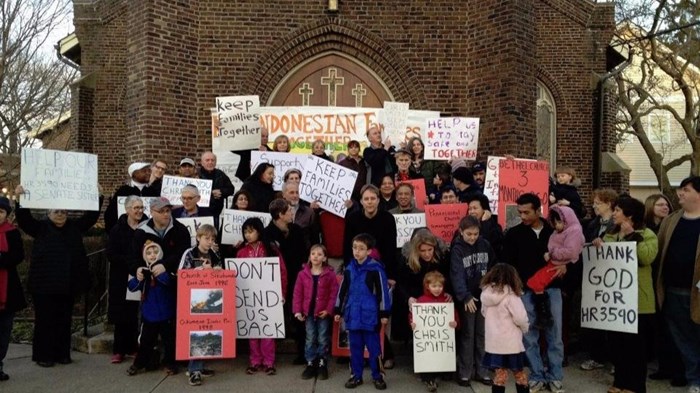 Image: Reformed Church of Highland Park / Facebook
Four years ago, eight Indonesian Christians living in a New Jersey church received some encouraging news: despite overstaying their visas for more than a decade, Immigration and Customs Enforcement (ICE) agents would not be deporting them.
This year, ICE changed its mind.
Four of the men attended an annual check-in meeting with ICE officials in Newark in March, and authorities asked them to return with their passports in May. But when the men returned last week, this time joined by a lawyer, they were arrested and sent to an immigration detention center.
Yesterday, one was deported back to Indonesia.
"His attorney got a call at 10 a.m. that his stay of removal was denied," stated Seth Kaper-Dale, Arino Massie's pastor.
Almost two hours later, Kaper-Dale heard from Massie. "Arino called to say, 'Pastor, I'm already on the plane. I'm headed for Japan. Thanks for all the efforts of the community. Tell the community I love them. Tell my son I love him,'" Kaper-Dale told about three dozen people gathered for a rally Thursday.
Massie and the three other men, who are still being held, are part of a 40-percent surge in ICE arrests in the first 100 days of the Trump administration. This includes 100 arrests a day of undocumented immigrants with no criminal record.
The same day the Indonesian men were arrested, the first Christian governor of Jakarta was jailed for blasphemy, just weeks after losing a gubernatorial reelection bid. The world's most populous Muslim country was visited last month by Vice President Mike Pence, who praised its "tradition of modern Islam."
But Indonesia's reputation as a moderate country is not as accurate as it once was. CT reported in 2012 how record religious violence in Indonesia was bolstering the men's claim for asylum. Christians make up seven percent of Indonesia's nearly 260 million people.
The US Commission on International Religious Freedom listed Indonesia as a "Tier 2" country in its 2017 list of countries of particular concern. The Pew Research Center rated Indonesia high in both government restrictions and social hostilities in its 2017 report on global religious restrictions. (The report uses data from 2015.)
In 2014, Pew called out Indonesia (along with several other of the world's 25 most populous countries) as "having had the highest levels of overall restrictions in 2012 when both government restrictions and social hostilities involving religion are taken into account."
Indonesia was ranked No. 46 on Open Doors' 2017 World Watch List of countries where it's hardest for Christians to live. Open Doors noted that the blasphemy allegations against the governor had led more than 200,000 people to the streets in anger. "Indonesia is known for a moderate and diverse Islam, yet extremism has more influence than is commonly perceived," the report stated.
That danger led the eight Indonesian refugees to move into the church they attended—Reformed Church of Highland Park—five years ago after ICE told them they would have to leave. They said they feared for their lives if they were made to return to Indonesia.
The Reformed Church of Highland Park has long been connected with the Indonesian Christian community, many of whom attended services. After more than three dozen men were deported in 2006, Kaper-Dale took in many family members and began working to legally keep them in the country, reportedThe New Jersey Star-Ledger in 2012.
By 2009, the Reformed Church of America pastor believed he had brokered an arrangement with the federal government to allow them to legally stay in the country. When that agreement ended in 2012, ICE demanded that Indonesian immigrants who had overstayed tourist visas and missed asylum application deadlines leave the US immediately.
Instead, the four now-detained men, along with four others, held out for months in the church. One of the men toldThe New York Times in 2012 that he had fled to the United States after an anti-Christian mob had murdered a relative who was a pastor and burned down the church. At least four were part of a larger Indonesian Christian community which fled their country in the 1990s and early 2000s and entered the US on tourist visas.
"It was a bad situation because racism against Chinese Indonesians was horrible," Yana Pangemanan, who took refuge at the Reformed Church, told ABC News in 2012. "Jakarta's Chinatown was burned. Chinese women were being raped. They didn't care if you were Christian or Muslim, as long as you were Chinese like me, they wanted to kill you. They were killing people in the street, burning cars."
The Trump administration's approach to immigration has frightened thousands of Christians. In February, nearly 50 percent of Hispanic Protestants (47%) said they worry "a lot" or "some" about the threat of deportation, according to Pew. Some Hispanic pastors noted that anxiety over immigration status has led some congregants to stop attending church.
Christians were also deported under the Obama administration. Last year, a federal immigration judge ordered 15 Iraqi Chaldean Christians deported for immigration fraud when they sought refuge in the United States after they had already been granted safe haven in Europe.
Meanwhile in Europe, the European Court of Human Rights ruled in 2015 that Sweden could not deport an Iranian Christian man without first considering how Iran's Islamic regime will treat him.