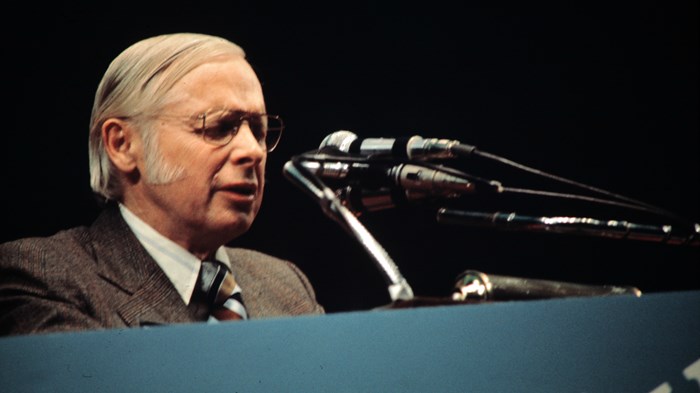 Image: InterVarsity Christian Fellowship USA
H. Wilbert Norton, whose lifelong leadership brought a missions focus to Christian higher education, died last Monday, less than a week after celebrating his 102nd birthday.
Norton served at more than a half-dozen Christian schools prior to his retirement in 2003, expanded theological education in Africa as an Evangelical Free Church missionary, and helped organize InterVarsity Christian Fellowship's earliest student mission conference.
"Norton's widespread impact as a church and denominational leader, educator, and missionary has left an amazing legacy," said Trinity International University president David S. Dockery, who gave the sermon at his funeral Saturday. "We offer thanks to God for [his] life and influence."
Norton launched missions programs at: Trinity Evangelical Divinity School, where he also served as president; Wheaton College Graduate School, where he also served as dean; and Reformed Theological Seminary, where he taught in Jackson, Mississippi, and Charlotte, North Carolina.
"Norton's warm heart for sharing the gospel and visionary leadership for global missions has an enduring legacy in the world today through the many lives he touched and the many thriving institutions … that he worked to start or helped to grow," stated Philip Ryken, Wheaton's president.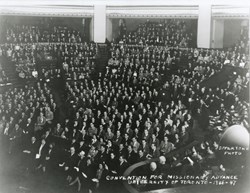 Image: InterVarsity Christian Fellowship USA
Part of the first masters-level cohort at Columbia Bible College in the late 1930s, the Chicago native and Wheaton alumnus served as one of the first leaders of the Student Foreign Missions Fellowship—an evangelical counterpart to the Student Volunteer Movement, which had shifted more theologically liberal.
The organization became a part of the early InterVarsity Christian Fellowship USA. Home from several years of missionary work in the Congo, Norton helped plan InterVarsity's first student missions conference in Toronto in 1946, which grew into the triennial conference named for the city it was long held in: Urbana, Illinois.
"It was just an amazing thing to see, God bringing these two movements together," he told InterVarsity's archivist. "Who in the world has done, for modern missions, what InterVarsity and Urbana has done?"
Raised in Chicago's Andersonville neighborhood as the son of Swedish immigrants, Norton was fluent in English, Swedish, and French, and dedicated his doctoral studies to church history in Sweden, according to a tribute posted by one of his four sons, Peter. Norton studied under Carl F. H. Henry at Northern Baptist Theological Seminary and Paul Tillich at the University of Chicago.
Through his missionary work, he learned to speak Lingala and Mbaka and read Norwegian and Danish. Norton founded the Bible Institute of the Ubangi, which has been renamed Goyongo Theological Seminary in what is now the Democratic Republic of the Congo, and Jos Theological Seminary, the graduate school of theology of Nigeria's ECWA (Evangelical Church of West Africa). He spoke at missions conferences and coauthored the book What's Gone Wrong With the Harvest?
Norton spent the past 13 years living in a Christian assisted-living facility in Oklahoma. His wife, Colene Norton, died last August.