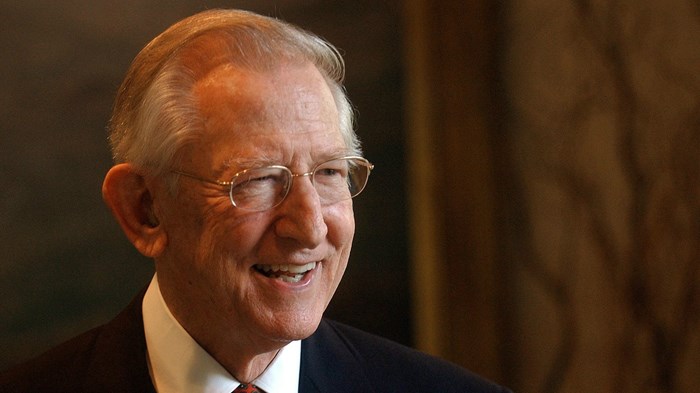 Image: Lisa Krantz/San Antonio Express-News
"I just bootleg the gospel," Howard Butt Jr. told 1,500 Baptist men in Fort Worth, Texas, in 1954. Butt meant he had no license to preach, but that didn't stop him from doing it. The 89-year-old well-known author and speaker, as well as creator of the Laity Lodge Retreat Center, passed away yesterday evening from complications related to Parkinson's.
"Howard was a mentor, a motivator, and a model servant whose mind and heart were profoundly poured out on me at a most critical time," said Christianity Today International president and CEO Harold Smith.
"His words of exhortation and encouragement to both my wife and me during a challenging first year of executive leadership offered us the assurances of God's watchcare and direction—even in an industry experiencing such tumultuous change," Smith stated. "Truly, the power of Howard's presence in word and deed has left a God-anointed legacy that will inspire me and the entire CT team for years to come."
Born into a successful family grocery store business, Butt started preaching while a student at Baylor University in 1946 and made more than 1,650 appearances as an evangelical speaker over the next 10 years. His focus was on integrating business and faith, and together with Billy Graham he created the Layman's Leadership Institute, which hosted programs for business leaders to talk about how faith and leadership intersect. Also with Graham, he served on the boards of the Billy Graham Evangelistic Association and helped found Christianity Today.
"Howard E. Butt Jr. was a great friend of my father's and served alongside him in ministry for many years," stated Billy's son Franklin. "He realized that every Christian is called to serve, not just those who have positions in ministry. For this reason, he was an early pioneer in the area of workplace ministry, encouraging the body of believers—whether they be businessmen, doctors, carpenters, or teachers—to see their work as their calling and to do it as unto the Lord."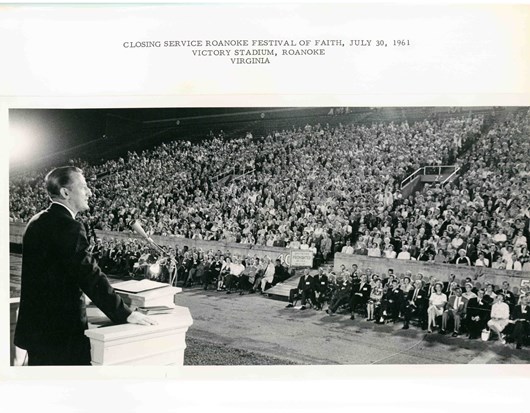 Image: Courtesy of the H. E. Butt Family Foundation
As the oldest son, Butt became the vice president of the H-E-B grocery store chain and was expected to take over the business, but the conflict between that expectation and his desire to pursue lay ministry led to a decade of depression that Butt explained in his book Renewing America's Soul: A Spiritual Psychology for Home, Work and Nation.
Eventually, the discovery that his younger brother Charles would rather lead the family business freed Butt to pursue ministry full-time. In the late '60s, he stepped away from dealing with the day-to-day business of the grocery store chain.
Butt's main message, succinctly put in the title of his national radio program, The High Calling of Our Daily Work, encouraged businessmen to bring their faith to work, integrating Christian principles into the business world.
At the Laity Lodge, a retreat center given to him in 1961, Butt regularly brought together Fortune 500 business leaders with renowned authors and scholars like Madeline L'Engle, Henri Nouwen, J. I. Packer, and N. T. Wright to think together about Christian leadership in the marketplace.
The Taste of New Wine, a best-selling book by Keith Miller explaining how churches might use the small group model, was penned largely at Laity Lodge.
Butt also pioneered the ideas of servant leadership (explained first in his book, The Velvet-Covered Brick: Christian Leadership in an Age of Rebellion) and work/life balance. His other books include At the Edge of Hope: Christian Laity in Paradox; Renewing the Spirit, Healing the Soul; and Who Can You Trust? Overcoming Betrayal and Fear.
"Church work is done wherever we have excellence in our work that exhibits love for the people we are working with," he said.
"We are deeply saddened by the loss of my brother, Howard," stated Charles Butt, H-E-B's current CEO. "His decades of inspired leadership, philanthropy, and humanitarian efforts will forever be missed by our family and those he impacted across the US."
"Only when we get to heaven," Billy Graham once told Butt, "will we see how many lives you have touched through your ministry of evangelism and your tremendous work through Laity Lodge."