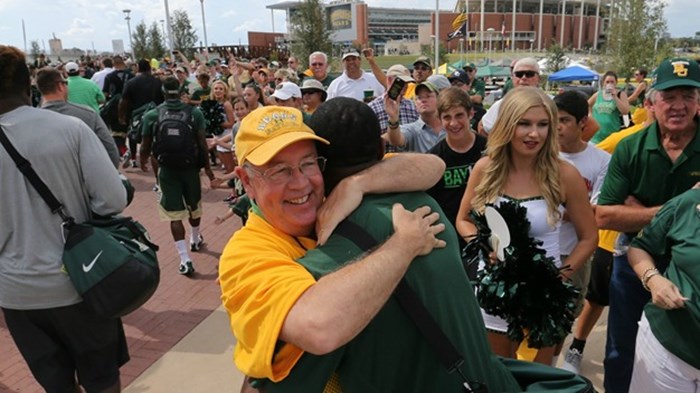 Image: Robert Rogers / Baylor Marketing & Communications
Update (June 1): Former Baylor University president Ken Starr resigned this morning, shortly after his demotion to just chancellor following the Baptist school's sexual assault shakeup.
The decision came "as a matter of conscience," he said on ESPN. "The captain goes down with the ship."
Baylor's Board of Regents accepted Starr's resignation and thanked him for his service. In a press release, the board stated:
The comprehensive investigation by Pepper Hamilton and the subsequent Findings of Fact fully and openly outlined systemic failures across the University regarding Title IX policies, procedures, and University personnel. As we move forward, we will continue to take the actions that progress the university and its leadership toward an environment of resolute accountability and responsibility as we relentlessly pursue the mission of Baylor University.

We recognize this is a tumultuous time for Baylor, most importantly for our current and former students and victims of sexual assault. We were horrified by what we learned from the investigation and again express our public acknowledgment and deepest apologies. The decisions made, and the actions we have taken, will ensure there is no room for deflection of responsibility or diminishing the experiences of the victims. We will continue to protect any details that may compromise the privacy of these individuals.
Starr will remain a tenured professor at Baylor's law school.
Baylor's athletics director has also resigned.
-----
Update (May 26): Head football coach Art Briles, not president Ken Starr, will be fired in the wake of the football scandal that has rocked Baylor University for the past few months.
"The Board of Regents apologizes to Baylor Nation," the Board of Regents stated today after reviewing an independent investigation into charges of rape and assault against five of the school's football players. It also announced personnel changes and punishments:
Head football coach Art Briles is suspended with intent to terminate.
President and chancellor Ken Starr will transition to just chancellor on May 31, and remain a professor at the Baylor University Law School.
Athletic director Ian McCaw will be sanctioned and placed on probation. He will work with the university and board to restore "accountability within the football program, to effective oversight and controls of the athletics department, and to critically needed changes that will realign the athletics program with the university mission."
David Garland, former dean and professor at Baylor's George W. Truett Theological Seminary, was appointed the interim president. (Garland was also the school's interim president from August 2008 to May 2010.)
A fulltime chief compliance officer will be hired and report directly to the president.
"We were horrified by the extent of these acts of sexual violence on our campus. This investigation revealed the University's mishandling of reports in what should have been a supportive, responsive and caring environment for students," stated Richard Willis, chair of the Baylor Board of Regents, in a press release.
"The depth to which these acts occurred shocked and outraged us. Our students and their families deserve more, and we have committed our full attention to improving our processes, establishing accountability, and ensuring appropriate actions are taken to support former, current, and future students."
Many Christians and alumni applauded the decision to punish Briles, who had been championed by "Baylor Nation" for turning the football program around. (During his eight years at Baylor, he led the team to four winning seasons and a pair of conference titles. Dozens of his players were drafted to the NFL, including Robert Griffin III.)
"If Art failed to keep young women … safe, this is the right decision," tweeted Baylor alumnus and Houston pastor Chris Seay. "It's impossible to be Pro Ecclesia and not be Pro Women's safety. Let's move forward w/our values, even if we never see another Bowl game."
The board's announcement detailed the school's missteps, including a "fundamental failure to implement Title IX":
The university's student conduct processes were wholly inadequate to consistently provide a prompt and equitable response under Title IX; Baylor failed to consistently support complainants through the provision of interim measures; and in some cases, the university failed to take action to identify and eliminate a potential hostile environment, prevent its recurrence or address its effects.
Actions by university administrators directly discouraged some complainants from reporting or participating in student conduct processes and in one instance constituted retaliation against a complainant for reporting sexual assault.
In addition to broader university failings, [investigators] found specific failings within both the football program and athletics department leadership, including a failure to identify and respond to a pattern of sexual violence by a football player and to a report of dating violence.
There are significant concerns about the tone and culture within Baylor's football program as it relates to accountability for all forms of student athlete misconduct.
Over the course of their review, [investigators] investigated the university's response to reports of a sexual assault involving multiple football players. The football program and athletics department leadership failed to take appropriate action in response to these reports.
In addition to personnel changes, Baylor will also integrate its athletics department "into the mainstream operations of the university." The board mandated that the university "create and maintain a culture of high moral standards among student-athletes."
The Baptist General Convention of Texas, which is affiliated with Baylor, continues to ask for prayer for the university. "Like all of our institutions, when trouble arises, we pledge to walk alongside and work towards a good and godly future," said executive director David Hardage.
-----
[First published on May 24]
Reports circulated today that Baylor University has decided to fire its leader, Ken Starr, after a months-long scandal involving charges of rape and assault against five football players.
Baylor denied the rumors.
"Ken Starr is president and chancellor of Baylor University," Baylor spokesperson Lori Fogleman told CT. The Board of Regents is currently reviewing findings from an outside investigation into the school's response to the incidents.
"We will not respond to rumors, speculation or reports based on unnamed sources, but when official news is available, the university will provide it," Fogleman told CT. Once deliberations are completed, the university expects to make an announcement by the end of next week.
"Since the briefing, the board has been in the process of considering the information presented and asking additional questions," board chair Richard Willis stated. "This is a very critical issue for Baylor, and the board is going to make sure to take the appropriate time to determine the right course of action."
"We are certain the actions that result from this deliberative process will yield improvements across a variety of areas that rebuild and reinforce confidence in our university," Baylor stated. "We are saddened when any student, including a student-athlete, acts in a manner inconsistent with Baylor's mission or is a victim of such behavior."
Starr, famous for his investigation of Bill Clinton, has led the nation's largest Baptist university since 2010. From 2009 to 2016, at least six students reported they had been raped or abused by players on the Bears football team. Last month, Shawn Oakman became the third Baylor football player arrested for rape in the last four years, according to Sports Illustrated. Former players Tevin Elliot and Sam Ukwuachu were both previously charged and found guilty.
ESPN's Outside the Lines reported that at least some Baylor officials knew about the incidents but delayed investigating them and issuing punishments.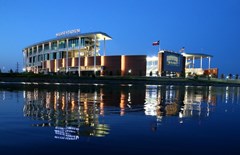 Image: Baylor Marketing & Communications
There has been speculation that head coach Art Briles, who led the football program to four winning seasons, two Big 12 titles, a Heisman trophy for Robert Griffin III, and a $266 million new stadium, would take the fall for the scandal. But Horns Digest, the Texas sports outlet that broke the news of Starr's alleged removal, reported that Briles would continue unless there was proof he was involved in covering up the allegations. Briles makes $4 million a year as the coach with the third-highest compensation in the conference.
"As a Baylor grad I'm sickened @ the culture that has been allowed 2 perpetuate there—mainly in athletics," tweeted Shannon Sedgwick Davis, a human rights advocate profiled by CT. On Tuesday, Davis, along with other alumni, called on the university to remove Briles. "All who allowed this culture & didn't respond MUST go," she said.
Baylor's nationally recognized football program, popular among its 14,000 undergraduates and many more alumni fans, sets it apart from most Christian colleges. The current scandal involving several football players has led the Baylor community to question whether its devotion to the sport is to blame for reportedly mishandling a series of assault cases.
Last week, Alan Jacobs—a professor in Baylor's honors program and former English professor at Wheaton College—referred to collegiate football success as "the most jealous of gods." He wrote on his blog, "It will tolerate the worship of no other deities, and there will be no end to the sacrifices it demands."
Baylor is associated with the Baptist General Convention of Texas, which provides funding for the university and appoints a quarter of the leaders on its board of regents. At the convention's board meeting last night, executive director David Hardage issued a call to prayer for "healing, redemption, restoration, and harmony for Baylor University."
Media have detailed accusations that Baylor leadership was slow to respond to complaints:
After one woman was raped by a football player off-campus, Baylor's campus police said there was nothing they could do to help, and the student health center told her she could put her name on a waitlist for counseling, Outside the Lines reported.
It took two years for Baylor to investigate two other incidents, finally kicking tight end Tre'Von Armstead off the football team and expelling him, according to Outside the Lines.
Another victim told football team chaplain Wes Yeary that her football player ex-boyfriend had assaulted her twice when they were together, yet he was never disciplined, she told Outside the Lines.
Last September, two weeks after Ukwuachu was convicted of rape, the Board of Regents asked law firm Pepper Hamilton to "conduct an independent and external investigation of the university's response to reports of sexual and interpersonal violence," the Baylor press office reported.
In February, thousands of students and alumni held a vigil outside Starr's house and launched a petition calling for more robust, transparent responses from the university. Starr stated, "Let me be clear: Sexual violence emphatically has no place whatsoever at Baylor University."
Baylor then announced a plan to "prevent acts of sexual violence on campus and to improve treatment and services for all those impacted by interpersonal violence." The school said it would increase the space for counseling and the number of counselors. It also mandated annual Title IX training for all upperclassmen, faculty, and staff.
"We know we can and must do a better job to confront interpersonal violence in our campus community," said Starr at the time.
Baylor was making headlines with sports scandals before Starr arrived.
In 2003, Baylor basketball player Carlton Dotson murdered teammate Patrick Dennehy. Ensuing investigations found "widespread rules violations," including drug use among players and the illegal funneling of money to student athletes and prospects by coaches. Several basketball coaches and staff also blocked investigations by providing "inaccurate information" and "falsifying documents." Baylor self-imposed some punishments, and the NCAA came down even more harshly, including placing the program on a five-year probation.
Baylor fired its last president, John Lilley, after two years when he was unable to "unite the various Baylor constituencies," the board's then-chair Howard Batson said. Lilley replaced Robert Sloan, who came to a "mutual" agreement with the board to step down in 2005 after an 85 percent "no confidence" vote from faculty.
During his time as president, Sloan developed an ambitious plan for the university, seeking to further acknowledge "its Christianity identity while also pushing for top tier research university status," then-Baylor doctoral student Hunter Baker wrote for CT. Sloan had narrowly survived a regent confidence vote after receiving their overwhelming support just six months prior to his departure. (CT covered why Sloan's departure wasn't bad news and why all Christians had a stake in his resignation.)
CT spoke with Starr when he took the Baylor presidency, getting his take on the relationship between sports and academics ("My own goal and aspiration, which is deeply rooted in Baylor's traditions and the institutional DNA, is excellence in all things, including sports") and on being the school's fourth president in five years ("I think there's an extraordinarily deep reservoir of goodwill and an eager desire to move forward. What has happened in the past is now in the past").
Baylor's incidents follow a string of high-profile rape cases involving student athletes. Last year, two former Vanderbilt University football players were convicted of aggravated rape, and in 2013, a pair of high school football players in Ohio were punished for raping a classmate. Writing for Christ and Pop Culture, football fan Valerie Dunham recently said:
I wish I could say I was surprised when I read of the scandals that are shaking the foundations of Baylor's community. I wasn't…we have, for too long, paid for the enjoyment of athletics with injustice. Sports have made fools of us, not because they are "just games" or juvenile, but because we have held them so high that a commitment to justice has seemed less worthy.
In 2010, CT ran a piece by a Baylor University Press author—and professor emeritus of exercise and sport science at the University of North Carolina at Greensboro—decrying the importance of sports in Christian higher education. In 2012, CT asked professors and administrators, "Should Christian colleges build top-ranked football teams?"