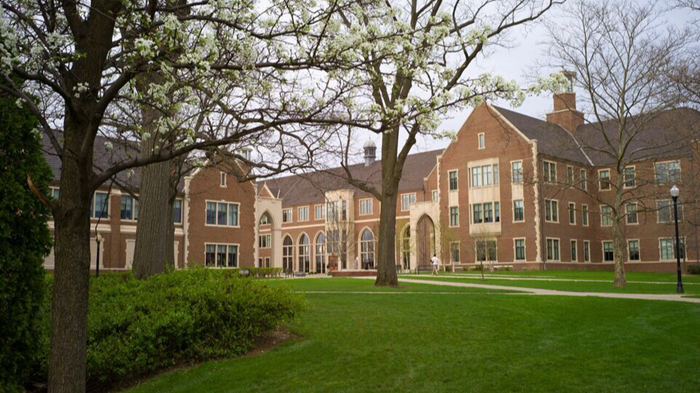 Image: Grove City College
More than 50 years ago, in the middle of the Cold War, Grove City College tossed out a left-leaning history and political science professor, telling him he was incompetent, hard to work with, and a harsh grader.
Worried about salvaging his teaching career, the professor, Larry Gara, took his case to the American Association of University Professors (AAUP) and asked for a "neutral evaluation" of his work. The AAUP determined that the administration didn't follow due process and promptly slapped Grove City onto its censure list, which calls out those "not observing the generally recognized principles of academic freedom and tenure."
This month, the AAUP lifted its disapproval, following Grove City's procedural changes and apology to the now 94-year-old Gara.
Grove City, a "broadly evangelical" liberal arts college with Presbyterian roots, is among a handful of religious schools that have conflicted with the AAUP over tenure issues.
By the AAUP's standards, Gara had tenure at the time of his termination. He'd been teaching in higher education for ten years then, and AAUP says seven years is the "normal maximum" time period before tenure is assumed. Grove City College, then and now, does not offer tenure at all.
About a third of schools in the Council for Christian Colleges and Universities (CCCU)—of which Grove City is not a member—also do not offer tenure. The predominant reason: traditional or institutional values, a 2005 CCCU study found. (CT asked experts whether schools should grant tenure even if it can't be enforced.)
The CCCU and the AAUP work together on things like faculty salary statistics, but don't always see eye to eye on academic freedom.
That's because the AAUP does not endorse religious limitations on academic freedom; in fact, Southeastern Baptist Theological Seminary is on the censure list because it restricts "faculty appointments to those holding a particular and narrowly construed ideological stance."
But the AAUP has approved the American Council on Education's statement on academic rights and responsibilities, to which the CCCU subscribes. And the 2005 study found most CCCU schools' guidelines for tenure are largely consistent with AAUP standards.
Still, schools have faced a myriad of challenges with the issue.
After Wheaton College moved to terminate professor Larycia Hawkins over her stance that Christians and Muslims worship the same God, alumni expressed concern that not respecting her tenure could hamper Wheaton's ability to attract "first-rate professors." The president of Northwest Nazarene University resigned after the faculty voted no confidence in him when tenured theology professor Tom Oord was fired for his open theology and pro-evolution beliefs. And Azusa Pacific University parted ways with a tenure-track theology professor who came out as transgender.
Spending 53 years—more than any other school—on the AAUP's censure list "was not representative of what we are as a faith-based institution and doesn't reflect our long-standing commitment to fairness and respect for our employees," stated Grove City College president Paul McNulty. Other religious schools on the list include Southeastern Baptist Theological Seminary, Cedarville University, Brigham Young University, and The Catholic University of America.
"Grove City College is built on an uncompromising foundation of principled leadership, ethical standards, and personal integrity—characteristics that our faculty and administration aspire to every day," provost and vice president for academic affairs Robert J. Graham added. "Resolution of this matter is a recognition that Grove City College values and respects academic freedom and due process."
Grove City's apology to Gara was a first for the 101-year-old AAUP.
"We're immensely pleased that they took steps to apologize. No institution has ever done that before," Gregory Sholtz, the director of the AAUP's academic freedom and tenure program, told the Allied News.
Grove City also changed its policies so that professors must receive written cause and an opportunity to defend themselves at a hearing before they are suspended or fired.
Gara's story, first reported by the Associated Press (AP) last fall, is much more colorful than a termination and apology. A member of the Society of Friends, Gara is a pacifist and served three years in prison in 1943 for refusing to register for the draft.
After his release, he earned his bachelor's and master's degrees, then was again imprisoned in 1950 for supporting a student who also refused to register for the draft. He earned his PhD and taught in Mexico City and Illinois before joining the faculty at Grove City College, where he was employed for five years before his termination.
After his dismissal, Gara went on to teach at Wilmington College in Ohio, a liberal arts school established by the Quakers. Both Gara and Grove City put the incident behind them until 2011, when Grove City alumnus Steven Taaffe researched the incident.
"As a pacifist, Gara abhorred the thought of a destructive war between the United States and the Soviet Union and believed that the American government needed to show more understanding of the Soviet position in the world," he wrote. "This attitude, however sincere, did not go down well among his more anticommunist colleagues and students. Nor was Gara inclined to keep his views to himself; he was in fact an opinionated and outspoken man."
It especially didn't go down well with heavy financial backer and longtime board president J. Howard Pew, a businessman in the oil industry who strongly opposed socialism. He thought Gara was a Communist sympathizer and that his antiwar sentiments were harmful.
Taaffe, who is a history professor at Stephen F. Austin University in Texas, made a case to then–Grove City College president Richard Jewell that Gara had been wronged. After Taaffe's research was published, Jewell, now retired, drove to Gara's house, which is more than four hours from Grove City, to apologize in person.
"Out of the blue, I got a call from him and he said he wanted to talk to me," Gara told the AP. "He came out to the house and was a friendly guy. He said, 'I want to express my regret and the regret of the college about how they treated you.'"
The apology and procedure change were enough to lift the censure from the AAUP.
"What the college did to Larry Gara in 1962 was wrong and was a longstanding black mark against the institution," Taaffe told Allied News. "The college administration's willingness to acknowledge this and make sure it doesn't happen again is laudatory. … And President Jewell's willingness to drive to Wilmington to say so personally to Dr. Gara was certainly a class act."