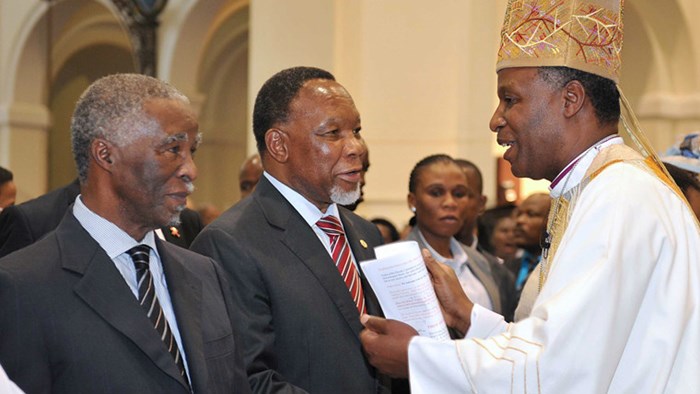 When the global Anglican Communion censured the Episcopal Church in the United States for redefining marriage eight months ago, it warned that similar actions would be applied to other provinces "when any unilateral decisions on matters of doctrine and polity are taken that threaten our unity."
Next month, the Anglican Church of Southern Africa (ACSA) may toe up against that line.
The ACSA—which includes South Africa, Mozambique, Namibia, Lesotho, Swaziland, and Angola—won't allow clergy to marry same-sex couples like the Episcopal Church did, but it announced this week that when its provincial synod meets next month, the province will consider blessing same-sex civil unions and allowing clergy in legal same-sex civil unions.
"The motion … proposes that any bishop of the church who wishes to do so may make provision for her or his clergy to provide pastoral care to those who identify as LGBTI," stated Thabo Makgoba, archbishop of Cape Town and primate of Southern Africa.
He explained:
More controversially, the motion also proposes that clergy who identify as LGBTI and are in legal same-sex civil unions should be licensed to minister in our parishes. It also suggests that "prayers of blessing" should be able to be offered for those in same-sex civil unions. However, it specifically rules out the possibility of marriage under church law.
The proposal comes with a caveat. "Any cleric unwilling to take part in providing pastoral care to people who identify as LGBTI shall not be obliged to do so," Makgoba stated.
The Episcopal Church's 2015 decision on same-sex marriage resulted in the church being barred from Anglican committees and other decision-making for three years.
South Africa legalized same-sex marriage early—in 2006, the second country outside of Europe to do so. It's the only African country so far to allow it.
Anglicans have remained behind. In 2004, Anglican archbishop Desmond Tutu said in a sermon that "to discriminate against our sisters and brothers who are lesbian or gay on grounds of their sexual orientation for me is as totally unacceptable and unjust as apartheid ever was."
Several clergy have come out as gay to their congregations.
And when Tutu's daughter, Mpho Tutu van Furth, lost her license as an Anglican priest this summer after she married her same-sex partner in late 2015, her bishop toldThe Telegraph he hoped it would be short-lived.
"When I married my wife prejudice slammed a door of opportunity in my face," she wrote in an email to News24. "With this proposal we are 'rattling the hinges.'"
But the ACSA covers more than South Africa, and Anglicans in neighboring countries are outspokenly opposed to same-sex marriage. Several African church leaders threatened to leave January's Anglican Communion meeting if Canadian and American provinces weren't disciplined for their acceptance of same-sex marriage. (The Canadians weren't disciplined, since they had not yet officially accepted same-sex marriage. This summer, after a voting count scandal, they did.)
One African primate, Stanley Ntagali of Uganda, did walk out, signaling his unhappiness with the length of time it was taking to sanction the American church. Other African bishops were vocal in their support for its suspension.
In other global denominations, African contingents have also resisted same-sex marriage. The United Methodist Church's decision to skip a vote on whether to allow gay marriage during this summer's annual convention was strongly influenced by conservative African delegates.
The ACSA motion is bolder than one agreed upon back in February, which aimed to preserve church unity. In it, bishops agreed to accept same-sex congregants as full members but not bless same-sex unions or permit clergy to enter them.
The bishops then "were not of one mind" regarding blessing unions or allowing same-sex clergy, Makgoba wrote in an open letter to the church.
But Makgoba said he was "absolutely determined" that the church in southern Africa "should build on our history of refusing to allow our differences to separate us, and that we should continue to work patiently through them together. We overcame deep differences over the imposition of sanctions against apartheid and over the ordination of women, and we can do the same over human sexuality."
Archbishop of Canterbury Justin Welby has called for a "new way of being in communion" as he works to balance the tension between African conservatives and the liberal-leaning church in Europe and America.