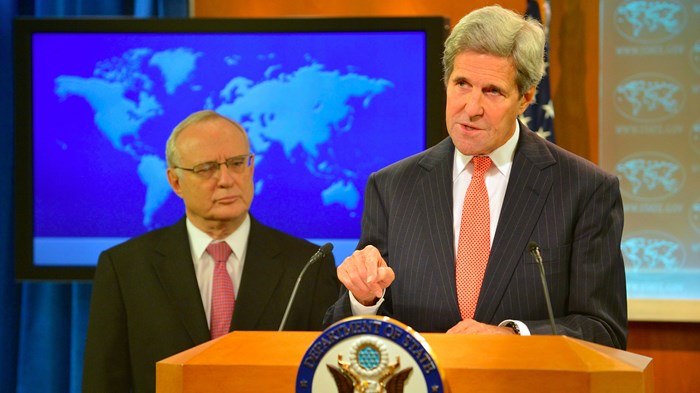 Image: US Department of State
During the past two years, reports of terrorist attacks against Christians have steadily emerged from the Muslim world: 7 Egyptian Christians executed on a Benghazi beach, 165 Christian girls kidnapped from school by Boko Haram, and 21 Coptic Christians beheaded near the Mediterranean Sea, among other incidents.
The US State Department's latest International Religious Freedom (IRF) report, released Wednesday, confirms that the biggest threat to minority Christian communities and other religious minorities worldwide is now the "new phenomenon" of non-state terrorism, particularly in the Middle East, Sub-Saharan Africa, and Asia.
"[N]on-state actors, including rebel and terrorist organizations, … committed by far some of the most egregious human rights abuses and caused significant damage to the global status of respect for religious freedom," according to the 2014 IRF report. This echoes the concerns of the US Commission on International Religious Freedom (USCIRF), which identified non-state actors as a "major challenge to freedom of religion or belief" in its 2015 report earlier this year.
"One of the more consequential facts of our era has been the ... development of a sort of new phenomenon of non-state actors who, unlike the last century and the violence that we saw and persecution that we saw that emanated from states, are now the principal persecutors and preventers of religious tolerance and practice," Secretary of State John Kerry said at a press conference. "Most prominent, and most harmful, obviously, has been the rise of international terrorist groups such as Daesh [ISIS, also known as ISIL], al-Qaida, al-Shabaab, Boko Haram. And all have been guilty of vicious acts of unprovoked violence."
Recently, religious freedom watchdogs have begun emphasizing more the different sources of persecution, such as government and social hostilities. USCIRF, which recently had its funding extended until December, included non-state violators for the first time in its 2013 report. The Pew Research Center found that in 2012, 3 out of 4 people worldwide lived in a country with high levels of social hostilities involving religion, compared with 64 percent of people who lived with high levels of government restrictions on religion. (The numbers stayed about the same in 2013.)
This State Department report goes a step further, moving past government discrimination and social pressures to identify the religious persecution caused by organized terrorism. Blasphemy laws and prisoners of conscience were other troubling trends noted in the report.
Stability in Iraq and Syria declined sharply in 2014 as ISIS expanded, the report said. Hundreds of thousands of displaced Christians sought refuge in Kurdish cities, seeking to escape rape, slavery, or death.
"[ISIS] has forcibly displaced hundreds of thousands of people, conducted mass executions, and kidnapped, sold, enslaved, raped and/or forcibly converted thousands of women and children—all on the grounds that these people stand in opposition to its religious dogma," according to the IRF report.
In Nigeria, Boko Haram "deliberately targeted Christians." the report said. The group claimed responsibility for "scores of fatal attacks on churches and mosques, often killing worshipers during religious services or immediately afterwards." (The violence prompted many Nigerian Christians to support the country's newest president, a Muslim whom they hope can curb Boko Haram's insurgency.)
The violence continued into 2015. In January, ISIS beheaded a Christian journalist in Syria. On the eastern edge of Africa, a group of Somali militants named al-Shabaab targeted Christians in an attack on a Kenyan college in April that killed as many as 150. The same month, ISIS executed dozens of Ethiopian Christians.
The State Department report blames governments for not protecting citizens, whether by inaction or inadequacy.
Some governments are accused of more than that.
The IRF report highlighted the sentencing of Asia Bibi, condemned to death in Pakistan for allegedly making derogatory remarks about the Prophet Mohammed, and Meriam Ibrahim, sentenced to 100 lashes and then death for marrying a Christian man. (She was released after significant international pressure.) Also noted were churches in China's Zhejiang province, where the local government has removed more than 400 crosses, destroyed church buildings, and arrested a leading lawyer defending the churches (ironically on the day before his meeting with David Saperstein, the new US ambassador-at-large for international religious freedom.)
The news isn't all bad. The new Egyptian constitution is stronger on human rights protections and provides for the construction and renovation of Christian churches, according to the IRF report.
And the forced migration is bringing Christianity to new areas, Baylor history professor Philip Jenkins wrote for a CT cover story. Though it's hard to tell if the violent persecution is growing the church, it certainly isn't snuffing it out. Jenkins concluded:
Even with vigorous activism, though, whether military or humanitarian, it is difficult to imagine the churches of Syria and Iraq returning to the flourishing condition they enjoyed even half a century ago. But that is quite different from saying that Christianity as such faces extinction in the region, or that the church might cease to exist.

Looking at this story, we might adapt the famous remark about Russia, typically attributed to Otto von Bismarck: "Christianity is never as strong as it appears; but nor is it ever as weak as it appears." In God's terms, words like strength and weakness can have surprising meanings.
Religion News Service noted how missing from the IRF report was the latest update to the list of Countries of Particular Concern. Currently on the list: Burma, China, Eritrea, Iran, North Korea, Saudi Arabia, Sudan, Uzbekistan, and Turkmenistan.
The purpose of the IRF report is "to highlight the importance of religious freedom not by lecturing but through advocacy and through persuasion," said Kerry during the report's release. He continued:
Our primary goal is to help governments everywhere recognize that their societies will do better with religious liberty than without it. The world has learned through very hard experience that religious pluralism encourages and enables contributions from all; while religious discrimination is often the source of conflicts that endanger all. By issuing this report, we hope to give governments an added incentive to honor the rights and the dignity of their citizens; but the report also has the benefit of equipping interested observers with an arsenal of facts.
CT's coverage of terrorism against Christians includes the viral video of a 10-year-old Iraqi girl forgiving ISIS, how modern-day "Monuments Men" are trying to save Biblical-era artifacts from ISIS, and the death of the first American volunteer to die fighting terrorism in Iraq and Syria.
[Image courtesy of US Department of State]