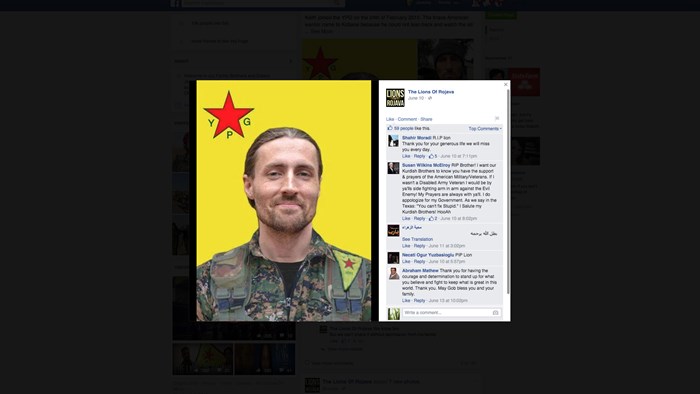 Image: Lions of Rojava / Facebook
The first American volunteer to die fighting ISIS in defense of persecuted Syrian and Iraqi Christians will be laid to rest Wednesday.
Keith Broomfield, 36, had been in Syria for four months with the secular Kurdish People's Protection Units. On June 3, he was killed during a skirmish with ISIS fighters near Kobani, a city in northern Syria.
Broomfield felt "led by the Lord" to enter the fight despite his lack of military training, his father told CBS.
"He turned his life over to the Lord and he decided this was God's will and God wanted him to do it," his mother told NBC.
"I'm here to do what I can," Broomfield said in an earlier video. "With everything that's been going on, it seems like the right thing to do."
According to his obituary, Broomfield died "fighting in defense of those being persecuted for their Christian faith. His heart was for the protection of the innocence of Kurdish women and children."
His funeral services will be held at a Baptist church in Massachusetts. His family asked that any donations in his memory be made to Samaritan's Purse.
A week after Broomfield's death, President Barack Obama announced the deployment of up to 450 more troops to train Iraqi forces to more effectively fight against ISIS, NPR reports.
In a recent open letter, the Southern Baptist Convention had asked him to do just that. "Mr. President, just as Esther led forward for the deliverance of the Jews in her day, we believe you also 'have come to the kingdom for such a time as this,'" SBC president Ronnie Floyd wrote in March.
Some Christians, like Broomfield, are not waiting for official word before heading to the Middle East to join the fight. As thousands of foreigners flock to the Middle East to plug into ISIS, a growing number of Westerners are heading to Iraq and Syria to join local militias and defend the region's Christian minorities.
Media outlets have documented several groups in the region training Christians for battle.
One training group, sponsored by the Assyrian Democratic Movement (ADM), trained 500 recruits in February thanks to donations, according to the Wall Street Journal.
"The Americans want to stay away from this because their view is, if you train the Christians, you're starting some crazy religious war," an unnamed 28-year-old American trainer for the group told the WSJ. "Well, ISIS beat you to it."
US Christian millionaire Foster Friess, a major contributor to a conservative super PAC in America's 2012 presidential elections, is lobbying for the US government to train more militia in Iraq, but says he is not currently bankrolling any trainers of his own.
Some faith leaders in the region say the faith-based militias are a bad idea. A meeting of Catholic and Orthodox leaders in Irbil last summer spoke out in support of local Christians. It urged Christians to stand their ground and protect themselves, but to do so without forming their own security forces, according to Catholic News Service (CNS).
"Self-defense is a holy right, but forming militias will ruin Iraq," the Chaldean Catholic patriarch of Baghdad, Louis Sako, told CNS. "State security forces should defend the people."
Some Western veterans, meanwhile, are joining the fight because they feel compelled to return to a region they fought to protect in recent years, former Marine Corps sergeant Thomas Brennan wrote for The New York Times.
"Seeing Islamic State celebrate victory in the villages where our friends bled or died fighting the insurgency … makes many of us wonder if our war was for nothing, that perhaps we failed," he wrote.
Along with raising questions, eyebrows, and funds around the world, the militia groups are running into trouble on the ground: Last month, the ADM cut off access to a training building from Sons of Liberty International (SOLI), a US-based organization that has provided free support and training to militias including the Nineveh Plain Protection Units (NPU), according to a press release from A. Larry Ross Communications.
ADM's decision was partly a response to political pressure from the American Mesopotamian organization, said SOLI founder Matthew VanDyke.
VanDyke, a filmmaker, directed a documentary on the Syrian conflict, and called his NPU involvement an extension of his "work as a revolutionary" in an interview. (VanDyke's affiliation with the NPU has been shifting. The group announced in March that it was no longer affiliated with VanDyke or SOLI. But in the press release, NPU leader Gevara Zaya thanked SOLI for its "excellent training" in recent weeks.)
NPU is attempting to "step in where governments in the international community have failed," according to USA Today. (Frank Wolf, a Baylor University professor and former congressman, called for support for the NPU as part of his six-point proposal for the region.)
The organization raised about $250,000 in the last few months through Restore Nineveh Now, and funding is being used to train militia members—about 600 were being trained in early February, and 3,000 more Assyrian Christians were being screened at the time, according to US News and World Report. Most of the donations came from the US, and individual donations were as high as $50,000, Restore Nineveh Now chairman David Lazar told Agence France-Presse.
Another Christian group training fighters in the region is Dwekh Nawsha, named after an Aramaic phrase meaning "self-sacrifice." The group attracts foreign volunteers from the US, Great Britain, and other Western countries, Reuters reports. More volunteers are leaving other organizations (including the Kurdish People's Protection Units) for Dwekh Nawsha, according to the Assyrian International News Agency.
Dwekh Nawsha members work with Kurdish military forces and others to protect the Christian villages on the frontlines in Nineveh, according to Reuters.
"These are some of the only towns in Nineveh where church bells ring. In every other town the bells have gone silent, and that's unacceptable," Brett Royales, a 28-year-old US army veteran and member of Dwekh Nawsha, told Reuters.
With 200 members—six of whom are Westerners—the group may be making more of a political statement than a military one. But numbers are growing. The secretary general of the Assyrian Patriotic Party, which funds Dwekh Nawsha, told The Washington Post that more than 900 people had asked how to join, and the group's Facebook page has more than 20,000 likes.
CT's past coverage of ISIS includes how the group kidnapped 100 Christians in Syria, how Middle Eastern Christians met in October to discuss response strategies, and how Americans now view Islam.
[Image courtesy of the Lions of Rojava]