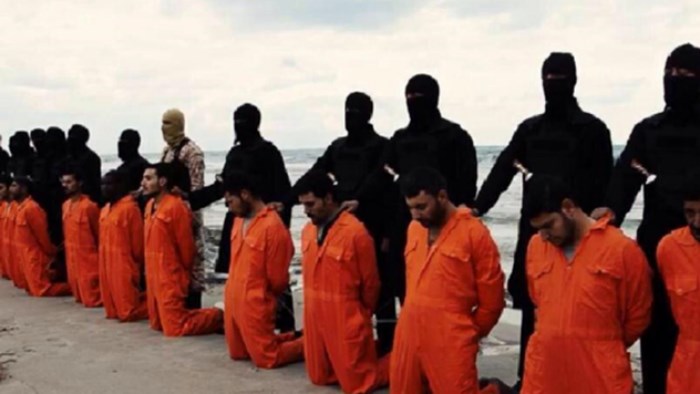 Over the weekend, a terrorist group with links to the Islamic State (ISIS) released a video, showing the beheading of 21 Egyptian Coptic Christians in Libya. On Monday, Egypt and Libya launched warplanes in an air assault on Darna in eastern Libya, where the group is based.
White House spokesman Josh Earnest said, "This wanton killing of innocents is just the most recent of the many vicious acts perpetrated by ISIL-affiliated terrorists against the people of the region, including the murders of dozens of Egyptian soldiers in the Sinai, which only further galvanizes the international community to unite against ISIL."
All those beheaded worked inside Libya, and terrorists kidnapped them in December. In the video, an English-speaking terrorist said, "Safety for you crusaders is something you can only wish for."
Last week, President Obama asked Congress to endorse his plan to use the military to defeat and destroy the Islamic State. So far this year, the terror group has killed hostages in Syria, including Japanese Christian journalist Kenji Goto and American aid worker Kayla Mueller.
Frank Wolf, the recently retired congressman, urged six additional steps to protect Christians and other religious minorities from genocide, including creation of a safe haven in Nineveh, northwest Iraq.
In a letter to Congress on Feb. 11, Obama said, "If left unchecked, ISIL will pose a threat beyond the Middle East, including to the United States homeland. I have directed a comprehensive and sustained strategy to degrade and defeat ISIL. As part of this strategy, US military forces are conducting a systematic campaign of airstrikes."
Yet, on the same day, Wolf in a statement said Christians and other groups are on the "edge of extinction" due to terrorism and policy-makers must do more.
"If the Islamic State is not defeated and ultimately destroyed, there will be no future for these ancient faith communities who now face an existential crisis and genocidal onslaught in lands they have inhabited since antiquity," Wolf said. The retired Virginia congressman recently co-founded the 21st Century Wilberforce Initiative and accepted an appointment to a newly endowed chair for religious freedom at Baylor University.
In January, Wolf and several others from the Wilberforce Initiative traveled to northwest Iraq to meet with refugees from the region. The Wilberforce delegation said they were within 1.5 miles of the Islamic State frontline. They spoke with dozens of Christians and Yazidis (another at-risk minority group) and met with top officials in the Kurdistan Regional Government, religious leaders, and humanitarian groups.
On return, the Wilberforce group developed six proposals to secure the future of Christians, Yazidis, and others:
Create the Nineveh Plains province in Iraq to shelter Christians and other minorities.
Establish the Nineveh Protection Unit, a defensive National Guard. (This is already in formation.)
Allow faith-based relief and development groups to operate openly in the region.
Require the return of property, especially churches and monasteries, confiscated by the Islamic State.
Require the Kurdistan regional government to insure religious freedom for all groups.
Prosecute terrorists for crimes against humanity, war crimes, and if needed, for genocide.
"A decade ago, Iraq's Christian population numbered 1.5 million," said Randel Everett, Wilberforce Initiative president and former Texas pastor. "Today, roughly 300,000 remain, and most have no jobs, no schools, and no places of worship. The Nineveh Plains had been one of the last relatively safe havens for Christians, Yazidis, Shabak, Turkmen and other minority groups. With the fall of Mosul and surrounding areas last summer, Iraq's minorities want to remain in their homeland, but have no place to go."
Wolf's New Role
In the new position at Baylor, Wolf will be responsible for outreach on Christianity's role in addressing social issues and will collaborate on international projects and how to integrate religious freedom in foreign policy. Funding for the new job came from Jerry and Susie Wilson, a Dallas couple who donated $2 million to the school in December.
"Congressman Frank Wolf has been widely recognized as the 'conscience' of the Congress and a champion of religious freedom in both US domestic and foreign policy," said Baylor president and chancellor Ken Starr. "This appointment represents a remarkable opportunity to advance the study and protection of the essential right of religious freedom and to vigorously address the profound issues of religious liberty and Christianity's contributions to human flourishing throughout the world."
CT previously noted how Wolf, then 74, announced in 2013 that he would not seek reelection after serving in Congress for 34 years. He was lead sponsor for the Religious Freedom Act (which led to the creation of the US Commission on International Religious Freedom) and ambassador-at-large and special adviser for international religious freedom in the State Department. During his time on Capitol Hill, Wolf traveled to Africa, Asia, and the Middle East to raise awareness of religious persecution and human rights abuses, Roll Call reports.
Wolf called on the US church to advocate for Iraqi Christians in a 2008 CT interview. He later articulated his thoughts about the role American government should play in human rights and religious freedom in a 2011 interview with CT:
"I think America has lost much of its influence partially because our leaders aren't articulating human rights as a driving issue… Our Declaration of Independence and Constitution should stand as a covenant not only between American citizens, but also between America and a Chinese dissident in Beijing, a Coptic Christian in the upper Nile, or a Chaldean who is being gunned down in Iraq. By maintaining economic ability to deal with issues of persecution, America can still be the dominant power to defend human rights and religious freedom."
That same year, he challenged Gary Locke, the President's nominee for ambassador to China, to "publicly identify with the persecuted" by visiting an unregistered house church in China.
"I am looking forward to working with colleagues at Baylor University to advance the case for religious freedom," Wolf said in a press release from Baylor. "I have been involved in promoting religious liberty for many years in Congress, and now I look forward to collaborating with scholars, religious leaders, and the laity in what I believe is one of the most important struggles of our time."
CT has covered Wolf extensively, including his 2013 call for the federal government to support technology breaching Internet firewalls established by authoritarian regimes.