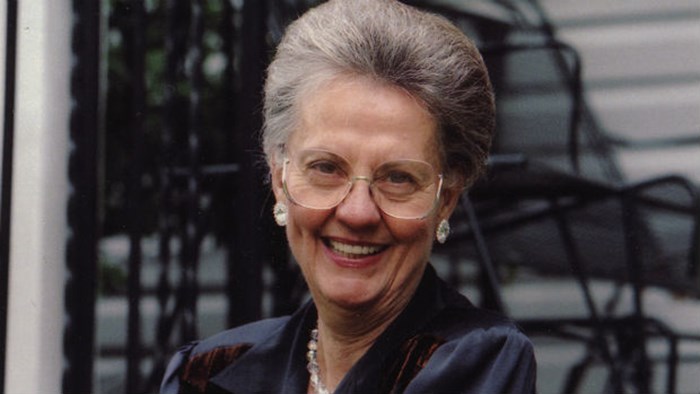 Image: Courtesy, Baker Publishing
Leanne Payne, the author of seven books on pastoral care who held healing conferences in North America, Europe, and Australia, died on Ash Wednesday, Feb. 18. She was 82.
Payne founded Pastoral Care Ministries (PCM) in the early 1980s, which held healing conferences at Wheaton College and other locations nationally and internationally. She died at Windsor Park Manor in Wheaton, Illinois, where she was being treated for Parkinson's disease. Payne is survived by her daughter, Deborah, three grandchildren, and four great grandchildren.
In a lengthy Facebook tribute, the founder of Redeemed Lives, Mario Bergner—a long-standing friend and colleague—said of Payne, "There are tens of thousands of men and women who today faithfully walk in healing with Jesus because they read Leanne's books or came to a PCM school." Redeemed Lives, based in Massachusetts, also focuses on spiritual healing and pastoral care.
Mark Pearson, author and director of New Creation Healing Center in Kingston, New Hampshire, said in an email interview, "From the early days of the charismatic renewal, Leanne Payne demonstrated that the healing of the emotional scars and disorders from one's past was something the Christian church should be about.
"Besides demonstrating it theologically, she ministered it effectively in the lives of many wounded souls. She taught numerous people to minister 'inner healing' in their local churches. Prior to the rise of the renewal, healing in the church was either the province of a few Roman Catholic shrines or of usually emotional, sometimes dubious faith healers.
"Leanne was part of that initial wave of leaders who democratized the healing ministry and applied healing to the soul, not just to the body. Many of those who came to and grew in Christ demonstrated its theological soundness."
The official statement from PCM detailed Payne's difficult childhood after her father died in 1935, during the Great Depression. The Payne family relocated to Little Rock, Arkansas. "Leanne's early adult life was shaped by several impulsive and painful choices that ultimately brought her to a place of deep repentance. At the end of herself by her mid-20s, she underwent a full and lasting conversion to Christ, stepping firmly onto the path of obedience to God."
In 1963, she relocated to Illinois and served as a dorm mother at Wheaton Academy, run by Wheaton College at that time. Later, she was introduced to Richard Winkler, a leader in charismatic renewal and the first pastor of Church of the Resurrection, now located in Wheaton and associated with the Anglican Church, North America.
Payne graduated from Wheaton College and received a master's degree from the University of Arkansas and, later on, a master's in theology from Wheaton. She also served as a research fellow under Henri Nouwen at Yale University, and worked at Wheaton under Clyde Kilby at the Wade Center, cataloging the letters of C. S. Lewis.
Payne's first book, Real Presence, was published in the late 1970s. Following relocation to Milwaukee, she wrote The Broken Image, in 1981 and established PCM as an organization. Her books have sold more than 200,000 copies and some of them have been translated into 13 languages, from Arabic to Korean. Her conferences would draw up to 1,000 attendees.
The Christian inner healing movement dates to the late 1950s, with the founding of the Agnes Sanford School of Pastoral Care. After meeting Sanford, Payne assisted her at conferences. The methods used in these ministries typically focus on the recollection of deeply painful memories, prayer, laying on of hands, and small group discussion. At conferences, church leaders would learn about these methods and how to use them in a local church context.
Christians with same-sex attraction were drawn toward inner-healing conferences and workshops in hope of changing their orientation. Payne authored one book on healing homosexuality, and she supported Bergner, who authored Setting Love in Order: Hope and Healing for the Homosexual. He said his life is evidence that such change is possible. He was living as a "self-identified gay man" when he first read The Broken Image.
Bergner said, "Leanne's voice was quite a contrast to the haranguing rants of the Moral Majority, who, at the time, postured as the only authorities on Christianity and homosexuality."
Over the years, inner-healing ministries were touched by controversies. Scholars and therapists questioned their methods and results. LGBT organizations worked hard to discredit the idea that gay and lesbian people could change their orientation through intensive therapy or healing prayer.
Sexual orientation change has increasingly fallen out of favor within evangelical circles as well, as CT reported in 2009. Exodus International, an evangelical ministry dedicated to helping people change their sexual orientation, distanced itself from that mission to focus on discipleship in 2012 before shutting down entirely to reboot with a mission that did not provide "help for people to turn from gay to straight." Around the same time, New Jersey and California both attempted to ban reparative therapy. Last fall, Southern Baptist leader Russell Moore denounced efforts to change sexual orientation through reparative therapy, calling the practice "severely counterproductive."
On occasion, pastoral care events included so-called spiritual warfare. Bergner said at one conference in Michigan, "Leanne gave an impromptu teaching and ministry time on the renunciation of Baal. One man, infested with hundreds of demons, shrieked so loud as he was delivered that the Gerasene demoniac in the Gospels seems tame by comparison. His high-pitched scream resounded through the pink marble hallways of that old place and for years to come we referred to that PCM by that screech. She gave us no warning that such a thing could happen."
Payne gained many strong endorsements of her methods, including from John Wimber, founder of the Vineyard; theologian Dallas Willard; theologian Donald Bloesch; and author and English professor Thomas Howard. Her book Restoring the Christian Soul through Healing Prayer was ranked in the top 10 books on healing prayer at Asbury Seminary in Kentucky.
In 2008, she published an autobiography, Heaven's Calling. "What we have here is the courageous, candid, and intense witness of a woman whose experience of God has asked, quite simply, everything from her. In chapter after chapter, readers will see what wholehearted obedience to God may cost his servant. It is an extraordinary tale," Howard wrote in his book-jacket endorsement.
A memorial service will likely be held in March at Wheaton College.