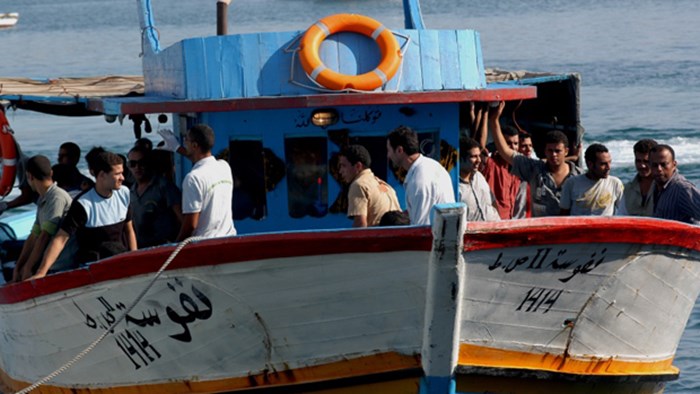 Image: Noborder Network / Flickr
Fifteen Muslim migrants face charges of murder fueled by religious hatred after allegedly throwing a dozen Christian migrants overboard this week during a sea crossing from northern Africa to Italy.
Refugees who survived the crossing "burst into tears" as they described the violence to Italian police, AsiaNews reports. Italy and other countries have welcomed more than 10,000 refugees fleeing across the Mediterranean Sea in recent days. Such migrations hit a record high last year, reports the BBC, which has mapped the problem given the journey is also producing record deaths.
The boat in question left Libya with 105 passengers on Tuesday. An Italian navy ship took the remaining passengers on board and transferred them to a Panamanian ship that docked in Italy on Wednesday, according to CNN.
The Christian victims were Ghanaian and Nigerian, and the accused Muslims are from the Ivory Coast, Mali, and Senegal, according to The New York Times (NYT).
Such boat crossings are notoriously dangerous: 400 migrants reportedly drowned when a boat capsized in the sea last weekend, according to Global Research, a Canadian center.
"If the reports are confirmed, this past weekend would be among the deadliest few days in the world's most dangerous stretch of water for migrants and asylum seekers," Judith Sunderland, acting deputy director for Europe and Central Asia at Human Rights Watch, told the center.
This week's violence would be the first sign of religious violence on such crossings, Flavio Di Giacomo, a spokesman in Italy for the International Organization for Migration, told the NYT. Di Giacomo told the newspaper that fighting is common on migrant ships, but is not typically linked to religion.
"Religion has never been an issue," Di Giacomo said. "This is something new."
Approximately 20,000 migrants have died trying to reach Europe from Africa over the past 25 years, according to World Watch Monitor.
According to Pew Research Center data on religious migration, Italy is a top destination for Christians migrating out of Ghana and Nigeria. It is also a top destination for Christian migrants from Ethiopia, Eritrea, and other countries in sub-Saharan Africa.
CT previously noted that many of the 250 African migrants who drowned off the coast of Italy in 2013 were likely Christians fleeing persecution in Eritrea and Ethiopia.
Humanitarian organizations debate whether it is best to relocate Christians to build new lives in a country free of persecution, or equip them to live with better protection in their home countries or regions—a debate CT covered about Sudan in 2013, and about Iraqi refugees a few years prior.
CT regularly covers refugees and persecution.
[Image courtesy of Noborder Network - Flickr]