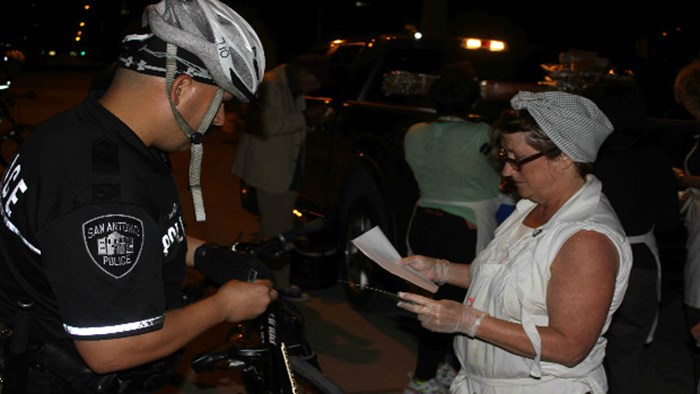 Image: David Davies / Flickr
The latest battle over religious freedom doesn't involve wedding cakes or pizza.
Instead, it's about a warm meal of vegetable soup, pasta, and Southern greens, offered to the homeless in San Antonio. That meal earned Joan Cheever a $2,000 fine from a police officer earlier this spring, according to Texas Public Radio (TPR).
"Do Good Samaritans get tickets in San Antonio?" she remembers asking the officer as he wrote up the ticket.
"Yes," he replied, according to TPR.
TPR reports that Cheever, in response, turned to the Bible and the Texas version of the Religious Freedom Restoration Act (RFRA), telling the officer the law protects her right to exercise her religion.
"The Bible says, 'When I was hungry, you fed me,' and I take that seriously," she told The Washington Post. "This is the way I pray, and we'll go to court on this."
Cheever, who prepares food in a truck licensed and inspected by the city, has been handing out meals every Tuesday for 10 years. On April 7, she handed out meals from a truck the city had not approved, thus earning the citation, according to TPR.
Because handing out meals is an expression of her faith, it's protected under Texas' 1999 RFRA, the San Antonio Express-News reported her as saying.
Cheever is not the only would-be Good Samaritan to face government opposition.
CT has reported on similar attempts to ban or restrict food-sharing in Denver, Philadelphia, Los Angeles, and Lexington. Just before Christmas, the Dallas city council agreed to lighten restrictions on feeding the homeless and to pay $250,000 in damages to two ministries and a legal center that fought that city's restrictions on meals for the homeless.
"Our goal was a very practical one: We have a set of clients who, for religious reasons, feel it's very important to meet homeless people outside and provide them with food," Jeremy Rosen, director of advocacy for the National Law Center on Homelessness and Poverty, told The Dallas Morning News. "The old ordinance, before we challenged it, was preventing them from doing that."
Under the old rules, anyone providing meals in the city had to notify city officials and provide bathrooms and running water. The new rules require feeding programs to provide hand sanitizer and to notify officials if they expect to serve more than 75 people.
The Dallas decision highlights growing tension between groups, often churches, seeking to feed the poor and city ordinances restricting their efforts.
In November, police in Fort Lauderdale twice arrested 90-year-old Arnold Abbot and two pastors for handing out meals in a local park. The three could have faced a $500 fine or jail time. After the arrests, a judge put a temporary hold on the city's ban on feeding the homeless.
Arnold, who started a nonprofit called Love Thy Neighbor in the 1990s as a tribute to his late wife, was also arrested more than a decade ago for feeding the homeless in Fort Lauderdale.
Over the past two years, 21 cities have adopted rules restricting people from sharing food with the homeless. At least 10 more are in the process of doing so, according to a new report from the National Coalition for the Homeless (NCH).
"Homeless people are visible in downtown America," Michael Stoops, NCH's director of community organizing, told NBC. "And cities think by cutting off the food source it will make the homeless go away. It doesn't, of course."
As CT has previously reported, ministries that serve the homeless disagree whether feeding programs are effective; some, like FCS Ministries president Robert Lupton, say churches shouldn't just hand out food but should build long-term relationships with the homeless.
"The absolute worst response is loading your trunk with sandwiches and taking your youth group downtown to pass [them] out," he told CT. "That simply increases dependency. There's no accountability and nothing developmental in that approach."
CT noted how, in 2013, a ministry in Seattle was briefly banned from handing out food in a city park. Later that year, the nondenominational Crazy Faith Ministries was banned from feeding the homeless at a public parking lot in Olympia, Washington, in light of complaints about increasing traffic and danger to pedestrians, and the Greater West Hollywood Food Coalition came under fire for handing out meals in public spaces in neighborhoods in Los Angeles.
In May 2013, the Religious Liberty Clinic at Stanford University's law school filed a lawsuit on behalf of a California church against the city of San Buenaventura, arguing that the church's First Amendment rights were violated by a ban on caring for the homeless on church property.
"Harbor's ministry is an integral part of its religious exercise," the complaint states.
Advocates say that feeding the homeless in public is less costly that setting up an indoor meal. And it keeps the issue of homelessness in the public eye.
"Food sharing programs for the homeless also express an important message about the desperate circumstances of the poor," said a lawsuit filed in Philadelphia, according to the Los Angeles Times. "The programs have been hugely successful, furthering the religious mission of the plaintiffs and providing, at no cost to the city, a needed social service. The programs have functioned continuously without significant interference by government officials or adverse effect on the public interest."
Serving meals in a "centrally located public place—rather than a remote indoor location—serves the critical purpose of bringing widespread attention to the plight of the homeless," stated the Times.
CT's previous coverage of homelessness includes efforts to house the homeless in Denver and ways a film company includes the homeless in its production process.