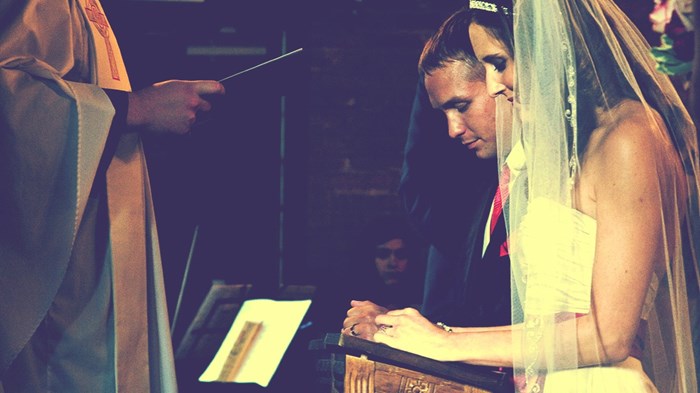 Image: lulieboo / Flickr
The group of 20 Italian couples to be married by Pope Francis on Sunday—his first wedding ceremony as pope—includes pairs who have been living together and already have children, reports Catholic News Service (CNS).
Cohabitation goes against the Roman Catholic Church's teaching on sex and marriage, and priests typically encourage couples living together to find separate arrangements before they get married, CNS said.
While some Catholic leaders restrict cohabiting couples from participating in any church sacraments, including communion, Pope Francis takes a more lenient approach. Last year, he encouraged priests to speak the truth "in the love and in the fullness of God" and find a way to walk with couples in this situation.
Cohabitation continues to become more common in America, where the U.S. Census found 7.8 million unmarried couples living together in 2012, up from 2.9 million in 1996. Young couples increasingly see cohabitation as a step toward marriage. The societal pressure for shotgun weddings, when a single woman becomes pregnant, has faded into "shotgun cohabitation," demographers say. Also, more divorcees are opting to move in with long-term partners instead of marrying again.
Protestant churches increasingly face the question of how to respond to cohabiting couples in their congregations. A 2011 LifeWay Research poll found that more than half of Protestant pastors (58 percent) would perform a marriage ceremony for a couple who had been living together, while one-third (31 percent) would not.
At the Southern Baptist Ethics and Religious Liberty Commission summit on sexuality last April, Florida pastor Jimmy Scroggins said he used to believe cohabiting couples should undergo a period of separation prior to getting married, but that's increasingly impractical for couples who have children. Now, he's taking a "more weddings, less rules" approach. If a couple has changed hearts and wants to be married, he said he'll perform a short wedding ceremony for them after a service.
Al Mohler, president of Southern Baptist Theological Seminary, recently lamented new research out this summer that showed cohabiting couples were more likely than in the past to break up and less likely to go on to marry. "It must be a special concern for Christians who understand that the institution of marriage is not merely a sociological arrangement, it is indeed one of the greatest gifts that God has given to His human creatures," he said on his podcast, The Briefing, last month.
Mohler, Douglas Wilson, Mike McManus and others weighed in when CT previously asked if pastors should perform marriages for cohabiting couples, among other coverage of cohabitation.
[Photo courtesy of lulieboo - Flickr]