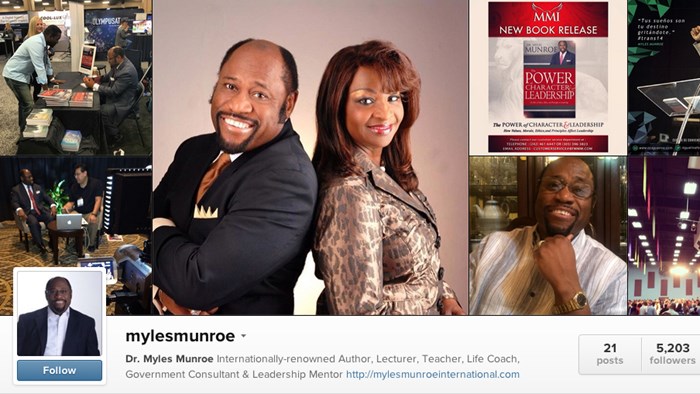 Image: Instagram screenshot
En route to the international leadership conference he was hosting today, the Bahamas' best-known pastor, Myles Munroe, died with his wife and seven others in a plane crash Sunday.
The 60-year-old founder and president of Bahamas Faith Ministries International was an alumnus of Oral Roberts University and a past speaker for Promise Keepers. He helped author more than 100 books, many of which were bestsellers in the Caribbean and Africa, according to NBC. CT noted how Munroe was the opening speaker for the 1996 National Religious Broadcasters conference.
"It was an honor having Myles Munroe speak on our platform in the early 2000s," Promise Keepers said in a Facebook post Monday. "We have peace knowing that he is with the Lord. Our prayers go out to his family and friends."
Samuel Rodriguez, president of the National Hispanic Christian Leadership Conference, noted on his Facebook page that Munroe "lived for the kingdom and helped us understand that we can change the world."
"I remember when he spoke to me and gave me a word so on point. He will be missed," Rodriguez said on Facebook. He noted on Twitter that "Myles Munroe breathed, lived and died expanding the kingdom of God. His passion for Christ made him a true ambassador of grace and righteousness."
Financial guru Dave Ramsey noted on Twitter that Munroe's "spirit was contagious."
The plane Munroe was in crashed on Grand Bahama Island after it hit a crane in the shipyard as it was attempting to land near Freeport, according to Bahamian newspaper Tribune 242. All nine people on board died, including Bahamas Faith Ministries International's senior vice president and pastor, Richard Pinder, and Munroe's wife, Ruth, according to CNN and ABC.
"Whether in a leadership gathering with those in highest authority or in Bahamas as a caring shepherd in a community of believers, Myles was always the same," wrote ORU president William M. Wilson in a statement. "Upbeat, positive, loving, full of faith and searching for any way possible to make Jesus known in our generation."
The Washington Postdescribed Munroe's theology as "Christianity with the power of self-realization."
Munroe was a national icon and popular ambassador for Christian ministry in the Caribbean, said Bahamian prime minister Perry Christie.
"He was indisputably one of the most globally recognizable religious figures our nation has ever produced," RNS reports Christie as saying. "It is utterly impossible to measure the magnitude of Dr. Munroe's loss to The Bahamas and to the world."
The Global Leadership Forum, a conference organized by Munroe's ministry, was set to kick off today in the Bahamas and will continue as planned, according to a note on Munroe's Facebook page stating, "This is what Dr. Munroe would have wanted."
Other American evangelicals noting Munroe's death include Bible teacher Priscilla Shirer and The Presidential Devotional author Joshua DuBois.