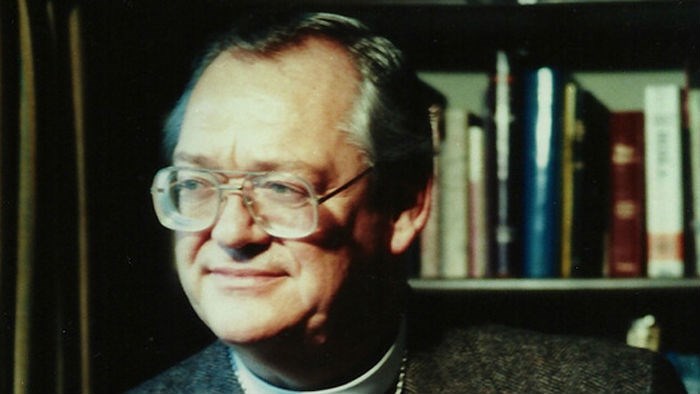 Image: Wikimedia
Everett L. "Terry" Fullam, who served as rector of St. Paul's, Darien, Conn., which became famous as a tall steeple parish in the mainline Protestant renewal movement, died today. He was 82.
News of his passing came as a result of Bishop Gregory Brewer, Episcopal Diocese of Central Florida, who tweeted this afternoon, "Just heard that Terry Fullam passed away. A generation ago he was a hero."
David Virtue, editor of Virtue Online, a news and commentary website from an conservative perspective, said Fullam experienced spiritual renewal as a result of another evangelical Episcopal priest, Dennis Bennett, and Fullam's mother.
In an interview I conducted with Fullam in 2004, he said Dennis Bennett opened him up to the work of the Holy Spirit in a more personal way and that was experientially wonderful. "I had been a believer but through his ministry I found a deeper, richer life. The other person was my mother. She was the world's finest Bible teacher, and it was through her ministry that I was grounded in Holy Scripture."

For over 30 years he influenced a whole generation of Episcopalians. In 1972, he accepted a call to become rector of St. Paul's parish in Darien, CT. Under his leadership, St. Paul's became one of the most active and fastest growing churches in the United States. Fullam placed special emphasis at St. Paul's on renewal for clergy and laity through Charismatic renewal.

His reputation as a dynamic renewal leader resulted in his receiving and accepting numerous invitations to teach around the nation and the world. In 1980, author Bob Slosser wrote a book about Fullam and the St. Paul's parish ministry titled Miracle in Darien. The book was reprinted and revised in 1997 and is recognized today as a leading text on church renewal.
Anglican Ink reports, "Upon retirement, Terry Fullam moved to Ormond Beach, Fla., and remained an active teacher and preacher. A 1998 stroke forced him to discontinue his ministry."
In recent years, Fullam gave great encouragement to the conservative wing of The Episcopal Church in the fallout from the ordination of openly homosexual individuals to the priesthood and gay marriage rites. He told Virtue Online in a 2004 interview that he believed the Episcopal Church was finished as a denomination and he pointed the finger at seminaries as a causal factor.
"Asked on whom he put the blame, he replied, "I blame the seminaries, because they do not give proper instruction. The process has been a gradual breakdown but it has accelerated over time, and so I don't believe The Episcopal Church can be reclaimed. I would like to be proven wrong, but I see little sign of hope. I think Trinity Episcopal School for Ministry and Nashotah House hold out the best hope for any kind of renewal if there is going to be one."
Written by journalist Bob Slosser, Miracle describes how Fullam agreed to become rector (as lead pastors are known in the Episcopal church) on "one condition that Christ be true head of the church."
Slosser was once a member of St. Paul's and wrote about his former church in 1975, when he was on the news staff in the Washington bureau of the New York Times. From the Episcopal News Service:
For the pragmatist, spiritual renewal in a parish can make life so much easier, albeit busy, according to members of a congregation now in the midst of one of the most unlikely, dramatic and well-known renewals in the Episcopal Church.

The parish is St. Paul's in Darien, a rich seacoast town of high-living, highly educated "today people " closely keyed to the influences of New York City one hour away. The pragmatic side of that parish's recent history shows nearly a 100 per cent increase in church attendance in three years coupled with a 136 per cent increase in giving.

How did it happen? Edward Leaton, chairman of the church's stewardship commission, quickly traces the pragmatic gains straight back to the spiritual change. "Under the teaching of Terry, we discovered II Corinthians 8:3-5," he said, quoting: " 'For they gave according to their means, as I can testify, and beyond their means, of their own free will, begging us earnestly for the favor of taking part in the relief of the saints -- and this, not as we expected, but first they gave themselves to the Lord and to us by the will of God. ' "
In 1993, 30 Good Minutes, a television program that the Chicago Sunday Evening Club sponsors, featured Fullam as a guest in a segment titled, A Prayer that God finds irresistible. He focused on King Solomon's dream in which God says, "Solomon, you can ask me for anything you want and I will do it."
What was it Solomon asked for? He could have had anything or so it seemed. What he actually asked for was the ability to accomplish what God had assigned for him to do. That is a prayer I believe that is irresistible to God. He asked nothing for himself.

What he asked for was the ability to discern, to be a leader who could see into the nature of the things going on around him, who could understand what was happening and know the course of action that was to be taken. He asked for the ability to distinguish between that which is good and that which is evil. I wonder if it was as confused in his day as it seems to be in ours. He wanted the clear ability to discern good from evil so that he might govern the people of the Lord justly.

You see, the prayer that is irresistible to God is whenever we ask Him for the grace, the strength, the wisdom, the insight, the knowledge, the courage, the resources to accomplish what He has assigned us to do. That is a prayer irresistible to God.
Details about a funeral or a memorial service have yet to be made public.