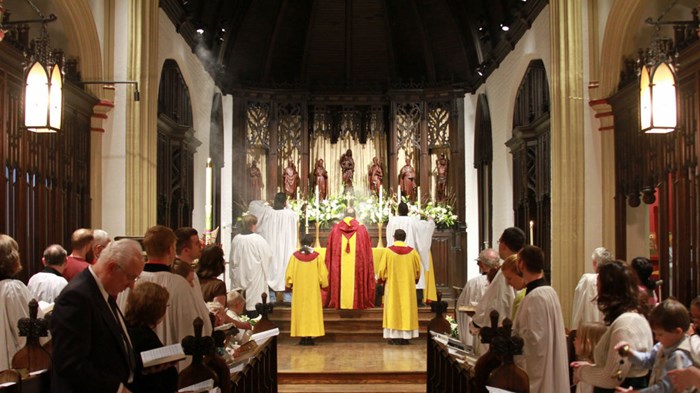 Image: Provided by Nashotah House Theological Seminary
A seminary student's request for the leader of The Episcopal Church (TEC) to come and witness unity between U.S. Anglican conservatives and progressives instead prompted a public wave of disunity—which has now been ironically (albeit tragically) tempered by the student's unexpected death.
Terry Star and two other students at Nashotah House, a theologically conservative Anglo-Catholic seminary in Wisconsin, had asked the seminary to invite Presiding Bishop Katharine Jefferts Schori to "come and see ACNA (Anglican Church in North America) and [TEC] in harmony" because she had once advised them not to attend the seminary, Nashotah dean Edward Salmon told the Institute on Religion and Democracy (IRD).
The invitation to preach in Nashotah's historic chapel sparked a furious uproar among Anglican conservatives, including the resignations of a Nashotah trustee and an honorary board member as well as a call for Salmon's own resignation.
Bishop Jack Iker wrote in his resignation announcement that he "could not be associated with an institution that honors her," pointing to the lawsuits that Jefferts Schori has initiated against his diocese. Honorary board member Bishop William Wantland joined him, writing that he "will not take part in any functions at Nashotah" nor "give financial support to the House as long as the present administration remains."
Then Star, a 40-year-old Lakota Native American and member of TEC's executive council, died suddenly from a heart attack on March 4. On March 12, the seminary announced that Jefferts Schori will now only offer an evening eulogy to Star during her May 1 visit.
Nashotah House is one of only "two accredited seminaries affiliated with TEC that are regarded as theologically orthodox," according to IRD. It's one of five seminaries approved by the ACNA.
While students from both TEC and ACNA attend Nashotah House, a fight over blessing same-sex unions and the election of openly gay bishops split the ACNA from TEC in 2008. Jefferts Schori, elected the first woman Presiding Bishop in the Anglican Church in 2006, has been controversial among conservatives since her inaugural sermon. Under her watch, TEC has sued dozens of diocese and parishes that have left the denomination.
Her invitation to Nashotah House was questioned by Salmon's predecessor, Robert Munday, who wrote that the seminary was setting an example of going "along to get along" instead of being "valiant for truth" and taking "risks for the sake of the Gospel," reports VirtueOnline.
The College of Bishops of the ACNA also responded with alarm:
The Bishops of the Anglican Church in North America deeply regret the invitation by Dean Edward Salmon to Dr. Katharine Jefferts Schori to preach at Nashotah House. The insensitivity of this invitation to many of the loyal friends of the House is compounded by the proposed eucharistic context. What is far more concerning, however, are the fundamental spiritual, biblical and institutional issues that the visit to Chapel raises. We have trusted Nashotah House with our students, our prayers and our support, recognizing that the House also serves the Episcopal Church, and that a remarkable community has been built there. We hope that ways can be found to restore the trust that this particular invitation has seriously shaken.
Forward in Faith North America, another conservative group, endorsed the ACNA message, stating:
In the interest of restoring "the trust that this particular invitation has seriously shaken," we request that the invitation either be rescinded or that the venue be changed to an academic lecture by Dr. Katharine Jefferts Schori in a non-liturgical context, followed by a time for discussion and response.
Nashotah House countered by asking for peace.
"There are many who look at our active practice of reconciliation and see us "selling out" to one faction or another," the official statement said. "It is sad and hurtful to hear, but we know that many before us—our Lord, the saints, and founders of the House—went through the same."
The invitation was issued as a way to engage in its mission as "perhaps the only place ... in the Anglican Communion where ecclesial affiliation has remained secondary to our primary mission of forming faithful priests and lay leaders for service," the school said. "The mission of the House, the direction of the House, the theology of the House is not changing. A visit, even one involving a sermon, will not change what has been bought at a price."
CT regularly reports on The Episcopal Church, including Jefferts Schori's election and how controversial decisions accelerated the break-up of the denomination.
(Photo by Episcopal Florida/Flickr)