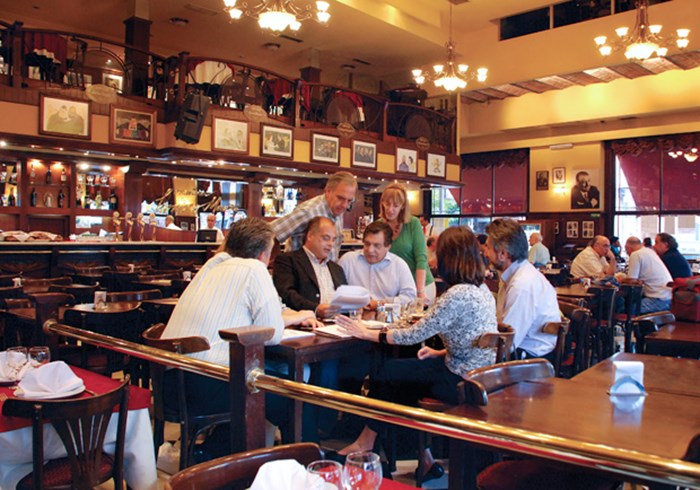 Editor's note: CT has also gathered reactions from American evangelical leaders (mostly excited) and evangelist Luis Palau, who knows Bergoglio as a personal friend.
Argentina's evangelical leaders were just as surprised as anyone when Jorge Mario Bergoglio, former archbishop of Buenos Aires, was revealed Wednesday as the new Pope Francis. But they were not surprised when his first words broke from papal tradition.
In a move that Vatican newspaper L'Osservatore Romano called "unprecedented and shocking," before Francis offered the world the traditional papal blessing, he asked those watching to first pray for him.
Such a request is one of Bergoglio's trademarks, said Juan Pablo Bongarrá, president of the Argentine Bible Society.
"Whenever you talk to him, the conversation ends with a request: 'Pastor, pray for me," said Bongarrá. He recalls when Bergoglio once attended a weekly worship meeting organized by Buenos Aires's charismatic pastors. "He mounted the platform and called for pastors to pray for him," said Bongarrá. "He knelt in front of nearly 6,000 people, and [Protestant leaders] laid hands and prayed."
Prayer came up frequently as several of Argentina's leading evangelicals, known for their unity efforts in Buenos Aires, described their thoughts on the new pope.
"His election has been an answer to our prayers," said Norberto Saracco, rector of Buenos Aires's FIET seminary and co-leader of the capital city's Council of Pastors. "Bergoglio is a man of God. He is passionate for the unity of the Church—but not just at the institutional level. His priority is unity at the level of the people."
Relations between evangelicals and Catholics are much better in Argentina than in other Latin American nations, said Saracco. Bergoglio has played a central role in Argentina's CRECES (Renewal Communion of Catholics and Evangelicals in the Holy Spirit) movement over the past 10 years, and has strongly supported the Bible society. "He has very good and friendly relations with leaders of other religions," he said.
Bongarrá said Bergoglio respects and promotes interfaith dialogue. The two men have worked regularly together since 2001 when members of the National Evangelical Christian Council met with members of the Bishops Conference and issued a joint statement on the eve of the nation's financial crisis.
Bongarrá last met with Bergoglio before Christmas when he wanted Catholics to participate in the Protestant churches' "Christmas Is Jesus" campaign. They shared lunch at Center Baptist Church and discussed "how to fight against the secularization of society," he said.
"We evangelical leaders that know him are very happy with his election," said Bongarrá. "Bergoglio is a great man of God. We [evangelicals] have had a good relationship with him for many years. We think that a new time is coming for the Catholic Church, because our brother wants to promote evangelism."
Argentine Catholics and evangelicals have also partnered recently on advocacy against same-sex marriage.
Greg Venables, Anglican bishop of Argentina and former archbishop of the Anglican Church of the Southern Cone, offered his take on Bergoglio on his public Facebook page:
"Many are asking me what Jorge Bergoglio is really like. He is much more of a Christian, Christ centered and Spirit filled, than a mere churchman. He believes the Bible as it is written. I have been with him on many occasions and he always makes me sit next to him and invariably makes me take part and often do what he as Cardinal should have done. He is consistently humble and wise, outstandingly gifted yet a common man. He is no fool and speaks out very quietly yet clearly when necessary. He called me to have breakfast with him one morning and told me very clearly that the Ordinariate [creating by the Catholic Church to accommodate alienated Anglicans] was quite unnecessary and that the church needs us as Anglicans. I consider this to be an inspired appointment not because he is a close and personal friend but because of who he is In Christ. Pray for him."
Beyond Argentina, regional Latin American leaders also expressed enthusiasm for Bergoglio's selection.
"Bergoglio is recognized as a man with a heart of a pastor, a conciliator and a friend," said David Ruiz, associate director of the World Evangelical Alliance's Mission Commission and a former international president of COMIBAM, which sparked Latin America's missions movement. "He had been working for unity and been actively involved in the dialogue between Catholics and evangelicals.
"Like most of the Christians in the world, and especially in Latin America, I am still in shock," he said. "To have a Latin American, more specifically an Argentinian Pope, was out of our scope and imagination."
In a region where Protestant communities have seen rapid growth in traditionally Catholic nations, Ruiz believes Bergoglio may change the tenor of what at times seems like sectarian competition.
"The election of [Bergoglio] opens a time for all Christians in Latin America to become actively involved in reconciliation," said Ruiz, "working together to heal the open wounds that already exist between evangelicals and Catholics and to decide for a radical option for God.
"We evangelicals in Latin America wait eagerly to see how the new pope will deal with issues that have created difficulties with evangelicals—for example how Marian he will be, how biblical he becomes in his official role, and especially what will be his official attitude toward evangelicals," he said. "[But] I think that it is a time of reflection for the evangelical community in the Americas as well.
"We are facing a time that is demanding us to rethink our position and differences and become actively involved looking for opportunities and ways to approach [Catholics] in a time of reflection about what is the meaning of the great mystery 'Christ in you, the hope of glory,'" said Ruiz. "To learn how to join hands in the mission on behalf of the millions who never heard the name of Christ and the other millions that forgot that they had forgotten God.
"It is not a secret that the global paradigm shift taking place in Christianity is becoming more and more evident in Latin America," said Ruiz. "After spending some time looking for an identity, both Catholics and Evangelicals are particularly well positioned to take an unparalleled role in global evangelization."