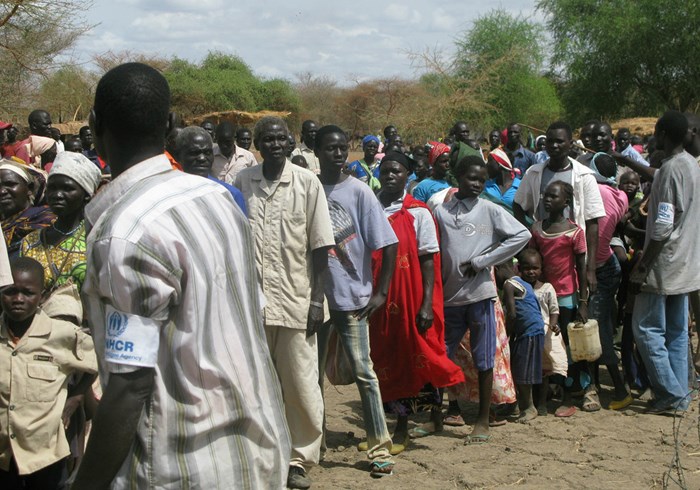 Image: Robert Stansfield / Department for International Development / Flickr
A violent attack in South Darfur has killed at least two World Vision aid workers.
According to World Vision, two of its Sudanese staff members, Sabil Mansour and Ali Ibrahim, died from injuries sustained last week in a "grenade explosion when fighting erupted among armed groups near the World Vision compound" in Nyala, the most populated city in the Darfur region that borders South Sudan.
A third World Vision staff member was also critically injured during the fighting between government forces and an armed group, the United Nations reports.
According to AFP, the violence was "sparked by the killing of a notorious local bandit....The World Vision office was caught up in crossfire. A suspected rocket-propelled grenade hit the top of the World Vision building, came down 'and exploded on the ground,' one humanitarian source said."
Lockdowns throughout the city also have resulted in looting and gunmen-assisted raids.
Until now, this year's clashes between competing security forces have been confined to rural areas, Reuters reports. Now that attacks have intensified in Nyala, the violence could threaten international aid to the region. World Vision says it already has had to suspend its aid programs to 1 million displaced people in South Darfur as a result of the violence and ongoing danger to staff members.
That's bad new for the strife-torn region, Ali Al-Za'tari, United Nations resident and humanitarian coordinator in Sudan, said in a statement. He emphasized that if last week's 'urban shootout' causes widespread scaling back of humanitarian work in Darfur due to "unsafe and insecure conditions for our staff and partners, then many more people in Darfur will suffer."
Fighting in Darfur has been ongoing for 10 years, even after a peace process failed as a result of government-led genocide in the region. Even though international leaders and U.N. officials pressured Sudan, the killing proved "nearly impossible to stop." Sudanese Christians in southern regions recently faced backlash after South Sudan's secession in 2011, but they also have responded to the ongoing humanitarian crisis in the Abyei region amid the strife.