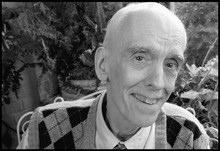 John McCandlish Phillips, an award-winning reporter and columnist for The New York Times who became an evangelist later in life, has died in New York City at age 85.
In its obituary, the Timeswrites:
McCandlish Phillips, a reporter considered one of the finest stylists on The New York Times, who wrote one of the most famous articles in the newspaper's history — exposing the Orthodox Jewish background of a senior Ku Klux Klan official — before forsaking journalism to spread the Gospel, died on Tuesday in Manhattan. He was 85. The cause was complications of pneumonia, said Jaan Vaino, a friend.
Late in his career at the Times, Phillips launched the New Testament Missionary Fellowship. The New Yorker profiled Phillips recently as The Man Who Disappeared, calling fresh attention to his unique life and persona.
CT senior writer Tony Carnes will post a tribute to Phillips later today.