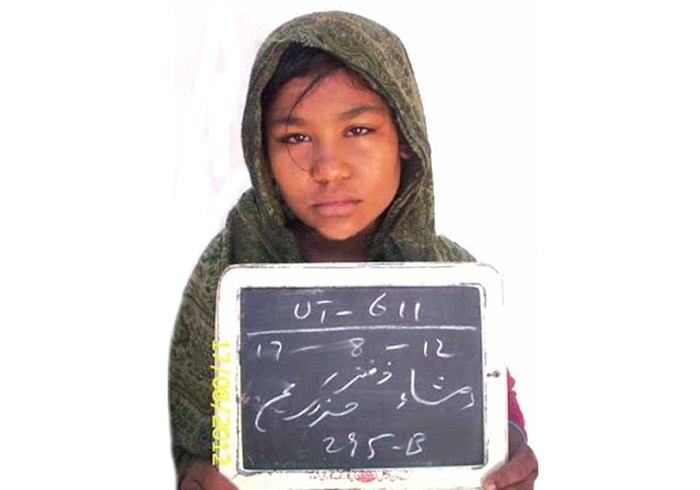 Image: Courtesy of Morning Star News
Update (Aug. 19): Rimsha Masih, the mentally disabled girl who became one of Pakistan's first Christians to be acquitted of blasphemy charges, has since found a better life in Canada. But the circumstances of her accuser, imam Khalid Jadoon Chishti, whose arrest for falsifying evidence was also an unprecedented action, have also improved.
A Pakistani court has acquitted Chishti as well, because witnesses retracted their testimony against him. His arrest had been lauded by Pakistan before the United Nations as a "turning point" and a "strong message" against abuse of blasphemy laws.
Allama Tahir Ashrafi, head of the Pakistan Ulema Council, told Morning Star News (MSN) that the acquittal was "a disappointment for people working to promote religious harmony." The moderate Muslim leader blamed police and the government for not resisting pressure from extremists.
Religious freedom advocates, who recently held a "day of mourning" for minority rights, had hoped Masih's case would be a catalyst for ending the misuse of Pakistan's blasphemy laws. But outcry over the Innocence of Muslims film halted all momentum toward reforms.
However, a series of subsequent acquittals have raised hopes for the eventual release of another high-profile Christian facing blasphemy charges: Asia Bibi.
MSN offers additional statistics on blasphemy cases:
Police have found most blasphemy accusations to be false during investigation, but accusers can make innocent victims suffer months in jail with quick and easy registration of such cases. Of 5,000 cases registered between 1984 and 2004, only 964 people were charged with blasphemy, according to the Pakistani newspaper Dawn. A recent study by the Centre for Research and Security Studies (CRSS) found that from 1953 to July 2012, there were 434 people blasphemy "offenders" in Pakistan, including 258 Muslims, 114 Christians, 57 Ahmadis and four Hindus.

Those acquitted of blasphemy charges also face threats from homicidal vigilantes. Of 52 people extra-judicially murdered after being charged with blasphemy in Pakistan, 25 were Muslims, 15 were Christians, five were Ahmadis, one was Buddhist and one was Hindu, according to the CRSS report.
-----
[Originally published on Sept. 7, 2012, as "Surprise Twist in Pakistan Blasphemy Case: Rimsha Masih Granted Bail, Imam Arrested"]
Rimsha Masih, a 14-year-old, mentally disabled Pakistani Christian whose blasphemy case has drawn worldwide attention, was granted bail today after lengthy court arguments.
Paul Bhatti, a leading Christian politician, expressed "joy and satisfaction" because "justice has been done," and has proposed an interfaith council to reduce the abuse of Pakistan's controversial blasphemy laws. However, he noted that the problem remains of hundreds of Christian families who fled Masih's neighborhood to avoid retaliatory violence.
In an unprecedented gesture, a leading body of Muslim clerics expressed support for Masih as a "daughter of the nation" after Pakistani officials arrested the girl's accuser.
Witnesses from Masih's village said they saw local imam Khalid Jadoon Chishti plant pages from the Qur'an in Masih's bag, which already contained burned papers. Chishti is charged with the same crime as Masih: desecrating the Qur'an.
Chishti's arrest is unprecedented in blasphemy law cases. Deputy mosque leader Hafiz Zubair testified against the cleric in court on Saturday, saying the imam added pages to the girl's bag when her accuser brought it into the mosque.
"I asked why he was fabricating the evidence. He said this would ensure a strong case against the girl and would ultimately help them in evicting the Christians from the locality," said Zubair.
CT previously reported on the case against Masih last week.