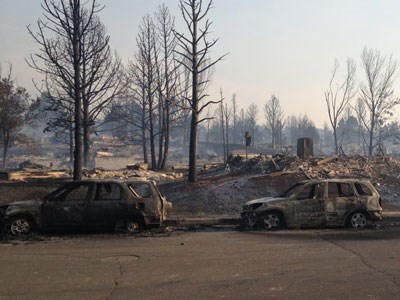 Though Colorado's wildfires have more than doubled in size over the past 24 hours, buildings on the Navigators' camp properties remain largely untouched.
"We don't currently have access to the camp, the Glen, or the headquarters buildings, but initial reports claim none of the structures have been touched," Navigators' chief communications officer Gary Cantwell said of the Glen Eyrie property Wednesday. "We don't feel like it's over – the fire tends to pop up in odd places. But, at this point, everything's safe."
Flames currently surround Eagle Lake Camp on all sides, but sources on the ground claim the horses have been corralled, firefighters are holding the lines, and only one cabin has been consumed. All campsites have been evacuated since Saturday afternoon.
Navigators are currently running "essential operations" out of Focus on the Family's offices. "The body of Christ really sprang to life here," Cantwell said. "When we evacuated Saturday night, we had several different churches open their doors right away. Dozens of our staff people have been displaced from their homes, and we're currently operating from Focus on the Family's headquarters. They've been fantastic."
More than 32,000 people have been evacuated from their homes in Colorado Springs. No official numbers have been released as to how many structures have burned, but Flying W Ranch, an off-site event destination for past Evangelical Press Association conventions, is reportedly "a total loss."
"Things are surreal and somewhat chaotic here," EPA president Dean Ridings stated in a press release Wednesday afternoon. "My family is among some 32,000 who have evacuated.… We're trusting in the Lord, grateful that there have been no reported deaths or even injuries. There's a strong sense of unity that 'we're all in this together.'"
Officials say the fire won't likely be contained before mid-July, as it has consumed over 15,000 acres and high winds pose a significant challenge to workers on the ground. Smoke hangs densely over Colorado Springs, and homes that have not been directly affected by flame are likely to have incurred smoke damage.
"Our hope is not in buildings – the Navigators are not a bunch of buildings," Cantwell said. "We're people who care about people. That's what our ministry's all about."