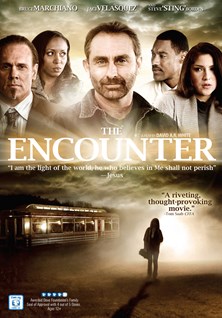 Many plays have been successfully adapted into movies (A Few Good Men, 12 Angry Men), though some are better suited for the stage (Doubt, Sleuth). The Encounter, a direct-to-DVD movie releasing today, feels like it would translate better as a Sunday morning skit or a production at some church-related event.
Part of the problem is the supremely clichéd premise—essentially a redemption story set in an old Twilight Zone episode. On a dark and stormy night (naturally), five travelers take refuge at the Last Chance Diner, where the food is free and the sole proprietor wears a nametag that says "Jesus."
Is this guy for real? It's hard to build any mystery considering this is the fifth (!) portrayal of Christ by Bruce Marchiano, best known as "the smiling Jesus" from The Visual Bible: Matthew. But The Encounter is less a supernatural thriller than a drama and modern parable, as Jesus confronts each traveler with their secrets and heartaches.
Teenage Kayla is running away from an abusive father and considering suicide. Melissa (Christian pop star Jaci Velasquez) is a young woman considering an "unequally yoked" marriage. Spineless Hank and spiteful Catherine comprise an annoyingly bickering couple headed for divorce. Smug businessman Nick (wrestler Steve 'Sting' Borden) is angry with God over his difficult childhood. Jesus takes turns with each character, politely listening to their anger and fear while challenging them to trust in God's love.
Like many disappointing play-to-film adaptations, The Encounter feels stagey, set in a single room for most of the movie. The unimaginative story lacks creative direction from Christian producer/director David A. R. White (though there is a somewhat clever surprise toward the end). Still, aside from the amateur characterizations of Hank and Catherine, the acting isn't half bad. Velasquez does all right with a role that any competent actress could pull off, and Borden actually shows some emotional range and timing. This is ultimately Marchiano's vehicle, though. Say what you will, but the guy excels at portraying a wise and personable Jesus.
It's the writing that sets The Encounter apart from lesser Christian movie fare. Sean Paul Murphy and Timothy Ratacjzak (Sarah's Choice, featuring Rebecca St. James) have devised a thoughtful script that smartly plays both sides of arguments with timely insight, biblical wisdom, and sprinklings of humor. Why does God allow bad things happen to good people? If God loves us so much, why doesn't he answer our prayers when we need him most? The movie's answers may not completely satisfy everyone, but it handles the questions well enough to spark discussion.
This is a case where the right script is matched with the wrong production. The Encounter is corny and derivative, for sure, but not unwatchable. It carries the potential for stronger impact on stage, where actors work without a net, a thoughtful script shines, and audiences are more forgiving of a limited production.
Buy the movie here, and watch the trailer below: