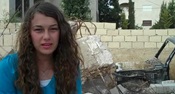 When 15-year-old Dolly Deeb of Jordan lost friends and neighbors to a terrorist attack, she says she was "filled with hatred. I was thinking of revenge, until I learned the meaning of forgiveness."
Dolly chronicles her journey in a two-and-a-half-minute film, Forgiveness, that won the under 18 age category recently at the Tony Blair Faith Foundations global film competition Faith Shorts.
A Christian, Dolly says that "forgiveness purifies the body and soul. To forgive is to set a prisoner free. Hatred will no longer imprison me."
Shiv Tandan, a 19-year-old university student from Haryana, India, won in the 18-25 category for The Guide, and Esteban Pedraza, a 20-year-old at New York University Film School won the Filmmakers category for his entry People I Know, featuring his mother and best friend who have overcome struggles of single motherhood and drug addiction through their faith.
Watch all three films below:
Dolly Deeb (Jordan), Forgiveness:
Shiv Tandan (India), The Guide:
Esteban Pedraza (USA), People I Know: